Practical Activist Q&A Featuring Amy Previato, St. Luke's University Health Network
Bluestone Staff

November 16, 2020
Featured Photo: Amy Previato and the St. Luke's Employee Wellness team getting ready for their plant-based eating class. (Editor's note: This photo was taken pre-COVID mask wearing protocols.)
Nationally recognized for excellent quality care and founded in 1872, St. Luke's University Health Network (SLUHN) is a fully integrated, regional, non-profit network of more than 16,000 employees providing services at 12 hospitals and 300+ outpatient sites. St. Luke's is also the preeminent teaching hospital in central-eastern Pennsylvania. In partnership with Temple University, St. Luke's created the Lehigh Valley's first and only regional medical school campus. It also operates the nation's longest continuously operating School of Nursing, established in 1884, and 38 fully accredited graduate medical educational programs with 347 residents and fellows. Two of IBM Watson Health's 100 Top Hospitals are St. Luke's hospitals. St. Luke's University Hospital has earned the 100 Top Major Teaching Hospital designation from IBM Watson Health eight times total and six years in a row. St. Luke's has also been cited by IBM Watson Health as a 50 Top Cardiovascular Program. St. Luke's is also recognized as one of the state's lowest cost providers.
With all of these accolades to their credit, they continue to push the bar higher and ask: how can we make our communities healthier?
In 2014, Rodale Institute established an organic farm on the Anderson Campus of the St. Luke's University Health Network to offer organic produce to patients and staff. On 11.5 acres, the farm grows thousands of pounds of high-quality, organic produce for distribution to all ten St. Luke's campuses in the region. A CSA (community supported agriculture) program which serves the staff and the community also contributes to the success of the farm. We had the opportunity to talk with Amy Previato who manages that program and the hospital's employee wellness program.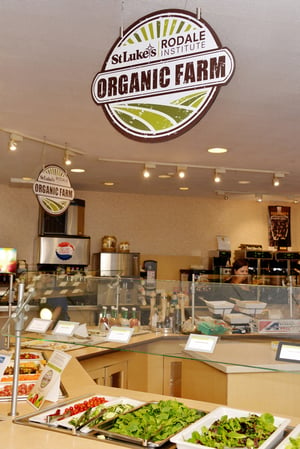 Q: Amy, you've been at St. Luke's for 12 years and have seen a lot of growth and innovation during that time. What are you most proud of and what do your employees appreciate most about working at St. Luke's?
A: It's been a remarkable period of growth for us. I've had two roles at St. Luke's: I started working as a recruiter for our School of Nursing which is the oldest running nursing program in the country, and then St. Luke's launched an employee wellness program in 2014. That is what my master's degree was in, so it was an alignment of my experience and St. Luke's commitment to the health of our employees. It's also the health of our community at large. It's not a flash in the pan for us. We're committed to assessing the health risks of our community, and then giving them tools and resources to make healthy changes. We've fostered a culture of health and I'm really proud of that.
Q: You manage the Employee Wellness program. Can you explain the components of the program and how it's evolved overtime?
A: The term "employee wellness" gets tossed around a lot. St. Luke's has a very robust Employee Wellness and population health program. We started our program from scratch, so we had the opportunity to build something from nothing, educate people along the way and clarify what we do and don't do. Our department helps employees maintain and improve their health and health behaviors. We're health educators, four of us are board certified in lifestyle medicine; we also have a plant-based dietitian, and a social worker because mental health is a critical part of the equation. It starts with our annual health risk assessment which includes biometrics, lab draws, blood pressure and BMI (body mass index). Participants also take a health assessment in our web portal. We look at aggregate data, analyzing rates of high blood pressure, cholesterol and blood sugar. We also analyze data for health behavior trends, like amount of sleep, consumption of fruits and veggies, tobacco use and perceived stress levels. After we analyze the data, we build programming to address the areas of highest need. We take a step back and consider what opportunities our population has. Nutrition programming is a huge area of opportunity. The dietitian on our team teaches classes and offers coaching. We have a health education website, and we are working on building out the prevention side of the healthcare equation. We don't just want you to come here when you are sick...you can come here to be healthy. This program has been a huge undertaking because we've had to scale since we've doubled the number of campuses and participants.
Q: The CSA (community supported agriculture) program hit a $1 million dollar milestone in July. Can you talk about how that's significant to the work you're doing and the health of the communities that you are serving?
A: We've been watching our financial trends, and the fact that we hit that $1million dollar mark shows there is sustained interest. Every penny of that money generated over the years has gone directly back to our local farmers. Right now, aside from the St. Luke's Rodale Institute Organic farm on the Anderson campus, we partner with seven other local farmers. Every time we add a campus to the CSA program, we add a new farmer. We have 19 weekly pickup sites and nearly 600 members.
Our season is 20 weeks from June through October. It looks like a vegetable circus with the smell of basil, fresh vegetables and carrot tops sticking out of bags. We had to retool our distribution process to be COVID-compliant, but we wanted to make sure we kept the program going – especially now. What's great about the CSA is that it completely normalizes the consumption of fresh produce. It's a vibrant and visual reminder of the importance of eating fruit and veggies and making it the norm – not the exception. The money that the shares generate goes back to the farmers. People like the fact that when you're committed to your share for the entire growing season, you really help the farmers and we get that powerful trickle-down effect into the community.
Q: How aware are hospital employees/patients about the CSA program and the farm? What feedback/interest have you gotten from them? Anything surprising that you have learned?
A: We bang the drum all day. My team works on messaging and getting the word out, and we speak at every new hire orientation. In the cafeteria, there is a farm logo at the point of serving – illustrating the concept of Farm to Hospital. Our program is scaled across the network – so it spans all campuses. The CSA is a family of sorts, so when people pick up their bright blue or yellow bag and are walking it back into the hospital, there's a feeling that you are part of something. The slogan on our cooler bags is: my farm, my table, my CSA.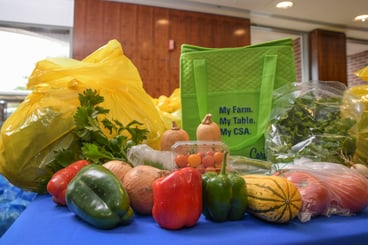 For my team, I see us as community health workers...we're road warriors for health -- driving around with cooler bags of fresh vegetables, our masks and hand sanitizer! Our mission is to teach people about healthy eating and that how you eat has the capacity to reduce major health risks. You are an active contributor to your health with what you eat. We have a plant-based eating class that has become popular because it teaches that part of the prescription for good health is what you're eating for dinner. Food is essential to good health.
Q: Have you seen any positive changes in behavior, awareness or attitudes because of the farm and CSA program?
A: Yes! We see positive health trends in our population. The rates of high blood pressure, poorly controlled diabetes, well controlled diabetes and prediabetes are all trending favorably. We meet or exceed 7 Healthy People 2020 targets. We also assess and trend our culture of health. In 2016, we did a baseline assessment that asked questions ranging from "my health is important to me" to "it is normal for people to exercise during the workday." Since that baseline, we have seen gains in nearly every indicator, some with as much as 30% improvement. Exercise and healthy eating were some of the areas showing the largest improvements.
Q: I love the fact that you're also supporting local farms, food pantries and soup kitchens. Can you tell us about that?
A: We developed a solution for any unclaimed CSA shares. If a member can't pick up their share, we offer the option for it to be donated to a local food pantry or soup kitchen. We have community partners serving the food insecure and we connect with them to make sure healthy food gets to people who need it.
Q: You have some impressive letters after your name including Certified Lifestyle Medicine Professional. Can you tell us about that?
A: I have a Master's in Public Health and am a Certified Health Education specialist. Health Education is how we deliver information and Lifestyle medicine is what we're delivering. It's the evidence-based content about nutrition, physical activity, sleep, personal connection, and emotional health. It's a credential offered through the American College of Lifestyle Medicine which requires specific credentials, completing educational components and sitting for an exam. Our wellnow website is a great example of content that speaks to what we're doing in the area of Lifestyle Medicine.
Q: Do you have any advice for people who want to be healthier in their daily lives, and they don't know where to begin?
A: We have health coaches on our team and hear the challenges: there's a lot of conflicting info and misinformation about health. It's important to steer clear of fads and gimmicks because your Mom was right: if it sounds too good to be true, it generally is. When people are overwhelmed, I tell them to stick to the fundamentals. Up to eighty percent of chronic health conditions can be avoided by four factors: a healthy BMI, not using tobacco, eating five or more servings of fruit and veggies every day, and moving more. When you focus your efforts there, you can make powerful changes for your health.
Q: Any final thoughts?
A: St. Luke's committed to a cool program by the Pennsylvania Department of Health called: Good food healthy hospitals. It challenges us to assess our food environment and commit to making changes to align with the highest levels of national food standards. We are the first health system outside of Philadelphia to make that commitment, and I'm excited to see how we can meet and even exceed it.
St. Luke's and Rodale Institute have worked together to create the pioneering organic farm on St. Luke's Anderson campus. Rodale Institute is one of Bluestone Life's non-profit partners. At Bluestone*, we're a member of 1% for the Planet.  So, your premiums benefit high-impact non-profits like Rodale that are working diligently for positive environmental and social change. We also provide a complimentary additional death benefit which you donate to the nonprofit of your choice.
Bluestone encourages the Practical Activist in all of us to get involved in your community and support organizations like the Rodale Institute and St. Luke's University Health Network that are creating solutions every day for healthier, local and sustainable food systems.
Like hearing about Practical Activists?
We'll share their stories with you monthly. (No email overload… we promise!)
Previous article
Practical Activist Q&A Featuring Tom Henning, Chairman, President & CEO, Assurity Life