A Practical Activist's Guide to Rethinking "Gift" Giving
Carey Earle, Bluestone's President

December 22, 2021
Feature photo: Carey, right and her sister, Cathy, celebrating the gift of time together during a snowfall in Vermont.
Winter Solstice. Christmas. Hanukkah. Kwanzaa. Rohatsu. The New Year.
Whatever you may (or may not) be celebrating this time of year, it's always a good time to take a step back and think about what giving really means to you and to the people you love and care about.
If you're running around stressed-out with your hair on fire and jacking up your credit card bills, take a pause and ask yourself a few simple questions.
What are some of your happiest memories with family and friends or on your own?
Our fondest memories are often the experiences and time that we share with people or when we take a well-deserved break. It's rare that you remember the gift from 1983 that you tore the paper off in three seconds flat. Think about the experience of time together and how to enrich the experience. That can be cooking together, baking cookies, tasting wine, going skiing or snow shoeing in the moonlight, "sugar on snow" (here in Vermont and Canada) or sharing a favorite music playlist as people gather. If you are spending time alone, treat yourself to one of your favorite pleasures...a massage, a cozy evening with a favorite book, or one of your guilty pleasures that quietly gives you joy. Also, these experiences don't have to be tied to a date, they can be created and "gifted" all year round.
A great memory I have of one Christmas in New York City was volunteering at a soup kitchen with a group of friends. Here in Vermont, I've volunteered many times at the Vermont Food Bank with friends and coworkers. Building community is a shared gift with the benefit of spending intentional time and creating many circles of giving.
What has meaning to the people you're giving to?
We've all had that moment when the gift that you're receiving is clearly not about you at all. It's something that the giver covets or wants. That kind of becomes the inverse of giving. A great joy is spontaneously giving. Think about how it feels when you receive a gift because someone thought of you in that moment…because they saw something that was perfectly you.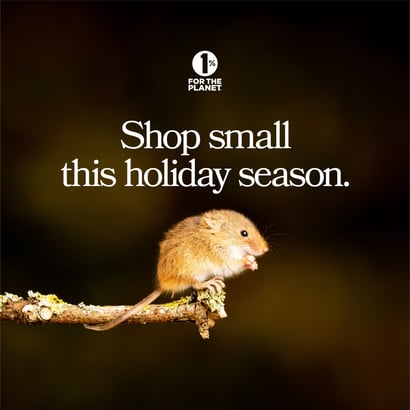 Gifting to nonprofits in the name of someone is a powerful and purposeful gift. When you have a friend or loved one that is passionate about an issue or a cause, honor them with a donation in their name. Check out the One Percent for the Planet directory for both businesses and nonprofits for gifts and donations for the changemakers in your life.
Creating gifts is always personal and enriching for both the giver and receiver. Think about the favorite handmade gifts you have given or received over the years. Here's one I created for my sister several years ago that has significant meaning and memories for us.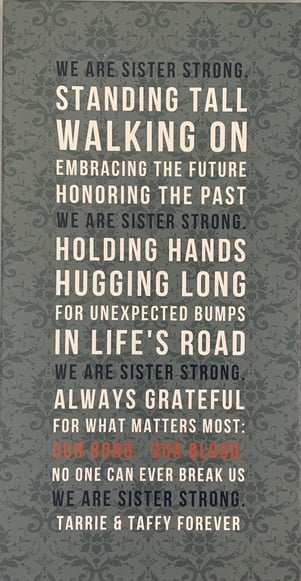 How can you have impact with the gifts you do give?
So, if you have a budget and a list ready to go and now the question for you is, how can I do the most good with the dollars that I'm planning on spending?
Visit DoneGood, the Amazon of Social Good. A member of 1% for the Planet and a Certified B Corp, they are the perfect site for sustainable products of all kinds.
Support the small businesses and artists in your community and let go of supply chain fears all together.
The elves at B Lab have curated several B Corporation Gift Lists that include gift giving by region, gifts that give back, and 14 gifts that take care of the planet.
Here are a few of my favorite stocking stuffers from both the 1% for the Planet and B Corp Community.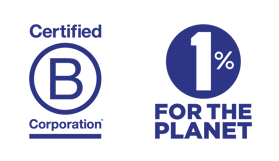 Three Blue Birds. This is my favorite dishcloth hands down. A great gift for anyone who is working toward a sustainable kitchen or who just wants a great dishcloth.
Bee's Wrap. Reusable food storage made in Vermont and a staple in my pantry. Check out our blog post with Bee's Wrap's CEO.
All Good's Organic Coconut Skin Food. This is for any one you love that struggles with dry skin. It's a little bit of heaven in a jar. Meet the CEO of All Good in one of this year's blog posts.
Lake Champlain Sea Salt Caramels. Have been giving these for years and always get rave reviews. Great hostess gift and perfect for a night by the fire writing cards or journaling.
Do you have a baker in your life? Check out the classes at King Arthur Flour. They're virtual and also in person in Skagit Valley, Washington and in Norwich, Vermont at King Arthur's headquarters. That's on my list for the new year and one I know that will create both memories and mastery.
Underwood Bubbles. For your friends who like bubbles, here's a little effervescence from Oregon that sets the right tone for just about everything.
Finally, it's okay to take the pressure off and tell people where you are right now. I've always been a fan of writing New Year cards and letters because it gives me time to write personal notes on each card and not feel rushed to get them out by the end of the year. Then, the act of connection becomes a simple joy of being present…and that's what it's all about.
Happiest of holidays and warmest wishes for a bright, caring and compassionate 2022 from all of us at Bluestone.
Bluestone Life is life insurance for family, community and planet. Join our impact revolution and put your life insurance to work for good. We're members of both One Percent for the Planet and the B Corp communities.
Like hearing about Practical Activists?
We'll share their stories with you monthly. (No email overload… we promise!)