Practical Activist Q&A featuring: Caroline Duell, Founder & CEO, All Good
Bluestone Staff

May 17, 2021
Featured image: Caroline with her team
Caroline Duell is the Founder and CEO of All Good, an ethical clean beauty company that's dedicated to making "EveryBody better" and reimagining conscious business. All Good is a fellow member of 1% for the Planet and the Certified B Corporation community…and there's a Vermont connection, too: Caroline went to UVM where she earned her B.S. in Holistic Health and Environmental Studies.
Q: You launched your first product "All Good Goop" in 1998 and today your products are sold in over 5,000 stores internationally and you support over 60 environmental nonprofits. What do you think is the most transformative thing you've learned in your "All Good" journey so far?
A: That's a great reflection on the word "transformative" because there are so many experiences along the way that I could identify.
As a business leader, I think learning mindfulness has been the most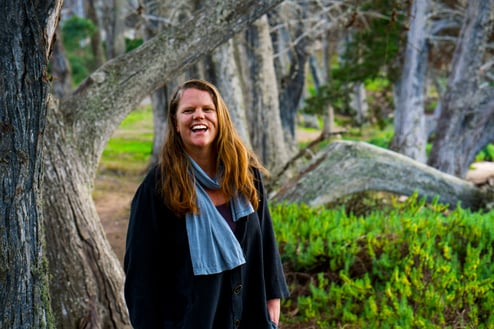 transformative for me, really infusing a sense of moment-to-moment awareness into daily practices. As a business owner, "persistence" has been the most transformative because I can easily get bored and distracted and move on. Photo: Caroline Duell
And as a business partner who shares running my business, my family and my life with my husband, I've learned the importance of communication…we learned that early in our relationship and it has served us through and through.
Q: From climate change to social and economic justice, 2020 was a societal reckoning in many ways. From your perspective, are there trends or shifts that you're seeing in your business and/or your community?
A: The most exciting shift that I'm seeing is the ability to reimagine the unimaginable. A lot of the time, going outside the parameters or guidelines can be construed as unproductive. During the pandemic because our constraints were so strong, we had to figure out how to do what we needed to do regardless, and so it what just started to emerge were new ways of doing things. I'll give you an example. We sell our products in Target, and we have to do a review with the buyer. Normally, that's 6 hours of flying and a hotel room for just 46 minutes of time with that buyer. When you think about that from both a resource and a carbon perspective, it doesn't make sense for such a short amount of time for the actual in-person meeting. In 2020 and in 2021, so far, we've been able to do those meetings remotely…and it is so much easier for us on every level. I would never discredit the importance of human-to-human contact because we know it's invaluable, but when it comes down to being able to choose the best way to meet from a resource perspective that's ideal. It also gives us a leg up in terms of supporting growth and being able to develop new relationships without putting too much burden on the business. New ways of doing things and new ways of thinking are all about regenerating hope for All Good stakeholders. That's part of our goals for 2021 and central to what we're doing.
Q: There's a strong nonprofit component to your business philosophy. Tell us about your relationships with nonprofits and some of the nonprofits you support through 1% for the Planet.
A: We joined 1% for the Planet the same day we started our business and it was very clear for us from the beginning to have accountability for our impact on the planet -- what Yvon Chouinard calls the "Earth Tax." We've partnered with over 60 nonprofits. In the early days, we did a lot of work with United Plant Savers protecting habitats for wild medicinal plants, and that was a clear connection for us to make sure we're protecting habitat for the plants we're using in our products, like Arnica for example. We also partner with a lot of nonprofits in Hawaii: Sustainable Coastlines Hawaii, Na Kama Kai and the Pacific Whale Foundation are just a few. Since we make mineral sunscreens, we began working on legislation in Hawaii that banned toxic chemicals that are found in sunscreens. Through that process we learned so much about communities in Hawaii and seeing the degradation of coral reefs in their small bays, and the reefs that they rely on for fishing and tourism. Building those long-lasting relationships has been some of the most rewarding work that we've done – especially understanding and supporting what was important to them. We've stayed close with those communities in Hawaii that are working on restoring their reefs and educating people to be part of ocean advocacy.
In a perfect world, we wouldn't need nonprofits…if we didn't have an economic system that creates a negative feedback loop for extraction and destruction and marginalizing people along the way. In an ideal world, we would just collaborate and there wouldn't be a distinction between for-profit and nonprofit and we'd all be working for the greater good. The nonprofits for us are an amplification of what we want to see in the world and our opportunity to support the people who are on the frontlines supporting that work…and it all goes back to our goal of regenerating hope.
Q: You're a Certified B Corp, and a Certified Green business who became carbon neutral to 2020. What advice would you give to other business owners considering becoming a B Corp and looking at how to have more positive impact?
A: It's important to be clear about what your goals are with your business and to understand that it's a process. It's not a one-time thing or a snapshot. It's an ongoing journey of being able to measure practices. We measure what matters in business and there's a financial component to that, and then there's the next step which is to expand and extend that to looking at how we manage our businesses internally, how we govern, how we treat our employees and how our communities are impacted and how our environmental practices are affecting our surroundings. When we can see those things, then we can see where we need to go. While it may not be easy…it's also not that hard.
Q: When you look at your background, what has prepared you the most for your success?
A: I was very fortunate at a young age to be exposed to wilderness experiences. When I was in middle school, we had a wilderness-based learning program and we'd spend multiple days out in nature during all four seasons and that grew this interest in me in continuing to learn and experience nature. It taught me self-reliance and also awareness and respect of my surroundings. You never know where weather is going to come from or when a navigational situation can go sideways. You also learn trust in yourself and trust in a group, and the importance of collaboration. I also learned first aid and medical training which all have supported me in this business. I think all of these components help us to be humans in community and that's what leads to success in business. And that really showed up in COVID for me because when COVID hit, first thing I said was 'let's have a buddy system' and I kicked into gear from my wilderness guide mentality to care for all people and leave no trace.
Q: I noticed that you had two children as you were growing your business. What advice do you have for other women (and parents) out there who are starting businesses or just trying to make it all work?!
A: The first thing I would say is that 'I feel ya! And this is not easy.' I think it's important for a mother to have external support that is not only her partner, and the other piece that has worked for us is not to be bound to rule books.
Photo below: Caroline and her kids
Because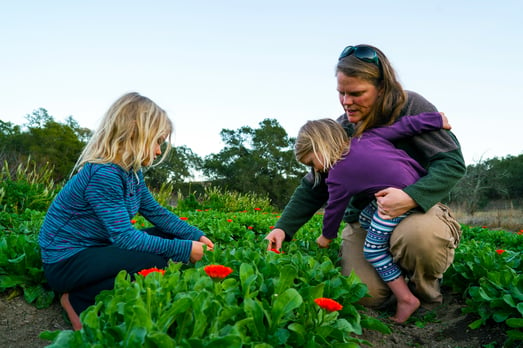 all those books "What to expect…" and "How to raise your kids" books, they can offer great ideas, but every child is so different. There are 24 hours in a day, so don't judge yourself for what you're doing in what hour. For us, it worked to bring our children into the business because it's a family business. They are out helping us in the fields if we're harvesting or if we're having to talk about business at night, we let them into the conversation and let them understand what we're doing at a level that they can understand. Also, being willing to just shut it down because kids want direct attention and response…they need their stories caught, and you can't catch a story if you are on your phone or if you're multi-tasking. Even if it's 20 minutes a day…that 20 minutes of interrupted and dedicated time stretches into a lifetime with true meaning and impact.
Q: Do you have any advice for people who feel overwhelmed when they think about climate change and the environment and where to begin?
A: I think it all goes back to finding simplicity. Go look at a little seedling that is breaking through the asphalt and think about the power within that seed. There's no better metaphor because nature is resilient and it's going to be okay. Our perpetual optimism can help us solve the problem. If we worry about the things that we have no control over that just stresses our systems and depletes our immune systems as well and puts us in a worse position to support the process and find solutions. So, I think finding positivity through the most fundamental example of a seedling starting to grow is the place to start…I believe in the power of collective consciousness and positivity and that the wellness of people and the wellness of the world is all interconnected. I want people to find the positivity.
Q: You and your husband also own Four Elements Farm in San Luis Opispo County. Tell us a little about that.
A: My husband, Ryan, is an organic farmer. He started the first student-run organic farm at UVM in the 90s, and then he started Vermont's first certified organic chicken operation in Central Vermont, and then I dragged him out west to California, and we've been here ever since. We bought our farm in 2003 with a couple of friends. The previous owner had been a Harley Davidson mechanic, a Hell's Angel group leader and meth dealer; and it was a junk yard. We were able to purchase it because of that and the first two years we spent removing heavy metals and garbage. We got rid of 40 cars and endless dumpsters of junk. Our first crop was citrus trees, and then we've had some periods where we grew tomatoes, berries, soybeans and avocadoes. We also grow calendula which we use in our All Good products – it's a medicinal flower that is really good for the skin and it helps rejuvenate healthy skin tissue. Most importantly, we like to "grow" farmers on our farm by way of supporting young farmers and giving them the infrastructure and experience of managing our operation while getting theirs started. Our current farm manager grows beautiful organic cut flowers for events, subscriptions and farmers markets. She is also in charge of the whole farm enterprise including a once a month box of vegetables and fruit for All Good employees.
Q: What are you reflecting on as you look to the future?
A: For our business, the future is a continuation of replacing everyday toxins with plant-based ingredients that are good for people to use. We just became carbon neutral, so I'm excited to continue the process of looking for internal reductions in the supply chain and developing relationships with farmers who help grow in the organic, regenerative agricultural approach. We just completed a carbon farm plan for our farm where we're able to optimize the carbon sequestered per acre through a long analysis and we're going to be implementing that. I'm also energized by the next generation because I think they get it, and they are going to bring a paradigm shift.
Q: Do you have a mantra or quote that you live by or that inspires you?
A:  There are so many. A daily practice is important so whether it's just a few minutes of breath or a few Asanas in Yoga, I take what I can, but I do appreciate having some moments to just walk around outside. When it comes to a quote, I'm a big fan of music and I think of Bob Marley and "Everything little thing is going to be alright."
Neil Young is one of my favorite musicians and I love his lyric: "A little bit of affection in everything you do will make the world a better place with or without you."
Like All Good, Bluestone Life is a Certified B Corp and a member of 1% for the Planet. A life insurance policy from Bluestone Life benefits nonprofits within the 1% for the Planet network. We encourage the Practical Activist in all of us to work for a healthier planet. Learn more about companies who are doing business as a force for good.
Like hearing about Practical Activists?
We'll share their stories with you monthly. (No email overload… we promise!)