Salute the Light within on Indigenous Peoples' Day
Carey Earle, Bluestone's President

October 10, 2022
Feature image: Sunrise over Monument Valley Navajo Tribal Park.
"The Red Nation shall rise again and it shall be a blessing for a sick world; a world filled with broken promises, selfishness, and separations; a world longing for light again.
I see a time of Seven Generations when all the colors of mankind will gather under the Sacred Tree of Life and the whole Earth will become one circle again.
In that day, there will be those among the Lakota who will carry knowledge and understanding of unity among all living things and the young white ones will come to those of my people and ask for this wisdom.
I salute the light within your eyes where the whole Universe dwells. For when you are at that center within you and I am that place within me, we shall be one."
ꟷ Crazy Horse (1840-1877) – Oglala Lakota Sioux
This wisdom from Crazy Horse so accurately reflects where we are today as we grapple with the many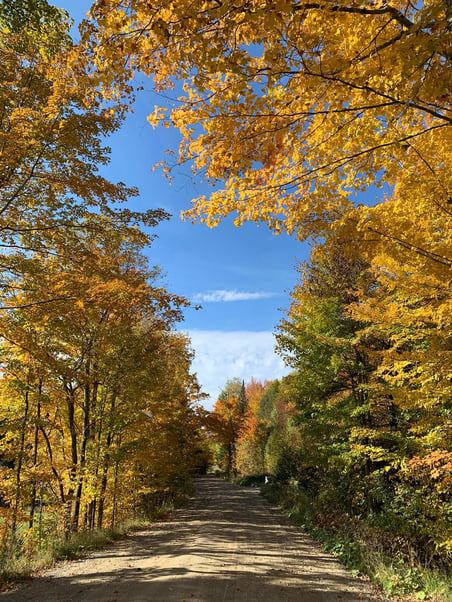 environmental and social realities of a world that is easily disconnected from family, community and planet. I write these words today from the traditional lands of the Abenaki in Eden, Vermont. (photo right) If you'd like to know whose land you're on or create a land acknowledgement, check out this open source project using data from Canadian nonprofit, Native Land.
Vermont is one of 14 U.S. states that celebrate Indigenous Peoples' Day. The first state to recognize the day was South Dakota in 1989 and the cities of Berkeley, California, and Santa Cruz soon followed. As of today, the list of states includes: Alabama, Alaska, Hawai'i, Idaho, Maine, Michigan, Minnesota, New Mexico, North Carolina, Oklahoma, Oregon, South Dakota, Vermont, and Wisconsin—as well as the District of Columbia, and more than 130 cities.
The spark of the idea for Indigenous Peoples' Day was ignited at a U.N. international conference on discrimination in 1977. Today, Indigenous Peoples' Day celebrates, recognizes, and honors the rich tapestry of traditions and cultures of Indigenous People around the world. Now more than ever, their way of life carries wisdom and valuable insights into how we can live life more sustainably and how we can cherish and protect the natural resources of the earth.
Five Ways to Acknowledge Indigenous Peoples' Day
Read the work of these two Pulitzer Prize winning authors: Louise Erdrich (Turtle Mountain Ojibwe) received the award for fiction for her novel

The Night Watchman

(Harper). Natalie Diaz (Mojave/Pima) received the award for Poetry for her collection

Postcolonial Love Poem

(Graywolf). Here is one of my favorite Diaz poems:

If I Should Come Upon Your House Lonely in the West Texas Desert.

Check out these resources for learning and teaching about Native American culture.
https://socialjusticebooks.org/booklists/american-indians/
https://americanindian.si.edu/nk360/about/native-knowledge-360
https://americanindian.si.edu/nk360/faq/did-you-know
The Practical Activist blog is created by Bluestone Life. At Bluestone, our life insurance empowers our customers to protect family, community and planet. A Certified B Corp and a member of 1% for the Planet, Bluestone is a transformative choice for social, environmental and financial systems change.
Like hearing about Practical Activists?
We'll share their stories with you monthly. (No email overload… we promise!)