Practical Activist features Marina McCoy, Sustainability Boss Lady
Bluestone Staff

November 9, 2022
Feature image: Marina McCoy in The Restock Shop.
For Marina McCoy, Sustainability Boss Lady, just barely begins to tell her story. She is Community Manager at Hula, and a Zero Waste & Recycling Expert who is the Founder of both Waste Free Earth and The Restock Shop. (photo below)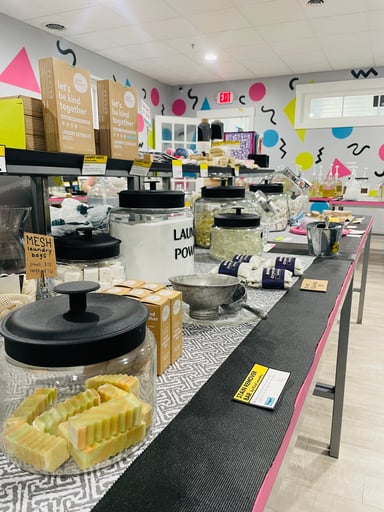 She loves to talk trash, specifically how we can reduce our waste as a society, and has spoken at many conferences and events, including the TedX stage. Her many accolades include: Vermont's Young Entrepreneur of the Year, Vermont Businesses for Social Responsibility Young Change Maker, Vermont Business Magazine 40 under 40, along with being nominated for 1% For the Planet's Pinnacle Award. She is also bipolar and recently shared her journey of mental well-being, as both a student and serial entrepreneur, at the VT Womenpreneurs Summit hosted at Hula.
Her mission is to empower one another so that together, we can reach our full potential and live more sustainable lifestyles. In her free time, you can find her in the mountains, volunteering, or making waste free dinners with friends.
Here are some highlights of our recent conversation with her:
Q: When did your interest in sustainability begin? How has awareness changed in the last decade?
A: It began my freshman year in high school, though I didn't really realize it until college. In high school, we had this RRR project (Reduce. Reuse. Recycle.) You had to make this booklet with tips on how to be environmentally friendly. My teacher held onto my book for almost a decade because she liked it so much, and it really just became second nature to me after that. And then in my chemistry class, I did some work on green cleaning instead of using harsh chemicals…so I knew I was gravitating towards this work, but I never thought of studying it. When I went to college, I was initially studying graphic design because my parents wanted me to do something that they thought could pay my bills and at that time, a career in sustainability wasn't paying much. But after taking my first environmental class at Sierra Nevada College, I knew having a career in sustainability was for me. I then did a complete 180 and decided to switch my major from graphic design to a double major where I was studying both a BSBA interdisciplinary studies in sustainability and ski resort management.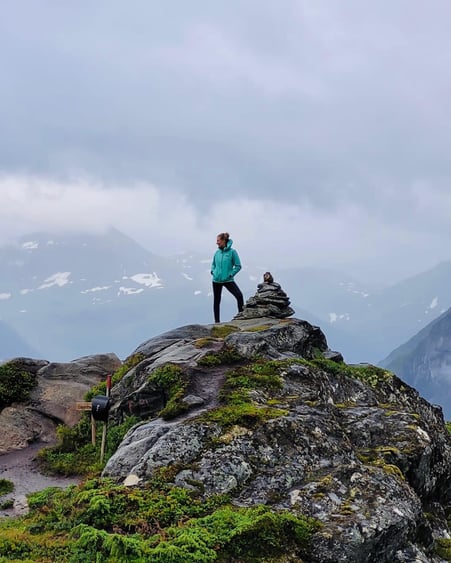 Photo right: Marina hiking in Stranda, Norway
When it comes to awareness around sustainability, it's both good and bad. In a good way, people know more about sustainability and they are trying to be more conscious of their actions. In a bad way, businesses have caught onto it and many of them are greenwashing their efforts. When it was less mainstream, businesses were not trying to capitalize on it as much. I am passionate about educating people about greenwashing. I have a whole workshop on it. You really have to research what's going on and understand what's happening. When it comes to the language of sustainability, I avoid using the terms "eco-friendly" and "green," and I like to use "environmentally sound" a lot. I'm sure that will keep evolving too.
Q: Talk about how you're balancing your many roles and passions from Hula to The Restock Shop and Waste Free Earth?
A: I've been doing Waste Free Earth for about ten years now. I started it when I was in college when I was doing zero waste strategies for events, mainly music festivals. I traveled the whole country and learned a lot about human behavior and waste. When the pandemic happened and you couldn't do events anymore, I switched to doing zero waste strategies for businesses, and it was during that time that I got Hula as a client. Around that same time, I was approached by a dry-goods company that was going out of business because they had seen my Instagram account @SustainabilityBossLady, and thought I might want to buy their business. I ended up buying some of their inventory, and that's how The Restock Shop was born.
Photo below: Marina enjoying a sauna and cold plunge at Hula Lakeside courtesy of Savu Sauna. Photo by Red Hot Chilly Dippers.
I love being part of the Hula community, so when they offered me a full-time position as a Community Manager, although I have two businesses, I jumped at the opportunity to help cultivate the community here at Hula through my new position. My work-life balance has gotten better because of Hula. As you know, we have weekly meditation sessions and I lead a paddle board club. We have breath exercise workshops and massages once a week…our team works out together on Wednesday's. Being here and being right on the lake has helped me become better at setting boundaries and taking care of myself.
Q: What advice do you have for anyone who is interested in living a more sustainable lifestyle or dedicating their life's work to the field?
A: Find your passion and see where you can make that more environmentally friendly. So, for me, it started out with food and food waste. I started looking at how I was eating, shopping, cooking and planning, and then that inspired me to look at all the waste in my life, so I did a waste audit in my bathroom…and went on from there. If you're passionate about fashion, start in your closet and see how you can upcycle your clothing and create more looks out of what you already have. I recently got into Rent the Runway because even though I thrift, I could see that if I kept getting dresses for events, they may hang in my closet unused for a long time. I heard the founder of Rent the Runway on a podcast and that really opened my eyes to renting clothes.
Q: What are you most hopeful about as you look to the future?
A: That refillable items are becoming a lot more popular. I'm probably biased since I own a refill shop, but just seeing how more and more companies and bigger brands are thinking about refillable and concentrated solutions. Grove and Blueland are both great. At my shop, we have a lot of concentrated solutions and tablets that you can put in water. This really cuts back on both the expenses of shipping and the environmental impact.
Q: Do you have a mantra or quote that you live by or that inspires you?
A: "If it's important to you, you'll find a way; and if it's not, you'll find an excuse." This helps me prioritize and stay focused on what is important to me.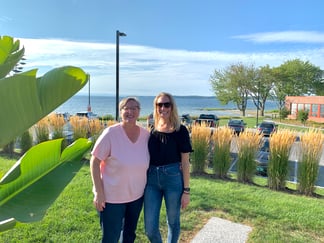 The Practical Activist blog is created by fellow Hulagan, Bluestone Life. With Bluestone, your life insurance creates positive impact for family, community and planet. A Certified B Corp and a member of 1% for the Planet, Bluestone is a transformative choice for social, environmental and financial systems change.
Photo above: Marina with Bluestone's President, Carey Earle at Hula Lakeside.
Like hearing about Practical Activists?
We'll share their stories with you monthly. (No email overload… we promise!)