Practical Activist Q&A Featuring Travis Forgues, Organic Valley
Bluestone Staff

October 25, 2022
Featured images: (top) Travis Forgues, EVP of Membership at Organic Valley, and (images below) the Stony Pond Farm in Enosburg Falls, Vermont.
Travis Forgues is Executive Vice President of Membership at Organic Valley, the nation's largest farmer-owned organic cooperative and one of the world's largest organic consumer brands. Headquartered in La Farge, Wisconsin, Organic Valley has 1,800 farmer-owners and 950 employees. They became a hero to many in the Northeast when they saved 51 farms whose livelihoods were in danger and over half of those farms saved are here in our home state of Vermont. Travis also has Vermont ties which we explore in our conversation with him.
Here are some highlights of our recent conversation with Travis:
Before you came to work at Organic Valley, you were one of their family farmers in Vermont. Tell us about your personal ties to Vermont, organic farming and Organic Valley's mission to save small, organic family farms.
We were the first Organic Valley family farm in Vermont in October 1999. We had three farmers in Vermont,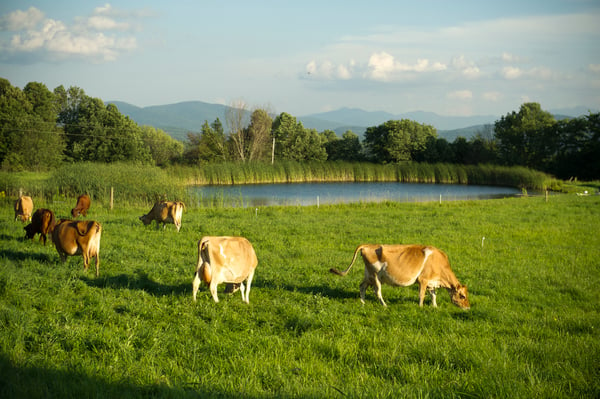 me and two others. When Organic Cow (the brand) was sold to Horizon, the VP of Horizon called and said "How much do you want?" I turned down an open checkbook. It wasn't about the money; this isn't up for negotiation. The VP said, "If you are going to leave, we are going to drop all the rest of the farmers." We got into a heated conversation, which eventually led to Horizon allowing me to find an alternative market.
This is where George Siemon, founding farmer and former CEO, came in. I worked with him and found a way to get enough producers to join Organic Valley to make it viable for the co-op to pick up milk in Vermont. The idea of ownership and the concept of being part of a co-op and having a voice and a part of your future, that's the passion that drives us. It's what we do.
What has surprised you the most in the last nine years as you went from being a farmer-owner at Organic Valley to leading membership for the 1,800 farmer-owners in the cooperative?
How much I would miss riding on the tractor every day. The difference in being on the executive team and a farmer is encompassing the reality of business and managing people. Managing people is a very different skill set and it is complex—humans are complex. It's good and exciting, but it comes with its challenges. The business has to be a synergized approach to empowering and letting staff do the work. I miss my farm every day, I miss milking cows, I love the lifestyle on the farm. I did not run from the farm. A couple times I almost went back to farming.
My father (Henry) is great...a sweet, quiet person. I love my father, not a hug every day, but love. In my life, I've been yelled at by my father approximately five times. After a visit back to Vermont, I called him and told him that I wanted to be home milking with him, and he yelled at me: "That is the most selfish thing you ever said. You have the skillset to do the work you are doing and to say you want to work with me is selfish. You work vicariously through farmers every day." That is really powerful stuff and that's the reality. I live vicariously by giving opportunities to others; the concept of empowering people to do what they want to do.
I'm a blessed individual–it is a very different perspective.
Is there anything you would like to communicate to potential customers about their decisions when they go to the grocery store– what it means when they choose an Organic Valley product?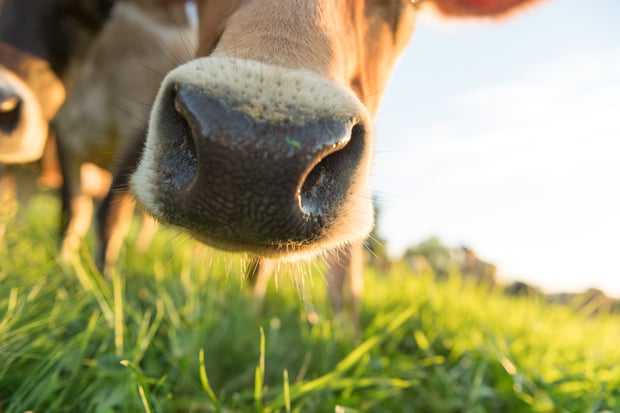 The reality that everything that goes into an Organic Valley carton is authentic. There is a lot of greenwashing and half-truths out there, but what the co-op offers is authentically real; we have maps that show where our farmers are. Consumers looking to buy a carton of organic milk can know they are changing organic agriculture and keeping it alive. That's why our stories are so important, because you are making a change.
I think we have a lot of opportunity to grow our marketplace and there are great opportunities within our customer base to utilize organic in a really positive way.
How do we place farmers strategically in the right places so consumers can connect with them? That connection you make can do quite a bit. Early on the co-op would take us (Amy and I) to Chelsea, New York, to make connections in grocery stores. It is so valuable because it takes 15 seconds to say hello, and allows consumers to connect with their food. If they have to stare at a farmer with a coupon in-hand, it's hard to walk by and go to the Horizon cooler.
Do you have a mantra or quote that you live by or that inspires you?
Gelassenheit. It's an Amish word. It's about serving something bigger than yourself.
The Practical Activist blog by Bluestone Life features changemakers working for family, community and planet. Learn how Bluestone supports national and regional nonprofits in organic and regenerative agriculture. Bluestone Life is a 1% for the Planet member and a Certified B Corp.
Like hearing about Practical Activists?
We'll share their stories with you monthly. (No email overload… we promise!)
Previous article
Practical Activist Q&A Featuring: Susie Walsh Daloz, Vermont Youth Conservation Corps