Practical Activist Update: Congrats to Jeff Tkach, Rodale Institute's new CEO
Bluestone Staff

March 27, 2023
All photos courtesy of Rodale Institute
Featured photo: Jeff Tkach, the new CEO for Rodale Institute, the pioneering nonprofit at the forefront of regenerative agriculture who helped forge a path to the modern organic movement with soil health at the heart.
We want to congratulate Jeff Tkach, who has been selected by the Rodale Institute's board of directors to lead the global nonprofit as its next CEO, effective April 21, 2023. In the recent announcement, Jeff said:
"I'm honored to lead the Institute at this pivotal moment in history—when issues surrounding the climate, human health, and the long-term viability of agricultural land require practical solutions from innovative organizations like Rodale Institute. As the Institute's next CEO, I promise to work like our future depends on it—because it does."
The spirit of the Rodale Institute captures the ethos of the Practical Activist. They live out their mission bringing science and data to complex issues and connecting their research to meaningful change. We're proud that our life insurance policies support the critical work they do.
Here's the feature that we did of Jeff in March 2021.
Q: The pandemic has shined the light on many broken systems in our world. How has the past year impacted the work that you're doing at Rodale Institute?
A: 2020 was the most profound, impactful, accelerated and successful year in Rodale Institute's history. Would you believe we're just coming up on the anniversary of the day that we all were sent home and we went into quarantine. We didn't know what this would mean for the future of our work. There was a lot of anxiety for all of us naturally. What it ultimately meant was that it was the kind of catalyst for our work that we've been waiting for. Financially and philanthropically, it was the most successful year in our history. Individuals and organizations from around the world were so generous, and I think it was a few factors. First, the global pandemic exposed a lot of frailties in our nation's food and agricultural systems. We remember what happened in April and May when we went to the grocery store and the shelves were bare. We saw global and local supply chains become disrupted. That's not surprising if we look back to the WW II, victory-garden years when we were producing 45% of the produce we put on the table. Would you believe that by 2020, 17% of our food comes from other countries? We've had a 70-year divorce from connection to the source of our food. So, the good news was that in 2020, direct farm sales were up 420% year over year.
We're at a moment of great awakening because we've had the opportunity to reconnect with nature and agriculture and the biological process of food production. During this global pandemic, people begin to question their own health, immunity and think about where their food is coming from. We were home so we had more time on our hands, and another phenomenon that happened was 22 million new gardens were planted in 2020. So, we saw this cultural shift towards reconnecting with our food and agricultural systems and individual people began to take charge of their own food and health. As we saw the exposition of the weaknesses in global food chains, this drove our return to our own localized food systems and the farmers who are practicing regenerative agriculture right in our own communities. It's creating an all-time high demand for our work because we need organic farmers and we need them to be successful. We need healthier soil to produce healthier food and healthier people.
Now, our doctors are talking about immunity and building more resilient people and this crisis has shown us how unhealthy Americans are. This really exposed that we have a human health crisis in this country. We need people eating healthier. I am excited and optimistic for the opportunity to make people healthier. Rodale Institute needs to keep doing what we're doing, and now we really need to accelerate.
Q: You've been doing great work out there on the podcast circuit spreading the word. I've heard you talk about "hidden hunger." You want to break that down for us?
A: In the U.S., while there's no shortage of food for some, our most vulnerable communities have the worst access to the heathiest food, and what is most accessible to them is what is least nutritious.
Photo below: organic vs. conventional soil from Rodale Institute's landmark Farming Systems Trial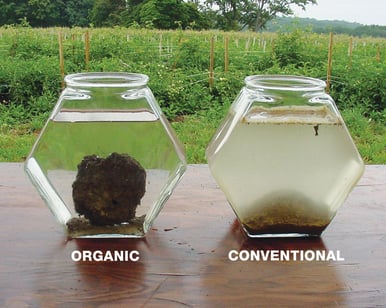 Because of our conventional, industrialized agricultural practices, our soil has become so depleted and devoid of nutrients. That means the food that we're buying in the grocery store is highly processed, highly laden with pesticides and toxic chemicals that are making us sick. So, while we may have a lot of food as a nation, the food that we're consuming is often the most nutrient deficient in our history.
Rodale Institute is embarking on is a study to show this: it's called the Vegetable Systems Trial. It's the first study in the United States of its kind. It's taking plots of land where we're growing organic vegetables directly next to plots of land where we're growing vegetables with conventional, chemical methods. We'll be studying the nutrient density of the food depending on how it was grown. We're only a few years into the study and we're already showing that there are stark and dramatic (even frightening differences.) in the nutrient quality of the food grown organically versus conventionally.
Q: There was a recent announcement about The U.S. Organic Grain Initiative which partners Rodale with Cargill and chicken producer, Bell & Evans. Do you want to talk about that and the gap that it's filling?
A: This is one of the most exciting announcements for us at Rodale in a long time. Bell & Evans is one of the largest certified, organic poultry producers in the U.S. It's also a family-owned business. Their founder and CEO went to Cargill and said "I'm willing to give you a very long-term grain contract. I'm willing to buy all of my feed for my chickens from you over the next 5-10 years under two conditions: 1) every stich of grain will come from U.S. farms. I won't accept imported grain. and 2) Hire Rodale Institute so your farmers grow the grain the Rodale way. The goal is to transition 50,000 acres in the next five years, and I think we're going to triple that. We've seen such demand for this service.
Only one percent of American's farmland is organic, so if we're going to move the needle it's going to come from grain production. So, we need major food producers to commit to domestic, organic grain. When you have General Mills, Kellogg's and Nestle importing grain that doesn't help our local supply chain.
Q: Rodale Institute has done some critical research in soil health. Do you want to talk about the impact that your research has had?
A: The biggest headline in terms of impact is the Farming Systems Trial. A forty-year study, it is the longest-running side by side comparison of organic and conventional grain crops in the world. That one study had hundreds of white papers written from it and there's been four decades of peer-reviewed science that has come out of this study. The biggest impact for the consumer is that when you and I go into the grocery store and we see the USDA organic logo it's because of that science that came out of the Rodale Institute. Forty years ago, Bob Rodale, one of our leaders, was going back and forth to D.C. trying to advocate for a national policy for organic food production and he pretty much got laughed out of the room. They all felt if there was going to be any legislation around the word "organic" it needed science. Bob Rodale funded that study himself in 1981 and by 1990 the U.S. government passed the National Organic Production act because they were convinced by the data coming out of that study. That one study continues to have profound reverberations today.
Read Rodale Institute's white papers and explore other resources.
Q: Are there misconceptions about regenerative agriculture and organic with the general public, farmers or businesses in the food supply chain?
A: Misconception around the word "regenerative" is that it's just another buzzword. It's a word that is being co-opted now by a lot of big food companies and it's not really defined. The word "organic" is probably the most trusted word in the grocery store -- even with all of its flaws. Big companies have co-opted the word "regenerative" and put pressure on the government to water down "organic." Rodale's response to that was to launch a new certification called the Regenerative Organic Certification and it is now the highest bar in all of food production. It safeguards our federal government from watering down the standard and it also defines the word regenerative. It's going to give our consumers the highest confidence in the food they're purchasing.
Dr. Bronner's, Patagonia and Lotus Foods are three large brands that are launching regenerative organic products. Campbell's is talking to us right now about how they can get on this regenerative organic path. So, we're seeing a lot of interest and the consumer is going to start seeing a lot more regenerative products on the shelf.
Q: You wake up every day doing mission-driven work. You started out in publishing and media…how did your career path bring you to Rodale Institute?
Photo right courtesy of the Rodale family: JI Rodale, publisher and founder of Rodale, Inc. and the nonprofit, Rodale Institute.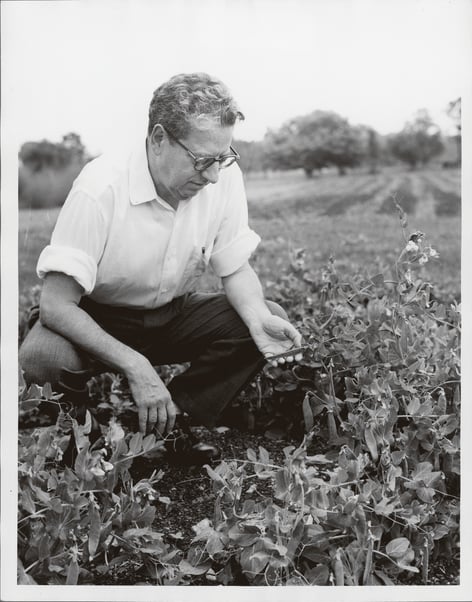 A: I've been very blessed and I've been on a path of just following my heart. It's taken me in a lot of different directions…first in the publishing industry and then ultimately leading me here to my position at Rodale Institute. JI Rodale started a for-profit publishing company and that's where I worked for many years, and then he also started the nonprofit, Rodale Institute, in 1947. They've been sister organizations, so I've always been around the nonprofit peripherally. The moment when I encountered the work of Rodale Institute, I fell in love with it, and it connected to my heart, and I met our CEO, Jeff Moyer, and he connected with me in such a powerful way. I'd had this curiosity around what would it look like to work there and how can bring the best of who I am to bear with this mission that I so believe in. In 2016, I had a tremendous health collapse which led me to ask those scary questions about who I am and where I am going? It ultimately led me to step off the Board of Directors of Rodale Institute and take on a full-time role. So, my own health journey was a catalyst for me to look at what I was doing and realizing that I wanted to focus on the perils of our health and agricultural systems and dedicate my time to the work Rodale is doing which is necessary to heal both of those systems.
Q: Do you have any advice for people who are looking to connect their values more to their daily decisions and to get more involved in food systems and healthy food?
Photo below: farmers at a training at Rodale Institute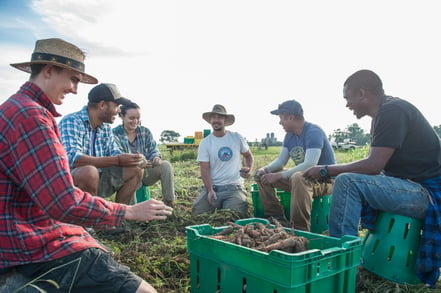 A: Grow something, even if it's a just a small basil plant on your windowsill. If you can't grow something, get to know a farmer. They need markets and they need more than the weekend farmers market, so whenever you can build that direct relationship with a farmer that means a lot. Join a CSA (Community Supported Agriculture). There's something profound for us as humans to know the person or people who are growing our food. I think we're all being called to do this right now. And if you can't grow any food yourself, or support a local farmer, the next ring out is to support the food co-ops and independent grocery stores that are supporting them. That's how you create food democracy in your own community. Our urban populations will benefit from this too because a local food community is good for everyone.
Q: 2020 was a tough year on so many levels. What are you reflecting on as we look to the future?
A: We need to seize this moment. We have a captive audience. People are ready to dig in and create systemic change and support the regenerative movement. We need to double down on our work now more than ever. Educate farmers on how they can transition successfully to organic production, work with our policy makers to create better policy for farmers and consumers, and we need to do the hard science and the consulting and technical assistance work to help our farmers adopt regenerative practices. The momentum is there, let's keep it going.
Q: Do you have a mantra or quote that you live by or that inspires you?
A: This is a Buddhist mantra, and though I'm not a practicing Buddhist, this is a prayer I say every day. "May all beings be happy. May all beings be at peace. May all beings be free from suffering."
Q: Any final thoughts?
A: I want to thank Bluestone for your support of our mission – you're more than just partners and donors, you are powerful networkers. You've connected us to so many great relationships. As a nonprofit, we need to have partners like you and we need other companies to follow your example and support mission-driven organizations with their time and money.
A life insurance policy from Bluestone Life benefits nonprofits like Rodale Institute. A percent of Bluestone's revenue and a complimentary Impact Rider can be part of the solution for soil health and food systems change. We encourage the Practical Activist in all of us to get involved in your community and support organizations like Rodale Institute who are working to positively connect our soil to our food to our health.
Like hearing about Practical Activists?
We'll share their stories with you monthly. (No email overload… we promise!)