Practical Activist Q&A featuring Lynn Mento, CEO, Conservation Nation
Bluestone Staff

March 20, 2023
Lynn ran Friends of the National Zoo (FONZ) as the first female leader in its 63-year history from 2015 until the separation from the Smithsonian's National Zoo in 2021. Prior to FONZ, she led several groups at AARP, ran a marketing agency in DC, and started her career in advertising in New York City. In 2016, she and her team began Conservation Nation as an initiative to provide grants to Smithsonian conservation scientists working to save threatened wildlife around the globe.
Today, Conservation Nation has reinvented itself as an organization dedicated to cultivating an inclusive and growing wildlife conservation movement that brings more voices, perspectives and lived experiences around the world to solve urgent biodiversity challenges together. They act as both a convener and collaborator, adeptly stitching together the funding, resources, education, and connections that individuals from underrepresented communities need to enter, stay, and thrive in conservation. Their work includes funding and ongoing professional development support for wildlife conservationists around the world and education programs to inspire children from traditionally marginalized communities to see themselves as wildlife champions, all the way up to pursuing a STEM academic and career path into conservation.
Here are some highlights of our recent conversation with her:
Q: Where did your passion for conservation begin?
A: My eyes were opened by the movie "An Inconvenient Truth" in 2006, and once your eyes are opened, it's hard to close them again. That was the spark for me, and then as my children were growing, I just started thinking so much more about leaving the world better than I found it, and the importance of preserving the planet and the delicate web of biodiversity for our children and all children to come.
Then, I had the opportunity to run The Friends of National Zoo (FONZ) and once you plunge into that world, it's impossible not to focus on preserving wildlife and supporting those who are on the frontlines doing that hard, dangerous work, day after day. So, I went from the broader climate change and planetary health perspective to thinking about the how…how was I personally going to do it in my own small way?
Q: How did your experience at Friends of the National Zoo inform your desire to start Conservation Nation?
A: I met so many great conservationists when I was at FONZ and you see their interactions with wildlife and the horrors of what people are doing to wildlife and the consequences of it. For example, when pangolins are poached, it's terrible enough what we're doing to the pangolins, but we are also greatly increasing the risk of a new pandemic that could spread diseases around the world. This 'One Health' concept of conservation is particularly important to me because we are endangering the animals and ourselves. The next deadly virus will most likely come from a wildlife source, as it did with HIV, SARS and Ebola, and it's because we're encroaching into their habitats killing them and killing ourselves.
Photo left: A Conservation Nation grantee, Tania Romero Bautista, who is studying freshwater ecosystems in the Amazon
As I got deeper into this work, I also saw that there were not enough diverse voices in the conversation. Conservation tends to be a field for those with privilege and access – those who can more easily overcome the longstanding systemic barriers to entering and thriving in the field – and so it's predominantly white, with men in the top leadership positions. That just seemed so wrong to me since we need every smart voice and perspective and experience at the table if we're going to give this fight to save biodiversity and the planet all we've got. Research shows us that the best solutions come from diverse voices, different life experiences and perspectives, and different ways of looking at the world. Making that happen is a passion of mine.
A great example is one of our grantees who is transgender, and they are doing some terrific work with sharks. They said that their transgender and gender fluidity is a superpower because they don't see the world as black and white. They see everything in shades of grey and when it comes to this work that is a powerful perspective.
A key focus of our work is lifting barriers, so we are creating a richer, stronger, more diverse and inclusive corps of wildlife champions to have a better shot at finding the solutions that are going to save the planet for our children and generations to come.
Q: Have you had any major revelations as you look at the beginnings of Conservation Nation and how you've evolved and grown?
A: We're feeling the energy. I don't know if you've ever felt that you were in the right place at the right time doing the right thing. That's what it feels like for us right now. We have phenomenal donors who believe in us and are supporting our work, and we have the environmental NGOs who are saying this is great…so we've found a powerful niche that we are going to leverage to do the best work we can do for the planet.
The hunger for change among conservationists is great. For example, when you look at research we conducted, almost 80% of them had worked for free – and half of them worked for free for over a year. So, there's a lot of privilege to be able to do that and that's one of the barriers that is keeping the field from becoming more diverse. And it doesn't require a lot to make a big difference. A $5,000 grant and ongoing professional development and connections for an emerging conservationist who didn't have the opportunity before, can be an enormous gamechanger.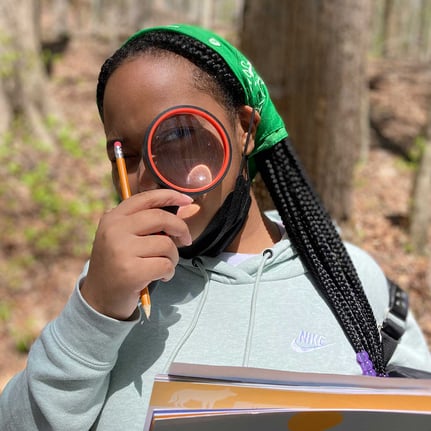 Photo right: A student, Ashley, during the Conservation Nation Academy program at the Washington School for Girls
Another aha for us has been the power of role models. We have a Conservation Nation Academy that we're piloting with middle schoolers in underserved communities, and it really opens the children's eyes to a new way of thinking about their rightful place in nature and the world of conservation. You know that great quote from Marian Wright Edelman, "If you can't see it, you can't be it". Role models are so critical – particularly for girls. So, every time we give a conservationist a grant, we ask them to be role models with us for the next generation and they love that and embrace it. Through the Conservation Nation Academy, we bring them to kids both virtually and in person, and it's powerful to see the hands go up and the excitement of the kids to see firsthand that they could be someone they never even imagined before.
We've also seen the power of supporting women in conservation in Africa. Women are traditionally not in conservation there, and in rural areas are rarely employed outside of the family. When we support them in conservation, they are not only helping to save threatened wildlife, they're stabilizing their families by providing income, they're breaking stereotypes to pave a path forward for girls, and they're helping their entire community. The only sustainable way forward for conservation is for it to be community-led. As my friend, Leela Hazzah, founder of WE Africa and Lion Guardians, says: "Every conservation organization needs a succession plan into the community."
Q: Talk about the role that youth play in conservation and your Youth Advisory Council.
A: Youth today have a high level of planetary and climate anxiety. So, it's critical to hear their voices and get their perspectives on conservation. Right now, our Youth Advisory Council is getting ready to host a speaker panel. They also design content for our website and social media, working side by side with us to make Conservation Nation stronger and better.
Q: Can you share your thoughts on how environmental and social progress are inextricably intertwined?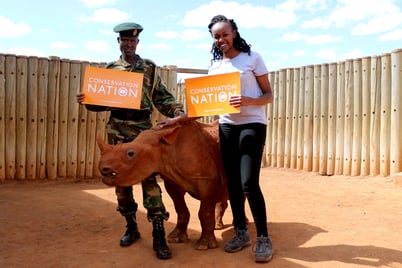 Photo left: A veterinary workshop Conservation Nation sponsored in Kenya to help save threatened rhinos
A: We see this right now all over the world. Look at the people who are impacted most from environmental change and catastrophes. They tend to be from the poorest areas of the world who have done the least to create the crisis and who have the least to overcome the challenges. When we look at Africa, we see how many communities are feeling the impact of climate change in ways we can't even imagine in the US. Drought there means walking further and further to get water every day, and that also means that wildlife is searching for water too, creating human and wildlife conflict around water which becomes a terrible and destructive cycle.
Q: What would you like people to know about your unique approach to conservation? Any myths about conservation that you want to bust?
A: There's this thought that if we solve climate change then we solve everything, but climate change and loss of biodiversity are two sides of the same coin, and they both need to be addressed simultaneously with the same level of urgency. As we are fighting climate change, we have to make sure we're also fighting to save the species we have today so that the life-giving web of biodiversity stays together. If we manage to cap climate change but the web of biodiversity has frayed to a critical point, we will end up with a planet cool enough for habitation but without the life-giving web of biodiversity we all need to survive. And wildlife themselves play a big role in regulating climate, and they are a great source of carbon sequestration. Every forest elephant that you save, for example, captures tons and tons of carbon during their lifetime. So, nature conservancy is not only important as the other side of the planetary health coin, it's a critical part of the climate solution.
Q: Do you have a mantra or quote that you live by or that inspires you?
A: One of them comes from a time when my daughter, Veronica, was getting her driver's license. I read this article about a group of young girls that missed their exit on 495 and they swerved to try to get back to it and they were killed. I ran downstairs to my daughter and said: "Never do that. There's always a place to turn around." And that's kind of become a mantra for our family and a way of looking at life.
And I also love this Obama quote about hope: "We choose hope over fear. We see the future not as something out of our control, but as something we can shape for the better through concerted and collective effort. We reject fatalism or cynicism when it comes to human affairs; we choose to work for the world as it should be, as our children deserve it to be." I believe that we have to be hope based. The engine for saving the planet is hope. I know we can do it if we bring all smart voices, perspectives and lived experiences to the solution table.
From donating to sharing content on social media or more deeply engaging through The Collective, there are many ways to show your support for the work at Conservation Nation. Learn how Life insurance from Bluestone Life can support Conservation Nation.
The Practical Activist blog is created by Bluestone Life. A Certified B Corp and a member of 1% for the Planet, Bluestone is a transformative choice for social, environmental and financial systems change.
Like hearing about Practical Activists?
We'll share their stories with you monthly. (No email overload… we promise!)