Practical Activist Q&A: Craig Hill, Beneficial State Bank
Bluestone Staff

December 16, 2020
Featured Image: Craig with his daughter, Eleanor
Craig Hill is a Bluestone Life customer who embodies what a Practical Activist means to us. Both personally and professionally committed to the B Corporation movement, he is Vice President, Client & Treasury Management for Beneficial State Bank, a Certified B Corp bank, and a member of Global Alliance for Banking on Values. His Bluestone Life policy supports B Lab which is leading economic systems change with a global network that creates standards, policies, and tools for business. B Lab also certifies companies—known as B Corps—who are leading the way. We had the chance to have a conversation with Craig and learn about his passion for the B Corp movement.
Q: Craig, you practically started your career at Beneficial State Bank. How did you find your way there and what has the last nine years been like for you with a pioneer in the socially responsible banking space?
A: Growing up in the Pacific Northwest, you have the privilege of spending time outside, and I really enjoyed that kinship with nature.
Image right: Craig and his wife, Amanda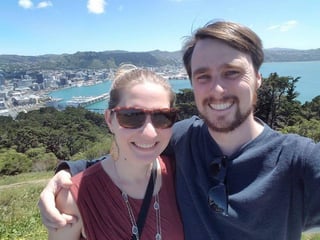 There is also a connection here to community and creating equity in our community. I got plugged into constitutional law when I was high school, becoming involved with a constitutional debate team and that fueled my interest in the law and fairness. I thought I wanted to work for the ACLU or maybe become an environmental lawyer. I was also fortunate to be the first person in my family to go to college and I graduated with relatively little debt. I worked for a couple of different law firms as I applied for law school before I took a step back and realized that I didn't love working in the legal field, nor did I want to incur the debt to go to law school. I knew there had to be other ways to have an impact. I took a temporary position to help a bank with some data analytics and administrative work –and at first I didn't really know the details. It turns out that the bank was One Pacific Coast Bank (now known as Beneficial State Bank) and I was the first hire that the newly-merged bank made. I was hired full-time from there and part of that initial work was specifically focused on the B Certification process for the bank. From there, I got hooked on the mission. We're the only for-profit bank in the United States that is entirely owned by a non-profit foundation. The for-profit bank's mission is to provide 75-80% of our loan dollars to these mission-driven sectors: nonprofits, renewable energy, affordable housing, sustainable food and agriculture and woman and/or person-of-color owned businesses. On the flip side, it's also part of the mission never to fund contra-mission work such as oil and gas manufacturing or production, school to prison pipelines, or weapon and gun manufacturers. For me, working here is like this unexpected marriage between my values and where I can add value. I don't have to check my values at the door when I walk into work, and I also don't have to check my paycheck at the door to have my values be served. I started literally at the bottom as an administrative temp, and I've worked my way up through the ranks because I believe in what we do, and how we're doing it.
Q: What prompted you to choose B Lab as the beneficiary of Bluestone's complimentary benefit for high-impact nonprofits?
A: The work of changing capitalism to reflect stakeholder primacy rather than extractive shareholder primacy is something I'm passionate about. I've dedicated my time both professionally and personally through volunteering with the "B Local PDX" chapter here. The fact that if I were to die that the work I care about would live on is important to me. It means a lot to know that my life insurance policy can help fund work that I believe in and that can have an impact after I'm gone. There is a sense of comfort in that. B Lab is also doing the heavy lifting in creating the equitable metrics to better measure stakeholder benefits across all bottom lines not just fiscal bottom lines; for them to have even a small benefit from me passing is an extra benefit of working with Bluestone Life.
Q: You're involved with a local B Lab chapter in Portland. Talk about the work you're doing there.
A: We are a separate 501(c)3 nonprofit from B Lab called "B Local PDX," and while we're not directly affiliated with B Lab, we work closely with them. We want to make sure our culture is more reflective of the needs in our community while playing well in the sandbox with others who are also serving B Corps in Portland. With 100 B Corps in Portland and over 130 in Oregon, Portland has the highest density of B Corps in the country. So, beyond what does it mean to be a B Corp, we're asking ourselves "what does it mean to be a B Corp in Portland?" It's exciting to be part of an ecosystem where there can be real collaboration instead of pure competition. For example, we have an "Always B Collaborating" (or ABC) groups that cross different industry groups ranging from human capital and finance to social responsibility and anti-racism. So, there is an invaluable opportunity to exchange values-driven strategies with others both inside and outside your industry. Another area of focus for me is the B Impact Assessment, the test companies take to get certified as a B Corp. Since certification only lasts for 3 years before companies need to recertify, it's important to have a sense of community to share information and help answer questions for each other, and to really see the benefits first-hand of being a B Corp. A favorite example of mine is the wine industry in Oregon. There are 10 B Corp wineries in Oregon among several hundred wineries across the state. It can be hard to be a signal in the noise. If Oregon wine is better, then Certified B Corp Oregon wine is best as it's all that and values-driven…not just the best tasting, it has the best supply chain of companies who pay their employees and farm workers a living wage, and treat the land with respect and stewardship rather than being extractive. I believe a community of B Corps can help to lift a community and support other companies with purpose-driven aims. As the Certifications Chair for "B Local PDX," I want to raise awareness of the B Corp certification, from awareness to interest and ultimately to commitment…that you're committing to becoming a B Corp or getting better and better and contributing to the community overall.
Q: 2020 has been a rollercoaster of a year and you have a newborn in your house. What are you reflecting on as we close out 2020 and thinking about for the future?
Image below: Craig, his wife, Amanda and daughter, Eleanor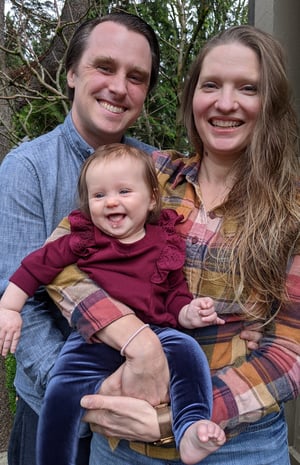 A: Having a child is a perspective shift. It gets you thinking down the road more. At its best, it increases your selflessness and decreases your selfishness. You are living your life for someone who entirely depends on you. What would happen if we took that point of view when we think of future generations: that they depend on the work we're doing right now for the viability of the future? I'd like us to take a longer-term lens of win together mentality instead of win now, costs-be-damned mindset. Patagonia has a famous 100-year lens on the decisions they make. They ask themselves: is this the right move in the long run for us, our people, and our planet? COVID has given us all pause to rethink all kinds of social norms that have just been weighing us down. How can we think about making the gender pay gap non-existent? How can our communities be equity-driven at every level? The definition of sustainability is the ability for something to be sustained, and a lot of our work-life culture is not sustainable. COVID has revealed that to us. Many of our assumptions about what work-life balance means and what it does long term are not accurate. Let's keep going forward and change the outcomes.
Q: Do you have any advice for people who are looking to connect their values more to their daily decisions (such as banking, insurance, law, food, etc.)?
A: Start small and don't try to do everything at once. When we had the baby coming, we had so many things we had to do—so we built a huge list and just started working through it, one item at a time. Also, remember in everything you buy, you are making a choice. What and how you purchase matters. Every time you swipe that debit or credit card, a financial institution is benefiting. Who do you want that institution to be? Make a change that can have benefits in the long run. Inertia is such a strong force—it can be hard to make changes to our habits and behavior. However, pairing intention with inertia, you create lasting impact. You can be a force with every decision you make. It's the same thing with your life insurance. It's something you're paying for, so why not ensure that it has the most impact? And in the end, the aggregate of making good decisions over time ends up being powerful.
Q: Do you have a mantra or quote that you live by or that inspires you?
A: Working in the values-space, one thing that has crystallized for me is focusing on trying to add value while aligning on values. If you're doing both of those things, you are doing meaningful, purposeful work that deserves your time. If the work you're doing isn't doing either of those things, should you be doing it? Pairing paychecks with purpose has so many benefits from employee fulfillment to being better for our communities and our planet. We can put capitalism on a more restorative and regenerative path. The other question I ask myself when I'm not doing something is: Am I not doing this because I don't want to or because I don't know how? Those tend to be the two reasons we don't do something. If I don't know how, then it's being humble and asking for help, reaching out to people who do know. If it's because I don't want to, is it because it's not aligned with my values or adding value? Then I've come full circle.
Q: Any final thoughts?
A: I love the idea that we are stronger together as a community of people who believe in similar things. We have a lot more in common in our shared humanity rather than our differences that are highlighted all the time. We all want a better world and we are at our best when we innovate and collaborate. There is nothing we cannot accomplish if we do it together. It can (and should) start with where and how we work, by understanding where our money goes, and who is benefiting from it—and making sure those reflect our values whenever and wherever we can.
Bluestone encourages the Practical Activist in all of us to get involved in your community and support organizations like B Lab that are working for global economic systems change.
Editor's note: Bluestone Life is a customer of Beneficial State Bank and we strongly encourage our customers to work with Certified B Corp banks, members of the Global Alliance on Banking and Values and socially responsible credit unions.
Like hearing about Practical Activists?
We'll share their stories with you monthly. (No email overload… we promise!)