Practical Activist Q&A featuring: Amir Kirkwood, Opportunity Finance Network
Bluestone Staff

January 5, 2021
Amir Kirkwood is a financial leader in community development who embodies what a Practical Activist means to us. He is Chief Lending and Investment Officer at Opportunity Finance Network (OFN), the national association of community development financial institutions (CDFIs). OFN truly invests in the potential and promise of the future. They lend where it counts -- providing capital, advocacy, and capacity building to help OFN member and non-member CDFIs create impact in rural, urban, and Native communities nationwide. OFN is also a CDFI. We had the chance to have a conversation with Amir and learn about his passion for economic justice.
Q: It seems like CDFIs are one of the most important levers of community change and impact that most people don't know about? What are CDFIs and what do you want people to know about them and the impact they have?
A: CDFIs are fundamentally lenders who lend on a mission-basis to low and moderate-income communities. From rural and urban to Native and indigenous communities, we work to identify the businesses that traditional capital markets have left behind. We bring the same tools from the financial mainstream and use them for community development: loan funds, banks, venture capital funds, and credit unions. Working with both traditional and non-traditional sources of funds, we're focused on fair and transparent financing. We also really think long-term about the ancillary needs of communities: financial literacy and education, as well as capacity building for growth. Those are the things that really make CDFIs different, we're "capital plus." We offer more than just financial products; we think outside of the credit box and offer training and other resources. We bring responsibility to lending with a sense of transparency, fairness in credit, and higher standards of performance. I'm proud that we bring heart to what we do.
Q: Before coming to OFN, you were with Amalgamated Bank, a Certified B Corp and member of Global Alliance for Banking on values, and with Citi Community Capital. In your career path, you've seen community development from a few different perspectives. Do you want about the vantage points you've had and how that has impacted your work?
A: I started in development pretty much straight out of college, when I worked for an affordable housing development company in Chicago, where I grew up. There I gained first-hand experience in what it takes to finance and build affordable housing in a major city. Then I went to the finance side at both Amalgamated and Citigroup.
From these vantage points, I learned how important it is to bring a sense of advocacy for community to the business of community development. What I'm doing requires the same core business and financial skills, the difference is having the view on community, and the potential of community.
In community development finance, there are many barriers. It's much more challenging than traditional finance because we're often working with multiple layers of financing from many different sources of capital. CDFIs are unique because we know how to work with governments, banks, institutional investors, and philanthropic funds. And for me, my experiences both personally and professionally have also let me see life and finance from multiple perspectives.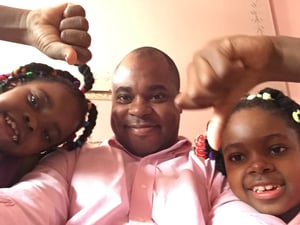 Photo left: Amir and his daughters
Q: At what point in your education or experience, did you become aware of community development work…what brought you there?
A: My first job was at a youth and teen center on the west side of Chicago – it was a community with a lot of poverty, homelessness, and abuse. That experience was more aligned with social work. It led me to understand many of practical things that so many of us take for granted — access to banking and finance and stable housing — and led to an interest in the housing side for me. What could I do to help give people more access to housing and stable communities – to provide opportunities for people to grow and thrive in life? This was where my interest in finance began. As it grew, I wanted to apply my financial skills in a more scalable way...that's what led me to Citigroup in NY. It was at Citi that I first got to work with CDFIs and ultimately met OFN. We partnered with OFN to create the Communities at Work Fund which was a $200 million commitment to provide financing to CDFIs. For me that was like coming full circle: I drew on my core financial and business skills and experience in affordable housing to build out a scalable, funding model for the sector.
Q: OFN's had some big moments this year. Twitter investing $100 million in the New Finance Justice Fund. Google $170 million fund for small businesses. I know there are many significant moments that may be under the radar. Is there anything you're particularly proud of that you want to shout out?
A: What I'm proudest of is what the work with Twitter and Google represents, which is a new model for community development funding. Traditionally, such funding has been through banks and government. Our work with Google and Twitter shows that corporations can fund from both their corporate treasuries, taking capital from their balance sheets and investing them long-term in the CDFI sector, and their philanthropic sides. This is an unprecedented opportunity to grow more corporate partners as investors in community development. Both Twitter and Google's businesses are about community too, so the fact their businesses are investing back into businesses on the ground where it is most needed is powerful.
Q: 2020 was a pivotal year for increased dialogue around social and environmental justice.    Talk about the connection between them in the communities that OFN and its members serve.   
A: It's a critical issue, and our members have been working on these issues for years. The communities where climate change has the most devastating impacts are where our CDFIs are already working. With Hurricane Katrina, the Lower 9th was severely impacted and CDFIs were there on the ground. It was the same with Superstorm Sandy, and there are many examples across the country where CDFIs were able to rebuild affordable housing in areas that needed it most. We have CDFIs working in agricultural revitalization and preservation, solar financing, and we're also working on resiliency principles for community development finance. We see first-hand the deep correlation between poverty and climate degradation.
Q: You've been very active serving on boards…it looks like you're currently serving on seven boards. Any advice you have for people who want to get involved on boards in their communities?
A: The first thing to always know is that your job is to support the CEO or Executive Director in executing the strategy of the organization. You should know what your unique skills are and how you can make a meaningful contribution. Spend time getting to know the organization's leadership. Be willing to bold – always respectful, but bold. Know the strategic objective and how you can help. Humbly walk in and know your job is to support them in the best way you can.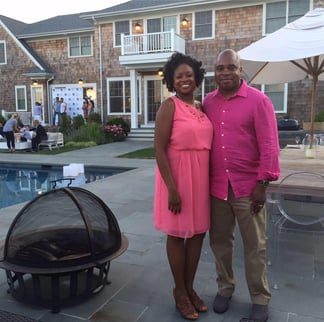 Photo right: Amir and his wife, Shelia
Q: Do you have any advice for people who are looking to connect their values more to their daily decisions and to get more involved in supporting community development?
A: Get to know CDFIs in your community. Think about investing in a CDFI. Partner with a CDFI, and if you have a business, you can borrow from a CDFI. Visit OFN.org and use our CDFI locator to find CDFIs working in your community. Also, know that you don't have to be millionaire to donate to a CDFI. When you see the work they are doing, you can also see if there is a way for you to engage from a leadership perspective in your community.
Q: 2020 was a rollercoaster of a year, and one that shined the light on economic and social justice. What are you reflecting on as we begin 2021 and look to the future?
A: How quickly the economy, our public health environment, and issues of social justice went south and how important it was that CDFIs came together to find solutions and mitigate risk as much as possible. OFN launched the Finance Justice Fund, a $1 billion effort to raise capital for CDFIs—Twitter was our first investor. We know that when extreme economic and social events happen, recovery is slowest in the poorest, most underappreciated, and underestimated communities. OFN wants our member CDFIs to have the resources they need on the ground, and CDFIs are going to need to borrow and then recycle that money multiple times in a ten-year period for the recovery to occur.
Q: Do you have a mantra or quote that you live by or that inspires you?
A: Don't doubt the importance of making a contribution in your community. That's what I live by and the reason I do the work I do.
Q: Any final thoughts?
A: Get to know your CDFI and think of them as potential partner, investment, or an organization where you can volunteer or support.
A life insurance policy from Bluestone Life benefits nonprofits like CDFI loan funds. We give a percent of all premiums paid, and you receive a complimentary additional death benefit which can be part of economic systems change. We encourage the Practical Activist in all of us to get involved in your community and support organizations like OFN and their member CDFIs who are working for economic and environmental justice.
Like hearing about Practical Activists?
We'll share their stories with you monthly. (No email overload… we promise!)