Practical Activist Q&A: Brandy Dreibelbis, Chef Ann Foundation
Bluestone Staff

February 10, 2021
Featured photo: Brandy and her dog, Cedar
Brandy Dreibelbis (pronounced DRY-bull-bis) is an essential worker when it comes to bringing healthy, scratch cooking to school food operations. As the Director of School Food operations for the Chef Ann Foundation (CAF), Brandy works with school districts around the country helping them make the transition from outsourced, "heat and serve" food services programs to healthy, nutritious meals that are cooked from scratch. We had the chance to have a conversation with Brandy and learn about her passion for food systems change in our schools.
Q: Last year, CAF celebrated a ten-year anniversary and you have some impressive numbers when it comes to impact. What would you like people to know about the work that CAF is doing and why it's important for the health of our children?
A: CAF promotes school food reform nationwide. We have been working with school districts in every state. We advocate for scratch cooking in schools and feel that this is the best approach to serve the healthiest and best-tasting meals so that students are better prepared to learn. We help school districts make the transition to scratch cooking through resources, training, and funding with both online and hands-on support.
Q: How has the pandemic impacted the work that CAF is doing?
A: We've pivoted to emergency feeding resources for the LunchBox, which is our online tool that has comprehensive scratch-cooking resources for schools. For example, there's information about how to serve scratch cooking "To Go" style. We also started building bulk meal packs to help schools who were serving completely curbside or remotely. We noticed that during the pandemic, one of the most visited parts of our website was the home recipes area, which makes sense with everyone working from home. Now, I'm working on a series of home recipes that I am making in my home kitchen, and they are all easy, affordable and healthy so that families can make them together. Later this year, we also plan to launch an online culinary training for school food professionals.
Q: Before coming to CAF, you were the Director of the NOSH program in Napa Valley Unified School District and you transitioned that district from outsourced food services to scratch cooking. What were the key lessons that you learned from that experience?
A: NOSH stands for Napa's Operative for School food Health. I chose the name NOSH because it's a foodie term and Napa is a foodie town. In Napa, I learned how important it is to involve others in the process. I worked hard on developing relationships with my staff because I wanted them to buy-in to the big picture of what we were doing. At the same time, I worked on building relationships with our district administration so they could be supportive of our program and successes. I also focused on building relationships in the community, so they could become advocates and tell our story of where the school food program had been and what our vision for it was. Getting all the key people involved is critical to success. Change is hard for people, and I tried to do a lot too quickly and I learned from that…I learned to let the process take its time.
Q: You started your career as a Chef…what brought you to school food operations reform?
Photo right: Chef Brandy
A: I was a fine dining chef in Delaware and then I moved to Colorado to be a chef for the Whole Foods Market in Boulder. After working with Whole Foods for two years, they were working on this large fundraising campaign to support this school food movement in Boulder. Ann Cooper (founder of Chef Ann) was moving there from Berkeley to start the program. The plan was to create a model program in Boulder that focused on healthy school food that other school districts could learn from. I applied for a job in the Boulder Valley School District that first year that the program was developing and taking shape. I think once I started it, I could see how important what we were doing was and the impact of taking care of children with the food they eat. It was a lot of fun to be part of that process because we were very high profile and people were watching us and ultimately learning from what we were doing. I worked there for eight years with Chef Ann, who was the director of the program and I was the Chef. The Chef Ann Foundation started the following year.
Q: 2020 was a pivotal year for increased dialogue around social, economic and environmental justice.    Do you see a connection between healthy food and equity in our country?
Photo right: Chef Brandy with her favorite food critics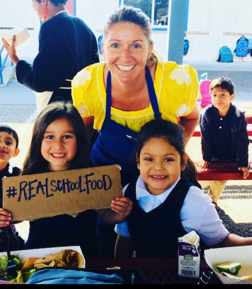 A: School food is a social justice issue. We believe in healthier food for everyone and we strive to bring healthier food to children in schools. 30 million kids take part in the national school lunch program daily, and 21 million qualify for free and reduced meals, and that's why our work is so important to the food system overall. It's a crucial piece of community health and well-being.
Q: Do you have any advice for people who are concerned about the quality of food in their school systems? What is the best way for them to get involved, and what specific actions can they take?
A: First thing is to educate yourself on how school food works: from the USDA guidelines and the National School Lunch program to your school district's program. Is it self-operated or is it outsourced? Once you understand where you are and what you need to accomplish, then build an advocacy group which includes other parents, district administrators and influencers in the community. There are many actions you can take from applying for grants to making changes to your district's wellness policy or conducting nutrition education events in the school cafeteria. When it comes to school food reform, one person can make a big difference. When I was in Napa, there were three moms that were a huge part of the changes we made and they were really engaged. They would come in and eat school lunch with us regularly. They cared and that really mattered.
Q: 2020 was a rollercoaster of a year. What are you reflecting on as we begin 2021 and look to the future?
A: For the first time in our country, school food professionals have been respected and seen as essential workers. They went to work during the darkest hours of the pandemic and they are still doing that to take care of their school community. They are getting their day in the sun. I am hopeful that the Universal Meals program will be continued beyond the pandemic and put in place indefinitely. It was a waiver that was passed when the pandemic hit so that all school age children can eat for free with no questions asked. We know it works and we see the power and equity of it, so let's work to make it even better and stronger.
Q: Do you have a mantra or quote that you live by or that inspires you?
A: Strive for progress not perfection. I am continually working on being better both personally and professionally and constantly working towards goals. Reflecting on my past accomplishments keeps me motivated for the future.
Q: Any final thoughts?
A: I'm excited about the future of school food. Seeing school food professionals recognized has been heartening, and the real potential for universal meals to be part of the future. I love the work we're doing at CAF and see so much promise for a bright future.
Chef Ann Foundation (CAF) is a key nonprofit partner for Bluestone Life. A life insurance policy from Bluestone Life benefits nonprofits like CAF. A percent of premium and a complimentary Impact Rider can be part of food systems change and bringing healthy, scratch-cooking to our schools. We encourage the Practical Activist in all of us to get involved in your community and support organizations like CAF who want our children to have the nutrition they need to learn, grow and thrive.
Like hearing about Practical Activists?
We'll share their stories with you monthly. (No email overload… we promise!)