Practical Activist Q&A featuring: Will Belongia, Vermont Community Loan Fund
Bluestone Staff

January 27, 2021
Featured Image: The Vermont Community Loan Fund team
Will Belongia is the Executive Director of Vermont Community Loan Fund (VCLF). He's dedicated his career to community development in Vermont and embodies what a Practical Activist means to us. VCLF, a community development financial institution (CDFI), creates opportunities that lead to healthy communities and financial stability for all Vermonters. VCLF will celebrate their 35-year anniversary next year and has loaned $112 million in that time to a wide range of Vermont enterprises from early care and learning programs to affordable housing and agritourism, farmers, foodies and working land entrepreneurs.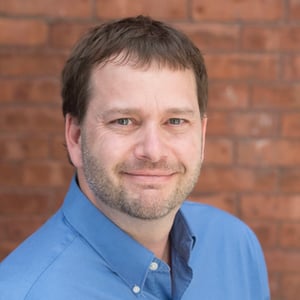 Photo left: Will Belongia
Last month we featured the Opportunity Finance Network (OFN), the national association of CDFIs which VCLF has been a member of since 1989. VCLF is our Vermont "go-to" resource for financing opportunities that don't yet qualify for credit from traditional lenders. This puts critical and patient capital in the hands of small businesses, entrepreneurs, and community organizations who can't access it anywhere else, benefiting all Vermonters by building robust and vital communities in the state we love. We had the opportunity to talk with Will and hear how the team at VCLF was on the financial frontlines of COVID-19 economic impact and the work they're focusing on as we look ahead in 2021.
Q: When we talked with Opportunity Finance Network at the end of last year, we discussed that most people don't know what CDFIs are, and they are one of the most important levers of community change and economic empowerment. What's the most important thing that you want people to know about them and the work you do at VCLF?
A: There's a growing acknowledgement that people's money has power, that your assets, and what you're investing in, can reflect your values. This idea's had a couple different names over the years – socially responsible investing, community investing, impact investing - and now it's grown far beyond the investment world. Where we bank, where we get our food, who makes the goods we buy, and under what kind of conditions: people are much more aware of, and connected to, what their money is doing, and the impacts their financial choices can have on the world, for better or worse.
CDFIs were created because there were capital needs that were not being met by our traditional capital mechanisms. There have been many obstacles, both intentional and unintentional, that stand between many people and safe, affordable housing, and business or career opportunities. CDFIs help people and communities who have been shut out of our traditional capital markets, and we also provide other resources like business assistance – the non-capital things that help people to succeed. When you look at the consolidation of financial markets and the use of money in big funds like pension and retirement funds, what happens is that the local needs get lost. That's the power of CDFIs: we gave the attention to local needs – both geographies and communities of people.
VCLF is proud to be a mission-focused, community-driven, alternative lender who gets loan capital into the hands of the business owners, entrepreneurs and nonprofits who are underserved by traditional lenders. Our work gives access to safe and affordable housing, jobs, quality childcare and learning, healthcare, and nutrition to lower-income and lower-wealth Vermonters. Since our inception 35 years ago, we've loaned $112 million dollars, preserved 7,100 jobs, financed the building or rehabilitation of 4,400 homes, and preserved or created childcare for 4,400 children and their families. On top of that, the nonprofits we've financed serve tens of thousands of Vermonters every year. That's how we create high impact in Vermont jobs, service, childcare…with the result being healthy and vibrant communities.
Q: You've been at VCLF for 27 years. Recently, you were on the Advisory Council for the Federal Reserve Bank of Boston and it looks like you have a connection to the land too – serving on the boards of Vermont Rural Ventures and Working Lands Enterprise Initiative. Talk to us about your career journey and how you became aware of community development work.
A: My three-year term on the Advisory Council for the Federal Reserve Bank of Boston just ended in December, and I'm currently serving on the boards of Evernorth Rural Ventures (previously Vermont Rural Ventures) and Working Lands Enterprise Board. That kind of engagement is an important part of my job.
My journey is in some ways short even though it spans a long time. I came out of Notre Dame with a degree in economics and a minor in philosophy. My philosophy minor was concentrated around issues of justice. When I came back to Vermont, (and I grew up in Vermont), like any recent grad I was filled with thoughts around justice and I looked around for how I could use my degree. What does it mean outside of the world of academics? First, I worked with a consulting firm for a couple of years, and that really didn't hit on the justice and equity issues that I was interested in. When I came to VCLF, I was the third staff member and we had about $1.5 million in Assets Under Management (AUM). We were a typical nonprofit that had a lot of lofty goals and we had the social mission in spades. VCLF was tapping into a growing desire of people to affect change with money. At the time, the biggest sources were faith-based groups. We were part of the group of CDFIs that started the CDFI movement: NH Community Loan Fund, and the Delaware Valley Revolving Loan Fund which became the Reinvestment Fund. It was an incredible group of folks that were committed to this idea of justice, equity and how to drive capital to achieve positive change and the change that we want to see. That really attracted me and has kept me here for 27 years. We've grown to $50 million in AUM now with 17 people on our team. We've expanded into areas where we can identify emerging needs and see a way for capital to meet those needs. We started with financing affordable housing and then we expanded into childcare and development, small business lending and then food, farms and forests and onto rural economic development and outdoor recreational enterprises. There's a lot of things that it's led us to, as we've looked at what local needs exist and how can VCLF meet those needs, and how we can manage and be a partner with capital sources so we can help Vermonters affect the change they want to see.
Q: I love the diversity of businesses that VCLF has supported: some well-known Vermont brands like Jasper Hill and Hunger Mountain, and many small childcare businesses, sustainable farmers and food producers. Talk about your key areas of focus and any shifts you've made because of the pandemic.
A: I want to start with one of the Loan Fund's foundational programs - financing the development of affordable housing - because finding a home is challenging for so many Vermonters. Affordable housing is the cornerstone to creating stability for families and communities, and helping them grow their wealth. It's easy and fun to talk about the great Vermont brands, and cheese and ice cream – that's all fun to talk about, and important job-creation work, too! But we also know that community housing needs are continuing to grow. As a country, and certainly as a state, we need to keep working on affordable housing.
In some states, CDFIs just focus on one mission area, like housing, or financing for small businesses. Our "market", Vermont, is a small community with some pretty diverse and profound needs, so the Vermont Community Loan Fund, as we've grown, has continued to diversify our programming. That's what led us to grow new loan programs for small business in the 1990's, and early childcare and learning in the early 2000's, because there were critical needs in our communities.
During this pandemic, our key area of focus has been working with our current portfolio of borrowers – checking in on them and their health and welfare. In April, we called every single borrower to see how they were doing and offered them payment relief if they needed it. 28% of our borrowers accepted that offer, and another 17% got payment relief from the Small Business Administration. Today, less than 3% still have a modified payment structure; everyone else has stabilized and reverted to their previous regular payment schedule. While that's great news (and a great testament to the dedication and creativity of the VCLF staff), I know we're not out of the woods yet. It shows what's so unique and special about the Loan Fund, and CDFIs in general: our relationships with our borrowers. We're committed to doing away with the negative power dynamic between lender and borrower that exists in the traditional lending relationship, and to creating something new, a real relationship, a real partnership.
We just launched the Northern Vermont Recovery Loan Fund, which will allow us to lend out $1 million into the six counties comprising Northern Vermont, with 0% interest for two years, and 3% thereafter. Those funds help to address businesses that have been negatively affected by the pandemic. We launched in December and will have lent out the initial grant funding from the US Economic Development Authority by February. We'd like to further capitalize the NVRLF, to be able to continue building upon this critical rural economic development work.
VCLF was a key player in the state's COVID-19 response via the CARES Act as well. As the coordinating agency for the state's Vermont Emergency Economic Recovery Grant Program, we worked with the Vermont Partnership for Fairness and Diversity, the Center for Women and Enterprise, the Vermont Commission on Women, and the Association of Africans Living in Vermont. These organizations provided significant outreach and help with the applications.
Looking ahead, we know that different communities in Vermont will see vastly different versions of "recovery." Rural areas tend to struggle longer in an economic recovery. We'll continue to focus on businesses and enterprises that are tied to our working lands via our Food, Farm and Forests Fund, our SPROUT program, and our TRAILS outdoor recreation initiative.
Racial injustice is something we're trying to center in our work right now. The Loan Fund has always worked to support diverse communities, but today we're seeking to do a lot more to reach out, make connections, build relationships and deploy capital that meet the needs of diverse communities in Vermont. We're in the process of creating a racial equity loan fund, and we've committed $1 million, interest-free, to black-owned businesses and black-led organizations. This flow of just capital, the centering of these chronically disenfranchised communities – it's critical to the future of the State of Vermont.
I think that the crises facing us today – global pandemic, racial injustice, climate crisis - have helped a lot of folks think hard about how their wealth is being used...and how it COULD be used. For many of the folks I've been talking to over the past year, they've realized that they can do more with their wealth, that they can use it to help bring about the change that they want to see.
Q: Across the country, CDFIs like yours were really on the financial frontlines. What are you proudest of when you think about what your team accomplished last year?   
A: Let me start with our loan programs team, a mighty group of seven, who understood the devastating impacts the pandemic would have on the folks we serve, and jumped right in and connected with ALL our borrowers. We offered immediate payment relief for borrowers who needed it, and started working with folks to figure out what else we could do to help them find relief and recover. The US Small Business Administration's Paycheck Protection Program (PPP) was a great example of how this sometimes wasn't easy: the federal government was making the rules up as it went, there were so many unknowns, with rules and requirements and procedures changing on a daily basis for weeks. Our team needed to do a lot of heavy lifting to keep up with everything, to keep our focus on our borrowers, to keep the capital flowing to those who needed it most. I am so, so proud of their dedication and hard work.
Our communications team has also done a great job keeping everyone informed as the weeks and months have gone on, from what's new, to what's different or changing, to telling the stories of the all the people we serve and support. Communication is critical during any crisis and they really stepped up and kept everyone feeling connected through both the power of storytelling and clear information.
Q: You're one of the founders of Slow Money VT. What was the impetus behind it and what do you want to achieve?
A: The impetus behind it was to foster flows of growth capital to help small businesses grow. Whether a business is in the start-up, or growth, or maturity phase of life, different needs mean different sources/types of capital. We have people in Vermont who want to invest more actively in local businesses and organizations. Slow Money provides the opportunity for Vermonters who are interested in direct investing to learn more and connect with other investors and businesses. Slow Money is a national movement, and Slow Money Vermont is a chapter where we're trying to take the national philosophy and make it real in Vermont.
Photo right: Will "sugaring" old school Vermont style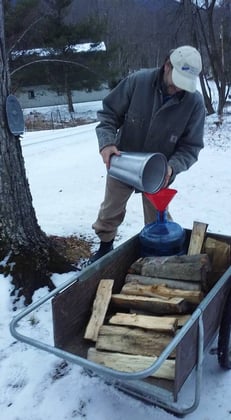 Q: Do you have any advice for people who are looking to connect their values more to their daily decisions and to get more involved in supporting community development?
A: I'll start narrow: find a CDFI in your area. There is a CDFI locator at OFN. We have six in Vermont that do different things. Find one that does what you are passionate about, and get involved. Even if you can't invest directly in all of them like you can at VCLF, that's okay: you can still donate or contribute your time. Time and expertise and networks are what we need. Get on a loan committee. Get on a board. If you're passionate about what they're doing, participate in the work by giving the gift of your time. Find "your" CDFI, and engage to affect the change you want.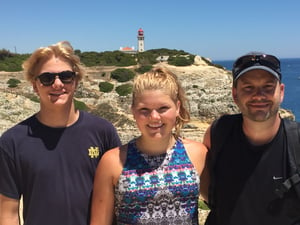 Photo left: Will enjoying New England with his son and daughter
Q: 2020 was a rollercoaster of a year, and one that shined the light on economic and social justice. What are you reflecting on as we begin 2021 and look to the future?
A: One of the things that we've seen over the past nine months, and we've been seeing it for years…the wealth gap in the United States is staggering. The inequality of our wealth in the U.S. is an existential threat to our democracy. We are seeing working people who are unable to pay their bills while we are nearly creating trillionaires with the same unjust tax code. It's staggering the amount of money being accrued by a small percentage of the population, and the resulting inequality is one of the key drivers of the dissatisfaction and fear and anger and hopelessness that so many citizens in this country feel today. The racial and political divides that are tearing us apart are outcomes of this wealth inequality. When I look to the future, I'm thinking wealth creation and how we can open that door that's been closed to many Vermonters and Americans for so long.
Q: Do you have a mantra or quote that you live by or that inspires you?
A: Change doesn't happen on its own. You have to work to direct it.
A life insurance policy from Bluestone Life can benefit nonprofits like VCLF and CDFI loan funds. A percent of premium and a complimentary Impact Rider can be part of economic systems change. We encourage the Practical Activist in all of us to get involved in your community and support organizations like VCLF who are working for positive social and economic justice in communities who need it most.
Like hearing about Practical Activists?
We'll share their stories with you monthly. (No email overload… we promise!)