Practical Activist Q&A featuring: Catherine Musulin, Danone N.A.
Bluestone Staff

June 23, 2021
Featured image: Catherine, her husband, Adam, and fur family. Photo by: Haley Allen Photo
Catherine Musulin is Director of Sustainability and B Corp at Danone North America. An experienced global sustainability strategy and execution professional with over 12 years of experience in Corporate Sustainability, she is passionate about balancing sustainability with successful business goals and vision.
Danone North America is a Public Benefit Corporation and a proud member of the B Corp movement — a designation that demonstrates their commitment to use business as a force for good, balancing their financial interests with the social and environmental benefits that are best for people, their communities and the planet.
"One Planet. One Health." is Danone's frame of action, reflecting that the health of people and the health of the planet are interconnected. It is a call to action for all consumers and everyone who has a stake in food to join the food revolution: a movement aimed at nurturing the adoption of healthier, more sustainable eating and drinking habits.
Q: As we celebrate PRIDE Month and PRIDE Days around the world, I noticed that Danone North America has been recognized as one of the best places to work for members of the LGBTQ community. Anything you'd like to highlight about diversity and inclusion for employees at Danone?
A: The Human Rights Campaign Foundation Corporate Equality Index is one of the tools that highlights our progress. It helps us identify emerging best practices and improve experiences for our employees in the LGBTQ community. We're really proud of our score on that index and the power of being recognized externally shows that we're creating a workplace where employees can be their authentic selves. We also have six employee resource groups (ERGs): Black, Hispanic, Women, LGBTQ, Veterans and Care-givers. There are two more in the making: one for employees with disabilities and who are neuro-diverse and another for Asian Americans and Pacific Islanders.
For Pride Month this year, we're celebrating with a full month of programming. It's led by the Pride ERG and we're also sponsoring the New York City Pride parade and the Denver Pride parade which we've participated in for many years. Our employees in the LGBTQ ERG are also active with other company's ERGs so there is an ongoing dialogue about best practices and what's working around the world.
Q: You led the B Corp Certification for Danone North America, achieving the goal two years ahead of time and making your company the largest global B Corp. What do you attribute to your success in reaching the goal ahead of schedule?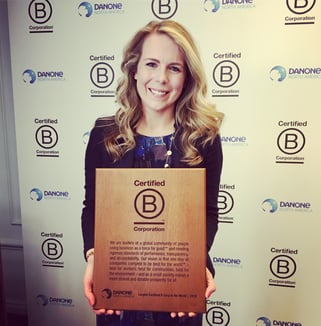 Photo left: Catherine holding the B Certification plaque.
A: This is one of my favorite questions, especially when I'm talking with companies who are considering B Corp certification! We could not have achieved the initial certification ahead of schedule, let alone our recent recertification with an 11-point increase in score, without the enthusiasm, commitment and tireless work of our team, our suppliers, customers, our farmers and our partners...everyone up and down our value chain was genuinely committed from day one.
When Danone purchased WhiteWave, management was eager for us to begin the assessment process immediately. From day one, we changed our entity status to become a Public Benefit Corporation and set the goal to become B Corp certified within two years. I led a cross-functional team of 150 people, answering over 1500 questions from across our business, to complete the B Impact Assessment and to help manage the onsite audits with B Lab. Many of the employees who initially worked on the certification didn't even have the task in their objectives. So, what it took was sparking the passion and engagement with employees and explaining to people not only what it was, but more importantly why we were doing it. Once employees were engaged, everyone was eager to participate, not because they were asked to, but because they wanted to. The certification process became an early and important opportunity for collaboration, inspiration and engagement during a period of change for the company. It gave us a shared vision and values to rally around and inspired internal activation. It created excitement for competitive spirit and viable progress over time. It created a sense of community: both internally and with other B Corps. As we were working through the assessment, it also really helped that Danone's mission and values were really parallel to the B Corp community.
For us at Danone North America, certification didn't mark the end of the journey, but instead, the beginning. It wasn't a "check the box" exercise...it became a critical part of who we are as a company. And in the three years, since we were first certified, I have spent a lot of time working with teams to deeper embed the mission and values of what it means to be a B Corp. To aid this process, I created an internal formal ambassador program for employees; hosting deep dive workshops to drive enhanced engagement. My goal is for employees to get beyond knowing the elevator speech of what a B Corp is, to having the resources as well as inspiration and engagement to act like ambassadors everyday, using B Corp as the lens in which they do their day-to-day job. I've learned and continue to illustrate that every single employees' role at the company can easily be tied back to B Corp values and principles. My favorite scenario is when employees bring ideas to me about how they can integrate the mission and values in their programs, processes, etc., that level of genuine engagement is the definition of true sustainable success to me. What's been meaningful going through the recertification process is seeing the tremendous progress we've made and our commitment to continuous improvement! I love the B Corp community and the standards we uphold as proud members of that community – willing to not only celebrate our best practices, but also be transparent about our opportunities to do even better.
Q: From climate change to social and economic justice, the last year was pivotal in many ways. From your perspective, are there trends or shifts that you're seeing regarding sustainability in food eco-systems?
A: 2020 was certainly a year of transformational change. Specific to the food system, what became clear is that companies rooted in purpose will continue to lead the food revolution. At Danone, purpose guides everything we do. Our mission is to bring health through food to as many people as possible. During these unprecedented times that we continue to experience; corporate purpose and our mission helped to ground decisions in what is most important - and as we've all felt through this past year, we continue to need to focus on and do our part to prioritize community and people, equity and justice.
As mentioned, Danone North America is one of the world's largest Certified B Corporations and the largest public benefit corporation. Being a public benefit corporation means that in our articles of incorporation, we are legally accountable to balance people, planet and profit in our business and decision making. And one step further, maintaining our B Corp status is a way that we formalize this intention to be a business that meets the highest standards of verified social and environmental performance, public transparency, and legal accountability to balance profit and purpose. It also enables us to be part of a movement helping pave the way for all business to redefine success into this multi-stakeholder model coupling our growth ambitions with our responsibility to people and planet. Ultimately, we are enabling our people to use our business as a force for good in the world.
Q: As Director of Sustainability, what are the major initiatives that you are working on in 2021?
A: The big one was our B Corp recertification and that's done! I continue to do whatever I can to support the B Corp movement, and I sit on the board of B Local Colorado. Internally, we're also working on an impact report to help bring to life our frame of action of One Planet. One Health. through our reporting, but most importantly our storytelling.
Q:  Talk about your involvement in Regenerative Agricultural practices and how you support organic farmers.
A: One of our brands, Horizon Organic, which is the world's largest organic dairy brand, made a commitment to become carbon positive by 2025. Our plan is to certify as carbon neutral and then to go beyond removing more carbon than we create.
Regenerative agriculture is a key component to achieve our carbon positive commitment, as we work across the entire value chain from on farm practices to off farm improvements. For example, we'll be making packaging improvements, creating more efficient transportation and distribution models, and looking at emission reductions broadly.
Also, we will be starting educational sessions around Regenerative Agriculture for our organic farms. This will allow farms to hear firsthand from industry professionals and other farmers who are already doing some of the practices.
Q: Your academic education began with environmental science and communications and and economics, and you also participated in a Corporate Sustainability pilot at Harvard. When you think about your career in sustainability, what do you draw on most from your academic experience?
A: When I started college "sustainability" degrees didn't exist yet, so I basically created my own by chasing what I was passionate about. I'd say my passion for corporate sustainability and my willingness to take chances, ask questions, and engage employees toward a unifying goal, is what continues to drive me. In college, whether it was my economics, science, or communications class, I was always craving to learn more to help build my understanding of the "real world" and how I could position myself in a company to create a business case for sustainability. I was always asking questions and challenging the status quo, to really understand what is possible in redefining success in business. I have never taken a "soap box" approach to engagement, but instead from my interdisciplinary course work, I learned the importance of leaning into the tough questions and learning from everyone and every situation. Be a sponge and later you can squeeze out this experience, no matter what your career throws at you. Asking questions to learn is what I've continually done from academia to my current job. Never assume you know everything, but instead be ready to learn from others as that will best position you to build trust and drive genuine engagement.
As Simon Sinek details, everyone has a different "why". Over the years I have learned that in order to lead sustainable culture change and genuinely engage diverse stakeholders, you have to be able to "meet people where they are at" and the only way you can do that is learning what drives them, what they are passion about, and how their "why" for each of these can drive them to be engaged in a larger mission. John Davies of GreenBiz always says that sustainability professionals are "the great translators of our time" and I couldn't agree more. And how you do this, is always coming from a position of learning, asking questions and putting your heart into the engagement journey. Driving shared value, building trust across diverse teams, finding passion/connection where it may seem impossible, that is what drives me every single day. When we can do that as people and companies, we can drive systemic change and do great things, together.
Q: When you think about your experiences (personally and professionally), what has prepared you the most for your success and how you define that for yourself?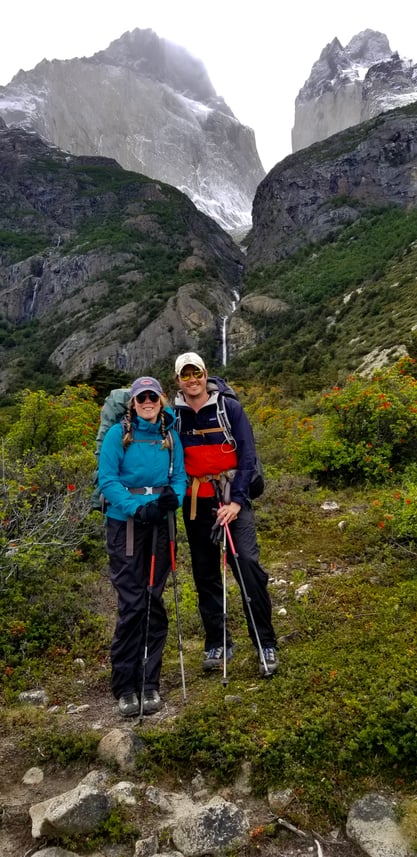 Photo right: Catherine and husband hiking in Patagonia.
A: I define success by the level and impacts of genuine engagement. I remember when we getting ready to go to New York to publicly announce our initial B Corp certification. It was critical for me that a group of the stakeholders who helped collect this information were there to celebrate because it was their engagement and commitment that got us there. So, we ended having about 15 people who worked on the process join us for the announcement! Alongside our global and local CEO and other senior leadership, we had members of our various teams including: Environmental Health and Safety, HR, procurement, and our colleagues from our manufacturing facilities. It was amazing to celebrate our shared achievement. For me, that is what it is all about. Success comes from meeting people where they are, understanding their diverse perspective, learning from them and ultimately igniting their passion toward a unifying goal. That's how engagement happens. That's where we can really change the world. Together. Nothing inspires me more than driving genuine engagement.
Q: Do you have any advice for people who feel overwhelmed when they think about food systems change and where to begin?
A: My junior year of high school, I took an AP Environmental Science class and was so excited as I was passionate about so many topics and saw so many possibilities for my career. My professor gave me really good advice which I still rely on: prioritize. Pick a couple of topic areas you are passionate about to focus on. You may not be able to change the whole world, but you can make a huge impact in your corner. That advice stuck with me because sometimes working in sustainability can be quite overwhelming because there is so much to do. It's going to take us all and nothing is going to get done if organizations and people can't work together and prioritize where they can have the most impact. This is why it is critical for companies to partner with diverse stakeholders...from NGOs challenging them, to consumers demanding more transparency and competitors raising the bar – for good. We shouldn't be fighting to see who can "solve climate change" first, but instead we need to focus on partnering together (like the B Corp community does so well!) to prioritize in the areas where we are each experts, bringing our own unique diverse backgrounds and passions, to drive sustainable change. Just because you cannot solve all of the food system problems immediately, doesn't mean you aren't making a measurable and meaningful impact where you are prioritizing. Start somewhere and you will go somewhere, because if you are paralyzed by fear of not being able to solve the whole system...that will get you nowhere. If we each take a part, and work together, we can get there, I truly believe that.
Q: What are you reflecting on as you look to the future?
A: I have always been and will forever be dedicated to doing my part to create a better world for future generations. My sincere hope is that the devastation of the past year can serve to continue bring our global communities together. We all witnessed what happens when communities come together, it proved just how much we need each other. I'm an optimist and I believe that we can make monumental changes when we are working together and realize that we're not alone. We have such a unique opportunity given the last year and a half. The impact of societal and environmental health has never been clearer. Let's take advantage of this moment, together!
Q: Do you have a mantra or quote that you live by or that inspires you?
A:  I am a big believer in setting North Star goals and doing whatever you can to manifest them! Chase your dreams, no matter what. Your dreams may change, and that is okay, as that just means you are open to learning and changing your perspective. You can achieve your goals by working hard, asking the tough questions, making the hard decisions, being open and committed to continuous improvement, and most importantly, prioritizing your passions, whatever they may be. When I started on the journey to work in Corporate Sustainability, it was a dream, and I had no map. I figured it out by taking chances, leaning on mentors, and squeezing out all of the learnings along the way. Now I take every opportunity to not only keep learning but to pass along my learnings to future generations! "Pay it forward" as they say.
I highly recommend the book Desire Map -- it's about self-agency and a heart-centered approach to creating our lives and living with intention, no matter what, because trust me, that is not always the easiest approach, but I guarantee it will be the most sustainable, personally and professionally. And believe me, this is not coming from a place of entitlement, but from learning many tough life lessons that made the path seem unbearable at times. I have learned that just because the path may not be clear, let alone what you envisioned, that's okay...it may turn out even better than you imagined. Cheesy, yes, but I have learned over and over again, it couldn't be truer.
Like Danone North America, Bluestone Life is a Certified B Corp. Bluestone Life is also a member of 1% for the Planet and our life insurance policies benefit nonprofits within the 1% for the Planet network. We encourage the Practical Activist in all of us to work for a socially just, equitable and healthy planet. Learn more about companies who are doing business as a force for good.
Like hearing about Practical Activists?
We'll share their stories with you monthly. (No email overload… we promise!)