Practical Activist Q&A featuring Justin Barclay, Rodale Institute
Bluestone Staff

June 30, 2021
Featured Photo: Veteran intern group March 2021, fully masked and sharing a laugh.
Justin Barclay is the Veteran Programs Manager at Rodale Institute, the pioneering nonprofit at the forefront of regenerative organic agriculture who literally coined the term "organic" and the movement that puts soil health at the heart. Justin is a veteran who served in the US Army for six years including a deployment to Afghanistan and an overseas tour in Germany. When he's not working on the farm at Rodale Institute, he is working on his own horse farm in Carbon County, Pennsylvania.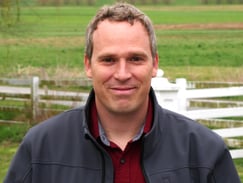 Image left: Justin Barclay
Q: The pandemic certainly made Americans think about our food systems and local, healthy organic farming. How has the past year impacted the veteran community and the work that you're doing at Rodale Institute?
A: I know many veterans across the country had less access to services they need because of the pandemic. At Rodale Institute, we were exempt from a lot of shut-down orders because of our agricultural status, so we were fortunate that it didn't negatively impact our training too much. Just like the general public, the veterans who were interested in our program, wanted to get closer to the food system and have a greater understanding of what their role could be in it.
Q: You lead and run the Veteran Farmer Training program. Tell us about it and your focus on military veterans.
A: I lead and run the Veteran Farmer Training Program (VFTP). It's a paid internship for veterans who are interested in learning about organic/regenerative agriculture. They get a full, hands-on, in-depth experience for two to six months depending on our funding. There's also a follow-on opportunity that is an additional eight months at Pocono Organics. They have 40,000 feet of indoor growing space so they can provide fall and winter season opportunities. I like to think of our program as "basic training" for farming and then Pocono Organics as an additional level of training.
Q: What draws Veterans to the VFTP program or do you have to work to recruit them into it?
A: When I was hired in 2015, we were running the Organic Farmer Certificate Program (OFCP) which was with our partnership with Delaware Valley University and we had a special grant to bring a veteran emphasis to that program and specifically work to recruit veterans into the program. While I was out there talking to veterans, what I heard from them was: "I am interested in organic farming, but I'm not going to go back to school." It wasn't that they didn't want to learn…it was that they couldn't visualize themselves going back into a college environment with 18 and 20 year-olds. Many of them were retired from the military so they were in their 40s or 50s, and had kids going to college. There's one guy that I really framed the program after…he was a retired special forces master sergeant and he said: "My daughters are going to school right now, so I can't go back to school too." That's when a light bulb went off for me and I thought I need to create a program that really speaks to veterans like him that had a hands-on experience with some educational opportunities on the side…so you're not a student learning to become a farmer— you're more of an intern learning to become a farmer. So, in 2016, we launched VFTP with the help of many nonprofits and organizations working to serve veterans, and we had eight veterans that first summer. We were able to fulfill a different need for veterans. I don't see the two programs competing at all. I see them as complimentary because I do have veterans who go through both programs.
Photo right: Franz Stuppard, a participant in this year's Veteran Farmer Training Program.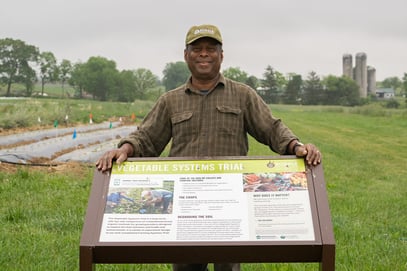 The internship is paid with a weekly stipend of $500 and an additional housing stipend of $250/week if they don't live in the immediate area. Since 2016, we've had over 50 veterans participate in the program through six growing seasons. We've had a wide range in ages from veterans in their early 20s to a Vietnam vet. Our program is 20% women in this year's cohort and 60% people of color. We average 8-10 veterans each year and the past couple of years we've had waiting lists.
We primarily focus on vegetables like kale, lettuce, peppers and tomatoes. On the animal side, we raise chickens (both broilers and layers) and we also have some pigs and we mostly focus on heritage breeds. We also do one small group of turkeys for Thanksgiving.
It's been a positive program and we've had a lot of great partners like the Farmer Veteran Coalition.
For recruiting, I attend the National Farmer Veteran Coalition conference every year. That's really the perfect demographic that we are trying to reach out to: it's veterans who are interested in agriculture. I also attend local and regional veteran groups here in our area in Pennsylvania. We also have contacts at the Pennsylvania Department of Military Veterans Affairs and have marketing materials there. Many veterans find us through Google or online searches…if they type in "veteran farmer training" or some combo of that, our program pops up in the search results. Rodale's reputation and deep history really helps us too.
Q: You're a West Point alum who has served in the U.S. Army, and you've also worked in Corporate America. What experiences have prepared you most for the work you're doing today at Rodale Institute and have most influenced your perspective on life?
A: I didn't have a direct path to the world of ag. I had more of a meandering journey. From my experiences in both the military and private sector, I got exposed to working with a wide variety of people internationally. I've had opportunities where I could speak to very senior people in an organization— from the PA Secretary of Agriculture to the Deputy Undersecretary of the USDA and also work with the farmers on the ground doing the work. I always look to find the commonality with whatever people I am working with and one of those commonalities is food. Farming is also like a brotherhood…there's a shared commiseration and also appreciation of the rewards. For me a strength has been my ability to adapt to who my audience is and relate to them and find that commonality.
Q: Do you have any advice for people who are looking to get more involved in farming or food systems?
A: One of the first things I recommend if they are close to us here at Rodale Institute is to come for a visit. If they're not close to us, I recommend they reach out to the Farmer Veteran Coalition and their local chapters. Plug into your local agricultural group first because they know so much about what's happening in your area. Follow our educational opportunities and virtual workshops which are free for veterans to attend. Eventually, we'd like to replicate our Veteran Farmer Training program at our other regional sites as well.
Q: Do you have a mantra or quote that you live by or that inspires you?
A: Take advantage of all the opportunities we have here and that are out there for you. Pick the brains of all the knowledge that we have and that you can find. We have a virtual campus this year and we're looking at expanding that which allows us to impact so many more people – there's always physical and fiscal constraints. Online content really helps to expand the impact and create more educational connection and sharing of knowledge. There are so many organizations working to connect people to knowledge. The veterans who do the best are those we keep learning and keep seeking out more information.
Q: Any final thoughts?
A: I'd like to thank our supporters over the years…we couldn't do it without them:
Pocono Organics

Newman's Own Foundation

Farmer Veteran Coalition

Applegate/Sprocket

Anonymous donors in the Lehigh Valley and greater NYC area

Snider Foundation

Captain Jason Jones Memorial Foundation

Wawa
Thank you all!
A life insurance policy from Bluestone Life can benefit nonprofits like Rodale Institute. A percent of Bluestone's revenue and a complimentary Impact Rider can be part of the solution for soil health and food systems change. We encourage the Practical Activist in all of us to get involved in your community and support organizations like Rodale Institute who are working to positively connect our soil to our food to our health.
Like hearing about Practical Activists?
We'll share their stories with you monthly. (No email overload… we promise!)