Practical Activist Q&A featuring: Dan Castrigano, SubjectToClimate
Bluestone Staff

April 13, 2022
Featured image: Dan Castrigano with his favorite mode of transportation
Dan Castrigano is the Chief Content Officer for SubjectToClimate, an online resource that connects teachers to free, unbiased climate resources for all subjects. A middle school teacher for 11 years, Dan saw firsthand how students were interpreting and internalizing information around climate change. He's passionate about engaging education that creates a space for dialogue and deeper understanding about our climate and our planet.
Here are some highlights of our recent conversation with him:
Q: Where did your interest in the environment and climate change begin?
A: I grew up in a suburb of Cleveland called Lyndhurst and always spent a lot of time outside and in the woods, so in that sense it's always been a part of who I am. My first real awakening came when I was teaching in 2017-18 and that's when I just began to see the injustice of all of it. The more I learned and dug into the facts, I could see how climate change disproportionately affects all marginalized communities. The more research and digging that I did, I also began to feel the urgency of the climate crisis.
Q: Talk about the mission of SubjectToClimate, the need it fulfills in our schools and how you're different from other resources for teachers.
A: We're a nonprofit organization and our goal is to bring free, engaging, credible and unbiased resources to teachers and make it easy for them to teach about climate change for students in K-12. We have a resource database of over 1200 items, and we've created over 50 lesson plans. It saves an enormous amount of time for teachers. So part of my job is to scour the Internet and find the best existing information for teachers -- whether it's a newsclip on YouTube or an interactive map of hurricanes. We're putting the best educational resources about climate all in one place. There's a great sense of satisfaction when we hear from teachers how much time we're saving them.
Image right: Dan with future gardeners and farmers.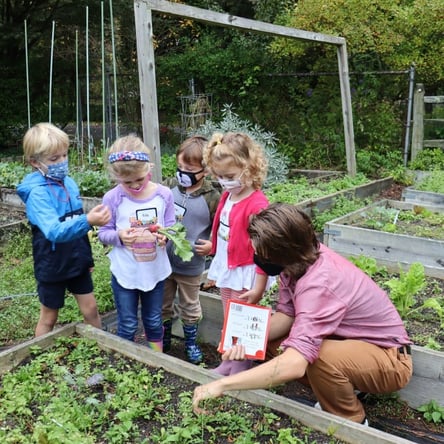 Q: What advice do you have for students and their families who are struggling with what they can do to create positive change around the environment?
A: Do something. I work for SubjectToClimate and I also had a podcast and have organized with a lot of different climate groups. Find what you're good at and what you love and channel your energy there. Activism is messy and it doesn't always work. Don't let the perfect be the enemy of the good. Action can take many forms. It can be quiet or it can be loud. It can be reducing your meat consumption and cooking a plant-based meal with your family or it can be engaging in nonviolent arrestable actions. Don't let fear and worry paralyze you. Just do one thing and start with a single action.
.
Q: You chose Local Motion as the nonprofit beneficiary of your complimentary Impact Rider from Bluestone Life. How did you become a supporter of theirs?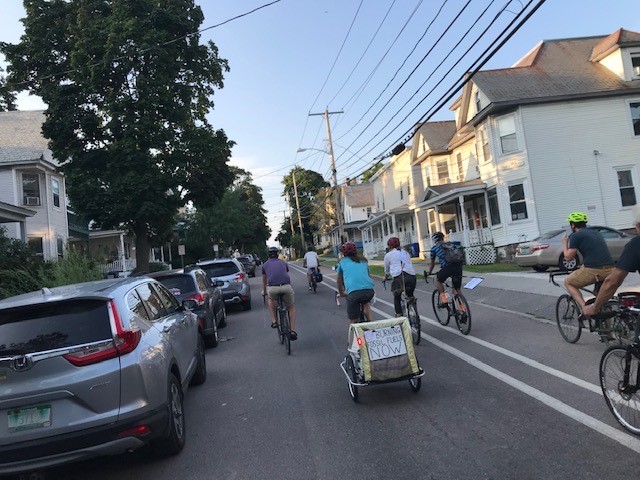 A: I have volunteered with Local Motion to teach kids how to ride bikes in Burlington. They are an activist group who show up to City Council meetings advocating for bike lanes. I ride my bike and almost never drive because of the climate crisis. When you look at impact, transportation is the number one sector for emissions and private vehicles are the biggest part of that. So, I see removal of cars and the increase of bikes, public transit and walking as integral to what we must do for climate action.
Q: Do you have a mantra or quote that you live by or that inspires you?
Image left: Wangari Maathai, influential Kenyan activist. Source: Paris Global Forum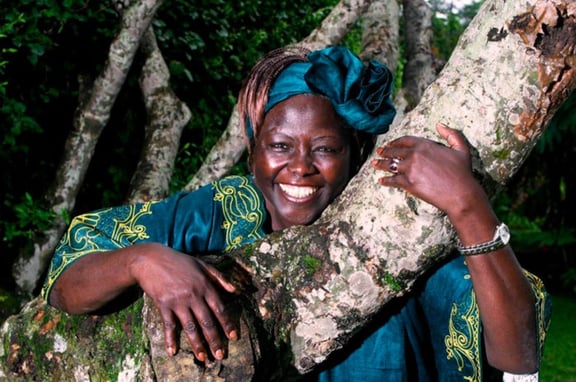 A:  Part of my meditation every day that I say every day is: "I am but a hummingbird, splashing water where I can." This was inspired by Wangari Maathai, a Kenyan who was a social, political and environmental activist, and the first African woman to win the Nobel Peace Prize. In her memoir, Unbowed, she tells this story about a forest fire where all the animals are running away from the flames, while a hummingbird is taking a drop of water and trying to do something. So that story grounds me when climate change is overwhelming. I know I am one human out of 8 billion, and this meditation helps ground me when engaging in climate activism.
The Practical Activist blog is created by Bluestone Life. With Bluestone, your life insurance creates a positive impact for family, community and planet. A Certified B Corp and a member of 1% for the Planet, Bluestone is a transformative choice for social, environmental and financial systems change.
Like hearing about Practical Activists?
We'll share their stories with you monthly. (No email overload… we promise!)