Practical Activist Q&A featuring Fiona Wilson, UNH Sustainability Institute
Bluestone Staff

May 26, 2022
Feature image: Fiona Wilson (right) with students at a B Corp Leadership Development event. Image below: At a B Corp panel with fellow B Corp champions in Maine.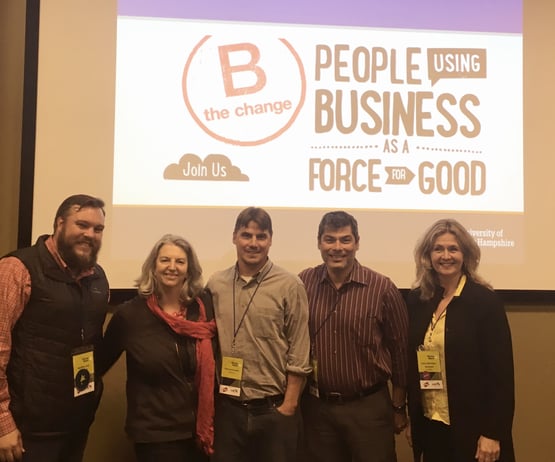 Dr. Fiona Wilson is Deputy Chief Sustainability Officer and Director of the Sustainability Institute at the University of New Hampshire (UNH), a recognized national leader in sustainability. She is also an affiliate faculty member of Social Innovation, Social Entrepreneurship and Sustainability at UNH's Paul College of Business & Economics. She has dedicated her academic career to creating high-impact sustainability programs steeped in real-world experiential learning, with a mission to inspire, train and support the next generation of leaders with the confidence and competence to drive sustainable change in the world. Earlier in her career, she spent over a decade working for global advertising firm, Ogilvy and Mather, and as VP of Marketing for a publicly traded internet investment and operating company.
Here are some highlights of our recent conversation with her:
Q: When did your interest in sustainability begin? How has the field changed in the last decade?
A: My interest goes back to my childhood. I grew up in a town near the ocean and my parents were sailors, and we spent a huge part of my childhood sailing around the coast of Southern England and across the English Channel and in France, Belgium and The Netherlands. I was always surrounded by nature and my love of the Planet Earth probably began then. Into my teens and even in my 20s, I don't think I fully understood how important it was to protect those natural resources and the fragility of our ecosystems. It wasn't until I was in my 30s when I started to really think about climate change and how it was affecting so many things, and that's when I also started to think about social justice.
When I moved to the U.S. and started working in high tech, that was when I realized that gender equity was an issue. I also went to an all-women's MBA program at Simmons College which specialized in issues of gender in leadership. All of this came together for me when I was in my last corporate job working for a publicly traded internet company. That was when I started thinking about the role that business plays in the world and the intersection of profit, people and planet. I decided to leave the corporate world and go back to get a Ph.D., focusing on the intersection of business, strategy, and societal impact. My dissertation (in 2010) was called Socially Conscious Capitalism and included an analysis of the emerging B Corp movement and a number of the first certified B Corps.
I acknowledge there is still a lot of work to do, and we need to do more and we need to do it faster…that being said, I'm incredibly encouraged by the work that's been done in the business sector in the last decade. When I was doing the research for my dissertation, there were a few hundred certified B Corps. We recently tipped over the 5,000 mark globally! Many large companies today have meaningful Climate Action Plans, including Science-Based Targets, and DEI initiatives, and many are voluntarily reporting on their ESG performance annually. I believe we're at a tipping point where not paying attention to sustainability is no longer an option ꟷ not only because it is the right thing to do, but because it is also about future success. There's a growing recognition that long term business performance is linked with a company's impact on people and planet, rather than seeing these as a drain on a company's resources or costs that will constrain profitability. There's momentum and we're seeing goals and actions becoming aligned for real progress.
Q: Talk about the mission of the Sustainability Institute at UNH, and how its approach to sustainability is distinct.
A: The Sustainability Institute at UNH was founded 25 years ago and was one of the first of its kind in the country. UNH was a pioneer in this work, and I'm grateful to be working alongside a great team of people including my colleague, Dr. Tom Kelly, the founding Executive Director of the Sustainability Institute. The mission is really three-fold: 1) thinking about UNH's own sustainability practice and resources. We act as the backbone organization to collaborate with colleagues across campus, from the dining facilities to energy and transportation, and to the faculty senate on the areas of curriculum. We set the sustainability vision and goals for the university overall and are both a resource and partner to faculty and staff across the university. We're proud to be only one of 10 universities in the country to have a platinum rating from STARS, the sustainability ranking system for universities. 2) We're a a land, space and sea grant university, and the state's flagship public research university. So, we're thinking about the common good and what it means to support our state, region, and the world in helping to advance sustainability. We also act as the backbone for several community sustainability networks such as New England Municipal Sustainability Network, Food Solutions New England, New Hampshire Food Alliance, and New Hampshire Farm to School. 3) Through our Changemaker Collaborative, we are providing a platform for connecting our students with opportunities to embed sustainability in their education ꟷ whether it is formally or informally. We want to be graduating thousands and thousands of changemakers, students who will graduate with the skills and the courage to be sustainability leaders. Our programs not only provide transformative learning experiences for our students but aim to provide tangible value to our community partners, bringing them needed capacity to advance their own sustainability practices.
Q: What's the origin of the B Impact Clinic at UNH and what is the role that you see it playing in the future as the B Corp movement grows and evolves?
Photo below: B Impact Clinic Site Visit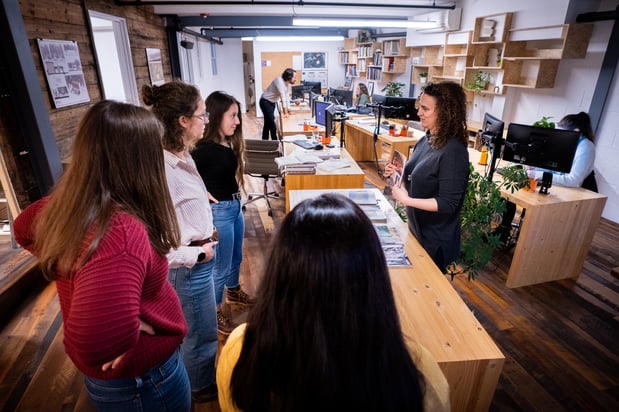 A: We started the clinic about four and a half years ago with one faculty member (which was me) and one client and two students. We started it because of the vision that we have for sustainability education. We believe that classic classroom education is vital and necessary, but not sufficient for the 21st century. Particularly when we think about sustainability, we know that we need to be graduating students that have practical, hands-on experience.
We also want to surround the academic experience with a rich tapestry of practical, applied experience…learning by doing. We offer a suite of real-world sustainability education programs such as Summer Sustainability Fellowships, Semester in the city (through our partnership with the College for Social Innovation), and our new Carbon Clinic. The B Impact Clinic is another great example of that. We're matching students with community partners (businesses, nonprofits and municipalities) to work on evaluating and improving their sustainability practices and societal impact.
We use the B Impact Assessment (which B Lab developed as the basis for B Corp Certification) as the core teaching tool for the program. It is a great for a program like this because it's so comprehensive, and was rigorously developed by a panel of experts, and is free and open source. It allows students to really see first-hand what sustainability in business is at a granular level. It allows students to dive in and see what business as a force for good means. Students are hungry for these types of experiences, and they get excited about the B Corp movement because they can see there is a way to be a business and be a force for good. They want to be part of building this movement. There has also been a lot of interest in B Corp certification from the businesses in our region and we want to be able to support them on their journey.
Q: What advice do you have for students or professionals who are interested in sustainability as a career pathway?
A: For students, take courses in sustainability! For example, at UNH, we have a dual-major in Sustainability and so as a student, you're pairing it with another major such as engineering or business or liberal arts. That was an intentional decision because we want our students to have depth in discipline coupled with sustainability orientation and skills.
More broadly, we need incredible professionals who will collaborate with others to advance sustainable solutions. We need engineers who can work with businesspeople and people in the public sector to come up with new ways of doing business and for everyone regardless of their profession to be thinking about sustainability overlays. Ask yourself: how do I become fantastic at collaborating and working with others across sectors or disciplines? While it can be hard to bring people together, it can be incredibly rewarding, and I think that's where the future lies. You don't have to have "sustainability" in your job title to be a champion for sustainability.
Q: Do you have a mantra or quote that you live by or that inspires you?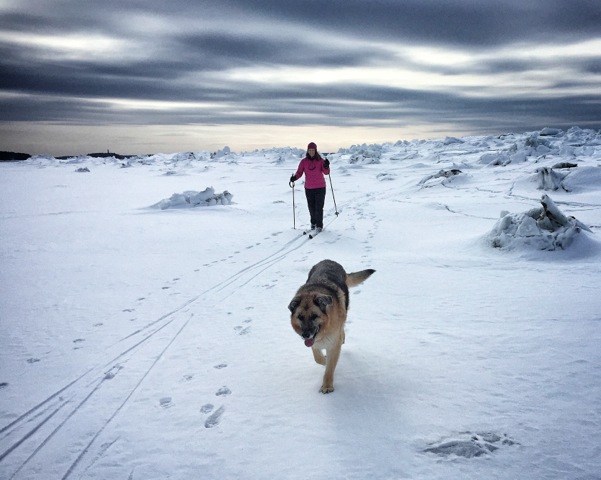 A: This quote inspired my dissertation and has also inspired my teaching and research. It's from Kofi Annan, former UN Secretary General: "Let us choose to unite the power of markets with the authority of universal ideals. Let us choose to reconcile the creative forces of private entrepreneurship with the needs of the disadvantaged and the requirements of future generations." For me, it speaks to the role that business will play and how we can harness capitalism for the greater good.
Photo right: Fiona and fur-legged friend and neighbor, Henry, on sea ice in 2015.
The Practical Activist blog is created by Bluestone Life. With Bluestone, life insurance protects your family, community, and our planet. We are a Certified B Corp and a 1% for the Planet member business. Check out our Premiums with Purpose® to learn how it works.
Like hearing about Practical Activists?
We'll share their stories with you monthly. (No email overload… we promise!)