Practical Activist featuring Melinda Kramer, Women's Earth Alliance
Bluestone Staff

June 10, 2022
Feature image: Melinda Kramer is among other Women's Earth Alliance (WEA) Leaders at a WEA Training Program (center); fellow WEA co-founder, Amira Diamond, is also on the right within this circle of leaders.
Melinda Kramer is Co-Founder and Co-Executive Director of Women's Earth Alliance (WEA), an award-winning, international organization and thriving global network that trains and elevates the critical work of grassroots women environmental entrepreneurs and climate advocates. She is an accomplished social entrepreneur, environmental leader, fundraiser, nonprofit founder and director who has worked around the world at the intersection of environmental sustainability, women's economic development, and gender justice.  A respected social impact consultant for foundations, non-profits and mission-driven companies, you'll often find her as a keynote speaker at events around the globe.
You can help women plant seeds of change. Your gift will provide grassroots women leaders with seed grant funding to launch vital environmental initiatives to protect the Earth and our communities. And for a limited time, your gift will be MATCHED, which means you'll have TWICE the impact.
Here are some highlights of our recent conversation with Melinda:
Q: When and how did your interest in intersectional environmentalism begin?
A: In 2002, I became involved in an Environmental Law Clinic working in Herculaneum, Missouri where the community was fighting to clean up land made toxic by the local lead smelter. I met families whose homes were black with soot from the nearby toxic lead smelter, and whose children had blood lead levels that were through the roof. I began working with a group of local moms who had taken on the challenge, and who didn't let anything stop them. They weren't litigators or scientists. They weren't seasoned in front of cameras or funded to do this advocacy work. And yet they were showing up day after day, creating a community process, gathering evidence of the companies wrongdoings, hosting press conferences, making demands. And it was these leaders who shut down the smelter, got the company to remediate the area and buy out nearby homes, and got the region listed on the EPA's National Priorities List. These women were illuminating the power of intersectional environmentalism. They were standing at the intersections of health, justice, race and class, and helping people see the connections. And I remember one press conference quite well. One of the most outspoken organizers stood up with the microphone and said, "I'm not an environmentalist. I'm a mother. And first and foremost, I care about protecting our children from harm." With those words, she broke down the silos and created a bridge.
I would quickly learn that it was the everyday folks—grassroots leaders—who were the most effective in expressing their community's needs and creating long-lasting change.
Photo below: WEA Leaders from ANEPO in Tanzania celebrating the construction of a Biosand Water Filter.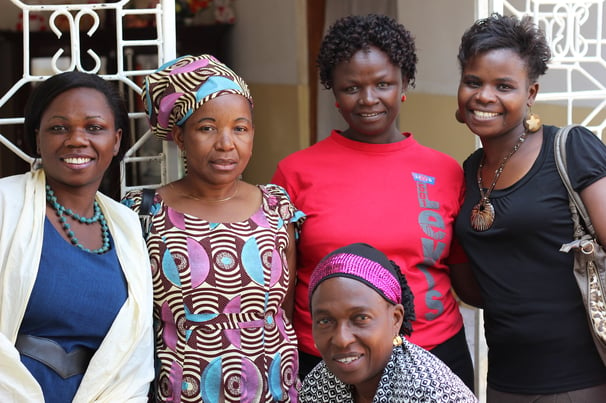 From my experience in the Midwest to experiences that followed— rural Kenya where girls were walking for hours to access water instead of getting to go to school and to the Arctic where indigenous lands and people's rights were threatened daily by the rising sea levels and climate change, I witnessed the inextricable link between culture and the environment. I learned the power of intersectionality and grassroots organizing. And I met inspiring and visionary women on a mission to protect our planet like I'd never seen before. I knew this is where I wanted to work—helping to build the connective tissue amongst people changing the world.
Q: Tell us about Women's Earth Alliance (WEA) model and how it is distinct.
A: WEA invests in the leadership of women on the frontlines of our world's biggest environmental and climate challenges, and it's a holistic investment. We seek out grassroots leaders who are working on the front lines, and then we invest in their long-term leadership through wraparound training and capacity-building, funding and networks of support.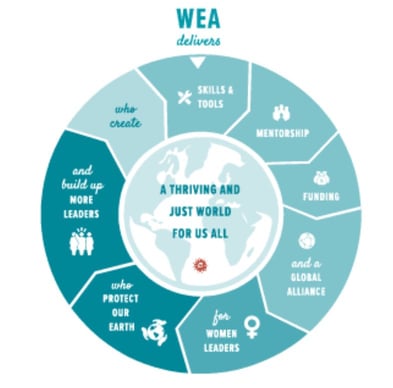 Their solutions create ripples that reach far beyond their own community and the initial project investments. That is the cascading benefit of our model, where we're seeing the work in a community positively impact an entire region. We've been on the frontlines working with women for almost 16 years, and we have generated this global network of leaders who are building critical grassroots solutions as it relates to water access, food access, environmental justice, and climate solutions. While these groups all struggle to obtain funding, training, financing, and visibility, there's also this huge appetite to get capital to the frontlines and to do that in the most efficient way. That's where our holistic approach comes in bringing the spectrum of support that's needed for these leaders and their environmental projects to succeed.
Q: What do you want people to know about the role that women play in international grassroots organizations and positive systems change?
A: Women's leadership in protecting our earth is nothing new. This kind of leadership has a long tradition. I think of the original "tree huggers" in Rajasthan, India in the 1700s, when women of the Bishnoi community literally wrapped their arms around their sacred trees to protest the government from cutting them for the royal palace, and many of them lost their lives in that fight. They inspired the Chipko movement in India in the 1970s, which also drew upon this kind of peaceful protest method, and that spread throughout the country. There's the Green Belt Movement in Kenya which resulted in over 50 million trees being planted across Africa. There were the women of the Bolivian water wars, who hit the streets to ensure that water was not privatized in their country.
Photo right: WEA Leader from CAAS in Jharkhand, India, standing over a coal mine.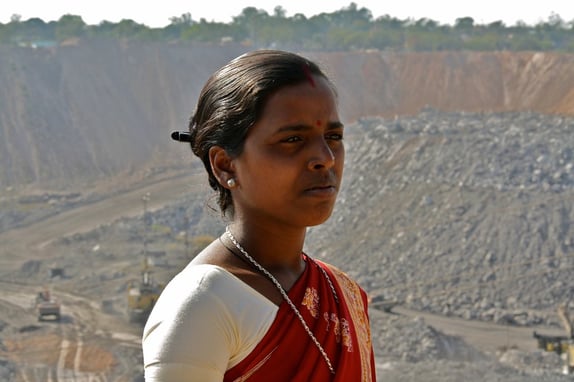 We continue to see these bold fights today from the Indigenous women in the Amazon stepping forward to the peaceful protects at Standing Rock. When we reflect on this rich history, and then see that many of the women we work with today don't own the land that they work to protect. They don't have a say in the policies that impact their lives. They don't have access to resources, training or to a network of allies. And yet, they do this work anyway.
It's important to know where we've come from and where we are today and that women's empowerment is essential in combating our world's biggest problems. We still have more work to do to translate action into investment on the ground and bridge the resource gap. Honoring the critical role that women play in protecting our environment is just the beginning. The next step is making a holistic investment in these leaders and their solutions.
Resilience has become one of those trendy words that people love to throw around, it's like the word of the year. The women leaders we work with at Women's Earth Alliance have already figured out how to live amidst crisis—climate shocks, pandemic, drought. This is what resilience really looks like. These leaders are saving the lives of people in their communities every day, and with our support, I truly believe that they are the ones who are most likely to save all of us.

Q: For people who are overwhelmed when they think about climate change and the environment, what advice would you give them?
A: I have three pieces of advice that I live by. #1) Figure out what you care about because we protect the things we love. And it's important to nurture and cultivate our love for the natural world. It helps me enormously to take a moment to stop and feel what I care about and what I'm willing to fight for. #2) One step at a time. It's like a complex thousand-piece Lego® project that simply requires starting with one piece. #3) Just keep going. Remember that it is a journey not just a single fixed point.
Q: Do you have a mantra or quote that you live by or that inspires you?
A:  Yes. When I was attending the University of Nairobi, in in 2001, I learned that a woman named Wangari Maathai was going to be giving a guest lecture in my anthropology program. And I had no idea at the time that she'd go on to be the Nobel Peace Prize Laureate, and I also didn't know that I would end up working alongside her and she would be a key advisor and partner.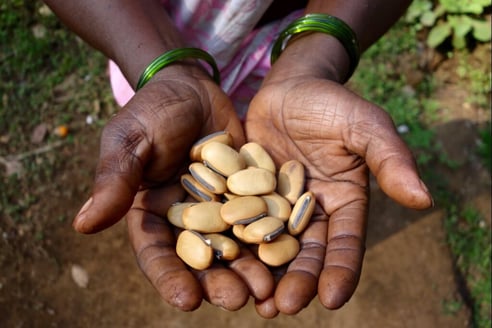 When I walked up to her and met her that first time, I'll never forget what she said to me: "What we need to do is simple. Just plant seeds, seeds of all kinds. You'll be amazed at how they grow." That was her approach with the Green Belt Movement—she started with a few seedlings and grew a global movement from there, inspiring so many along the way. I didn't know it at that moment when I met her that she had planted a seed in my heart that would grow to become the Women's Earth Alliance. We never know what abundance will come from the seeds we plant today.
The Practical Activist blog is created by Bluestone Life. With Bluestone, your life insurance benefits nonprofits like Women's Earth Alliance and creates positive impact for family, community and planet. A Certified B Corp and a member of 1% for the Planet, Bluestone is a transformative choice for social, environmental and financial systems change.
Like hearing about Practical Activists?
We'll share their stories with you monthly. (No email overload… we promise!)