Practical Activist Q&A featuring Maddie Kempner, NOFA-VT & Honeyfield Farm, Norwich, VT
Bluestone Staff

September 1, 2021
Featured image: Policy Director Maddie Kempner and the late, beloved former NOFA-VT Executive Director Enid Wonnacott stand with Senator Patrick Leahy at NOFA-VT's annual Winter Conference. Senator Leahy was instrumental in crafting the legislation that led to the creation of the National Organic Program.
Maddie Kempner is the Policy Director for NOFA-VT, The Northeast Organic Farming Association of Vermont. Founded in 1971, NOFA-VT is one of the oldest organic farming associations in the United States with 1,100 members throughout the state.  NOFA-VT promotes organic practices to build an economically viable, ecologically sound and socially just Vermont agricultural system that benefits all living things.
A native Vermonter, Maddie lived out West for several years before returning to her home state in 2013 and joining the NOFA-VT team. She has worked in various capacities in outdoor education, agriculture, and food policy in Utah, Colorado, and here in Vermont. In 2014, Maddie supported NOFA-VT's work on the VT Right to Know GMOs Coalition to help pass Vermont's GMO labeling law. She has a BS in Environmental Studies from UVM and a Master of Environmental Law and Policy from Vermont Law School. We recently had the chance to talk to Maddie and also two farmers who have benefited from being part of the NOFA-VT community.
Q: Last year during the pandemic, many Americans reconnected to the food supply chain, so it was a big year for many organic farmers across the country. This year, the extreme drought in the West is negatively impacting organic food production. What are policy trends or implications that you're seeing?
A: A lot of organic producers did have a phenomenal year last year in terms of numbers and sales growth, especially with CSAs, people buying whole animals directly from farms and buying more food from farm stands. There was so much more awareness and desire to source food locally because of the shortages in the national supply chain. At the same time, it was incredibly trying on our farmers. They had already laid their plans for the season and then they were forced to figure out how to ramp up production to meet that really intense spike in demand. I've heard farmers say, "Yes, we did 7 times the business than we did before, but it was incredibly draining." For example, a lot of farmers struggle with lack of access to childcare. So, the increase in demand can be kind of a blessing and a curse in some ways.
What I'm really hoping for is that our policymakers and people in general will remember that their farmers really stepped up to feed them in this time of need and that they will continue the support for their local farmers and producers.
In terms of the drought, while it's not the same as out West, it's still a huge issue here in Vermont. We're having both extremes at once, which is exactly what we're projected to have in the Northeast: more periods of intense rainfall in some areas and more drought in others. Just looking at the last couple of months, in Northern Vermont, there has been moderate to severe drought while in the southern part of the state, they've had the wettest July on record with intense flooding and road washouts.
From a policy perspective, we need programs in place to support farmers who are using climate resilient practices so it doesn't always have to be an investment that comes out of their own pockets or in response to natural disasters. Climate resilient practices like those used in organic agriculture build healthier soils that can then retain water, which is both good in times of drought and in times of flooding – that's important when we look at the impacts of climate change.
Q: NOFA-VT has been celebrating its 50th anniversary this year. You've had many celebratory events. Any inspiring moments that stand out that you'd like to share?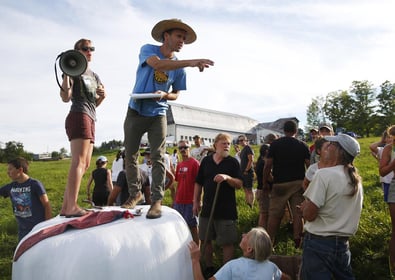 Photo left: NOFA-VT Policy Director Maddie Kempner and former Farmer Services Director Sam Fuller announce winners at the 2nd annual NOFA-VT Farmer Olympics.
A: In general, it's just great timing for us and our community that for our 50th we can get together again in person because so much of what NOFA-VT has been about is joy, community building, gathering and building relationships, and that is so central to how we do all of our work. We work in coalition with both farmers and policymakers, so now to be able to gather on farms again together and have conversations in person, it has been inspiring. And it's a helpful reminder for us at NOFA of why we do this work and who we're here to support.
Check out upcoming NOFA-VT events.
Q: NOFA-VT has an impressive array of programs working to grow both the demand and supply for organic, and advocate for policies that support healthy food systems. Are there any new initiatives that you'd like to call out or programs that have been particularly impactful this year?
A: When I first started working at NOFA-VT, I remember being blown away by all the work the organization was doing. It continues to impress me, and I think it's a good challenge we have of trying to sum up everything we do because it touches so many aspects of organic farming. A couple of things to call out: we've done two rounds of Resilience Grants directly to farmers over the last year and half. The first round was really targeted toward pandemic assistance, helping producers do things like pivot to new markets or set up online stores. The second round were Resilience Grants, and we asked farmers to help us define what that meant to them. We provided $85,000 to 37 farmers to support projects that would help improve the resilience on their farm and/or their broader community, with a focus on the social, environmental, and economic impact of the project. Of those 37 recipients, ten were BIPOC led farm businesses. We're planning to do continue to make these grants more in the future.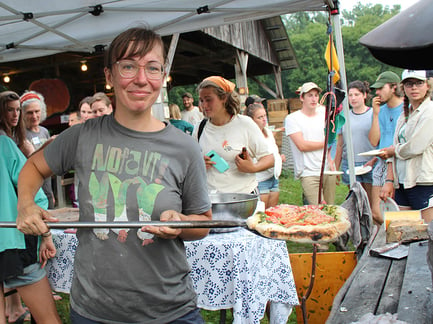 Photo right: NOFA-VT's mobile pizza oven spreads joy and brings people together on farms around the state every summer.
We've also started a Soil Health Stewards cohort, with livestock farmers in this initial round. It was started with donations from Stonyfield and Butterworks Farm in memory of Jack Lazor who passed away last year, and has been also supported by Organic Valley and many other individual donors. So, we've brought this amazing group of farmers together to learn from each other and increase their skills in soil health, and be mentors to each other and eventually to other farmers. We know the mentorship model works and that farmers learn best from each other – Jack was a perfect example of that! There's a great culture here in Vermont of knowledge sharing and people being willing to share their successes and failures with each other.
Q: Explain NOFA-VT's role in organic certification for Vermont farmers and why certification is important for the future of organic.
A: Vermont Organic Farmers (VOF) is a Limited Liability Corporation, owned by NOFA-VT.  Since 1985, VOF has provided a highly credible program for independent third-party verification of organic food production and has been accredited by the USDA National Organic Program since 2002.
We have a deep history of organic standards here in VT, and prior to the USDA National Organic Program, we had our own state-level certification program. There is a strong culture in Vermont that values organic certification. We certify close to 800 farms and processors in Vermont, and we are often the highest per capita in terms of certified organic farms. We also maintain high standards for integrity. For example, we don't certify hydroponic operations, which some certifiers around the country do. We believe that soil is the foundation of organic farming. While there is a lot of work to do to strengthen the national organic standards, it's important to remind people that while the current standards across the board are not where we want them to be, it's still the best thing going and it's meaningful to get where we want to go. In terms of the conversation around "regenerative agriculture", what we'd like to see going forward is that organic becomes a baseline and regenerative agriculture builds on top of that organic foundation. We don't want the term regenerative ag to be watered down in the way "sustainable" has been. We don't want climate harming practices to be used under the banner of regenerative.
Farmer Feature
Meet NOFA-VT members, Valerie Woodhouse & Eli Hersh of Honey Field Farm in Norwich, VT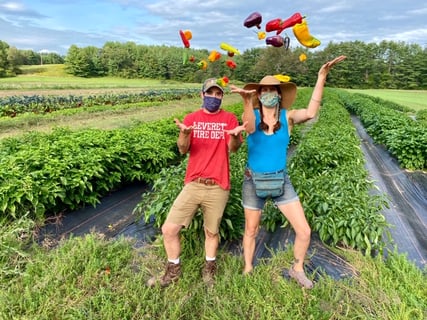 Q: What does your membership in NOFA-VT mean to you and your farm?  What are the NOFA-VT programs or resources that are most important to you?
Eli: We were members of NOFA-VT before our current farm existed. This is a natural thing for us to do because we are part of the organic grower's community in Vermont and the farming community in general. We've taken advantage of a lot of NOFA-VT's programs over the years. We were part of the Journey Farmer program in 2016, which matched you up with a mentor farmer who was more established.
Valerie: That was when we were launching our first farm, and that program was for farmers who are just starting out. There were a lot of educational resources for us and it created a cohort of new farm business owners and that was really helpful for us. Also, NOFA-VT is good at evolving their programs over time to keep pace with farmer's needs and how we're changing.
Last year, during COVID, it was our first season on this farm, so we went from two acres to 35 acres, and we both went to farming full-time. NOFA-VT granted us a Resilience Grant that we used to help us buy a delivery van, which was crucial to the "garden starts" that we're doing and that we had to deliver to people. They also provided us some funding for technical assistance because we had to enhance our website so we could get the "vegetable starts" up there. The "stay at home" order was right when our budding season was beginning, so the van really helped our business.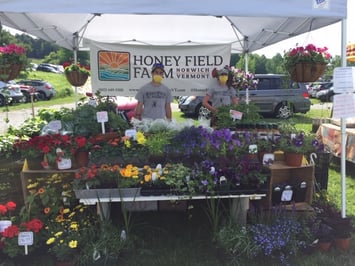 Q: Why did you choose to become certified? 
Eli: We were certified organic through our previous business, and NOFA-VT helped us to make sure we were able to transition seamlessly onto this property and keep our organic certification because it's crucial for us in many of our markets. The farm that we purchased had been in use as a farm for 40 years as an organic vegetable farm, so we were coming onto soil that was already certified organic. NOFA-VT knew the farmer that had worked the field and knew us, so we were able to keep farming.
Valerie: Almost all of our land is currently certified organic. Over the winter, we gained access to 12 additional acres and we are at the beginning of a three-year process to get those certified.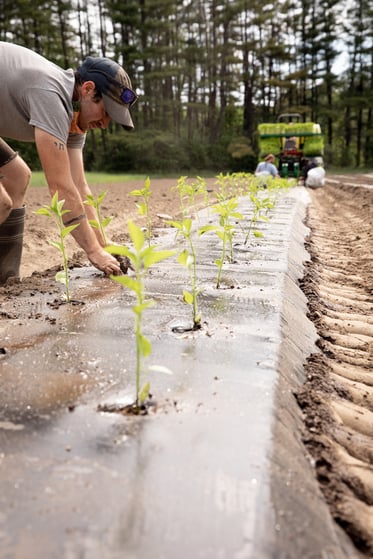 Eli: All of the acres that we produce food on are certified organic.
Q: What advice would you give to other farmers who are thinking about getting certified? 
Eli: We highly recommend it both for soil health reasons and because some of our wholesale markets require it. The more farmers who are certified, it strengthens the organic label.
Valerie: This was our first season doing a farmers market because we were doing more wholesale before. Customers are asking more questions about organic and saying that they want to buy organic food. It helps and gives us a competitive edge, and ethically it fits with our values. We want to have a viable business and we want to contribute to sustainable and regenerative agricultural practices. The farm before us built up this soil for over 40 years and left incredible, healthy rich soil for us, which was a huge selling point when we were looking to buy it. When we saw the soil, we were like: "We're going for this farm!" And last year we had a drought here in Central Vermont and this healthy soil retained the water so much better. We can see how healthy soil is one of our greatest resources when it comes to climate change.
Q: Talk about your creative CSA programs.
Eli: We hadn't planned to do a CSA program, but saw the demand for it quickly. We're having a lot of fun with our CSA shares and there were a lot of other farms doing them so we wanted to figure out a way to make ours different. We also love working with other food producers in the area that make jams or honeys. So, this was a way to highlight their businesses as well.
Valerie: We see a lot of potential with it. Last year, we had a goal of 30 CSA members, a very modest goal. Our largest CSA is Free Choice and we had 60 CSA members last year and even more this year. The meal kit shares have also been really popular. They are fun for families to do together and people love that we have edible flowers that make it colorful and fun.
We also care a lot about food justice and that's part of our mission. We didn't want to grow food that is inaccessible in the community, so Willing Hands is a food restoration organization that is just down the road from us and every Wednesday they come and glean, and we donate over 10,000 pounds of food to them. Many people donated shares to them, and we're really happy and proud to have that partnership.
Eli: We're very excited to partner with NOFA-VT and host the annual farm Olympics here on August 31st. This is the 6th year. It's a great afternoon where we compete in farm-skill related events.
Valerie: It's a celebration and we get to share our farm with the community and get to have fun, be silly and kick back with other farmers. We love the community that NOFA-VT brings together for resources and for staying connected and seeing friends and neighbor farms.
_______________________________________________________________________
Maddie Kempner interviewed, continued
Q: Where did your passion for food and farm policy change begin?
A: My foray into food and farming was working on a small-scale community education garden in Utah called The Youth Garden Project. We did a lot of educational programs for kids. So, it was a bridge between nature-based educational programing to programing that was based in the food environment. It was inspiring for me to see kids get directly exposed to food and farming and I think that will shape them for the rest of their lives and how they experience food.
From there, I went to work at a 40-acre commercial organic vegetable farm in Boulder called Red Wagon Organic Farm and that was such a different experience. I managed a 350 member CSA program and worked in the field. I got a much harder and more realistic look at what it takes to be an organic farmer. The labor that goes into growing 40 acres of vegetables organically without a lot of mechanization and without chemicals is incredibly challenging. That was where my passion for creating change in the broader food and farming system came from. I learned firsthand about the challenges that farmers face. Even at that point, Colorado was experiencing drought and there were years where they couldn't turn on the irrigation. Getting that close up look was really critical for me in my own understanding of how theoretical issues play out on the ground, and continues to inform my understanding of how climate change is impacting farmers every day.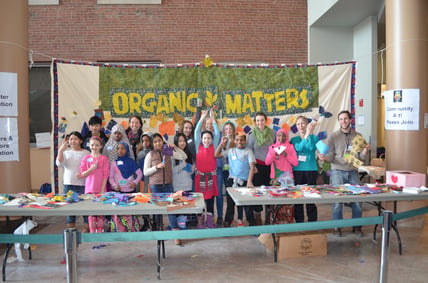 Photo left: Organic education starts early. Burlington artist Bonnie Acker (back, center) creates community artwork with Children's Conference attendees during the annual NOFA-VT Winter Conference.
Q: Do you have any advice for people who are looking to get involved in the organic and regenerative agriculture movement or food systems change?
A: Dr. Ayana Johnson has a podcast called How to Save a Planet that I find really inspiring. She's great at bringing individual change to the level of personal joy. Tap into your passion and your own skills that you can apply to changemaking. Whether that's going to your local farmers market and talking to your farmers and getting to know them and supporting their farms or if it's growing some of your own food from your windowsill to a raised bed to a full-fledged garden. A lot can happen from conversations that can inspire and spark action.
Q:  What are you reflecting on as you look to the future?
A: I'm thinking about how we lengthen our memories when it comes to the pandemic and the regular impacts of climate change that we're seeing every day. I worry that as a culture, we have short memories and we forget what we've learned and we move on to the next thing before we holistically reflect and absorb it as a culture and put some systemic changes in place. For example, how can we be better prepared in the future? Vermont didn't have an emergency food security plan in place when the pandemic happened. We need much broader systems change to make sure that the farmers who were able to step up and keep us fed are still around to do so again when the next food supply chain disruption hits. We know that climate change is bound to disrupt food supply chains…and we need to think about what support for farmers means in order to be a more resilient society. It's healthcare and childcare and putting policy changes in place so farming can be a viable way to earn a living. That is often not the case right now.
Q:  Do you have a mantra or quote that you live by or that inspires you?
A:   I learned this last year during the swirl of the pandemic. It's a quote from
Arundhati Roy:
"Another world is not only possible. She is on her way. On a quiet day, I can hear her breathing." It keeps me going to envision what is possible and to keep moving toward that reality.
Q: Any final thoughts?
A: It's an exciting time to be part of this movement. It's never felt more necessary or relevant. Everything NOFA-VT is about is hitting on core problems and underlying inequities and challenges. There is a growing awareness right now that a lot of what we call organic farming today originated with Indigenous and Black farmers and land stewards. This is a huge opportunity to deepen our understanding and knowledge that many of these practices go back thousands of years. We can envision a food system where it's not one group of people owning the land and growing the food but that there is true diversity in our food systems. I think we're on the cusp of a time when we're thinking about biodiversity in the soil and diversity throughout the entire food supply chain and system.
Learn how a Bluestone policy supports nonprofits like NOFA-VT. Bluestone encourages the Practical Activist in all of us to get involved in your community and support organizations like NOFA-VT that are creating solutions every day for healthier, local and sustainable food systems.
Like hearing about Practical Activists?
We'll share their stories with you monthly. (No email overload… we promise!)