B Corp Business Owners: What Can Key Person Life Insurance do for Your Business?
Bluestone Staff

September 1, 2021
For business continuity and potential tax benefits, Key Person is often the answer.
Featured image: from Pexels by Fauxels
What's a life insurance phrase you've heard of, but haven't really thought about how it applies to your business? We often hear from fellow B Corp leaders that "Key person life insurance" is one of them.
"Key Person" life insurance recognizes the importance of the key people you need to successfully run your business. It can also provide a greater yield on retained earnings.
Identifying and protecting the key employees that contribute to the value of your business is one of the most important discussions you can have when it comes to business continuity.
Owners and employees are the key persons that greatly enhance your business. Here are a few basic questions to ask when you're thinking about Key Person life insurance:
If the key person passes away or becomes disabled, what is the impact on the business?

Would the company require some adjustment time before business could continue?

Would sales in progress be completed?

Would creditors demand payment or restrict future credit?

What's the ripple effect...would the loss of unique talents and skills disrupt the work of others and have a negative impact in the communities that you serve?
By putting relative values on each of these factors and relating that to sales and profits, you can quantify the value of key employees and make sure it's reflected in your life insurance strategy.
Key person insurance is a life insurance policy that provides a death benefit to a business if its owner or another significant employee passes away. Disability income insurance may also be used to protect the business in the event of a key person becoming disabled.
A Bluestone team member can work with you, your CPA or financial advisor to craft a Key Person life insurance policy that protects your business and provides a greater yield on retained earnings. Think of it as both protection for your business and a tax planning tool. Schedule a call to talk with us and experience the Bluestone difference.
Bluestone Life is a fellow B Corp who understands business owners
Business as a Force for Good. With Bluestone, you protect your business, community, and our planet. Through our Premiums with Purpose™, a percent of our revenues and a complimentary additional death benefit are paid to high-impact nonprofits driving environmental and social change. Bluestone Life is a Certified B Corp and a 1% for the Planet member. Our proprietary insurance policies are issued by the only Certified B Corp life insurance carrier.
Expertise with transparent value products. Understanding closely-held businesses is in our DNA. Our Founder and CEO owned a financial advisory firm that specialized in protecting the assets of business owners. Our Bluestone Universal Life Insurance has no premium charge or sales load. One hundred percent of planned and unscheduled premiums that you pay will be added to the accumulated value of your policy. This means that your account value grows faster.
Insurance that your employees feel good about. In addition to key person policies, our universal life and term life insurance policies empower your employees to use their life insurance as force for good. Our individual life policies can supplement your firm's offering as part of your benefits platform.
Bluestone Life is proud to be recognized as Best for the World for both governance and workers by B Lab.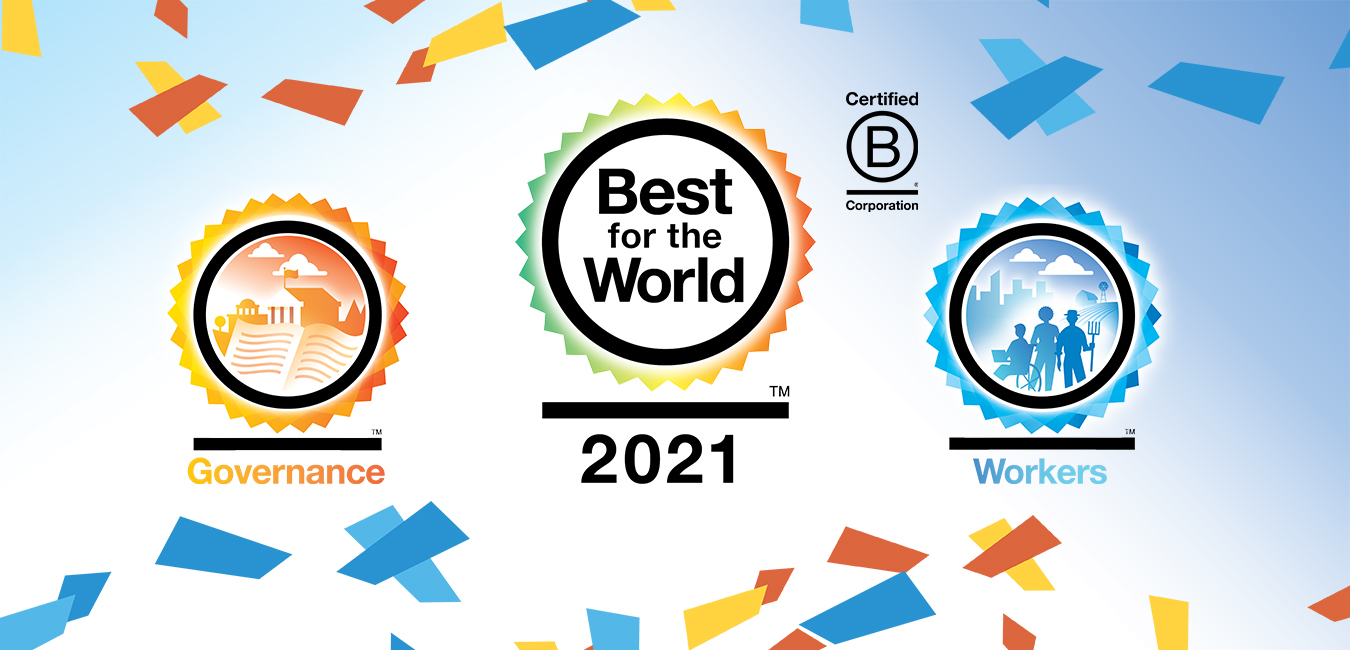 Like hearing about Practical Activists?
We'll share their stories with you monthly. (No email overload… we promise!)
Previous article
Practical Activist Q&A featuring Maddie Kempner, NOFA-VT & Honeyfield Farm, Norwich, VT