Practical Activist Q&A: Noelle Fogg Elibol, Kitchen Table Advisors
Bluestone Staff

March 22, 2021
Editor's note: Noelle Fogg Elibol is now Director at CCS Fundraising. When this blog post was originally written, she was Partnership Manager for Kitchen Table Advisors (KTA), a dynamic nonprofit fueling the economic viability of sustainable small farms and ranches in Northern California through practical business advising and trusted relationships. KTA builds partnerships for thriving next generation farm communities that are multi-racial, gender-diverse and are leading the way in building regional food economies that honor people and planet. Noelle is also a Bluestone Life customer who embodies the ethos of Practical Activists who are working every day for more viable communities and a healthier planet.
Q: Last year during the pandemic, many Americans reconnected to the food supply chain, so it was a big year for small farmers across the country. What are you proudest of when you think about that and what your team at KTA has accomplished?
A: There are a lot of silver linings to celebrate amidst the sadness of the last year – people recognizing the fragility of our industrialized food system and wanting to reconnect to local food and support small scale sustainable farmers is one of those silver linings. And yet, the pandemic has also highlighted and exacerbated the existing disparities in our society in so many ways, and many of these same disparities also affected small-scale farmers. It has either helped or hurt them depending on the markets they sell into, their ability to access social safety net programs like PPP (Paycheck Protection Program) or CFAP (Corona Virus Food Assistance Program), and their personal safety nets such as personal savings and the ability to tap into friends and family for help.
The pandemic also loaded on more personal responsibilities too like taking care of children who are now at home and giving extra help and care to elderly family members. As a small-scale farmer, you are often reliant on your own labor and the labor of your family members, so that when you become a primary caretaker for members of your family that impacts your ability to focus on your business.
I'm proud of KTA's ability to quickly focus on the most pressing needs of our farmers. We provide business advising support – and the pandemic created a new level of intensity for our services. We also helped to direct funds to farmers and ranchers so they could adapt their business models quickly to changing markets. Those changes are very much ongoing because it's hard to plan in this environment.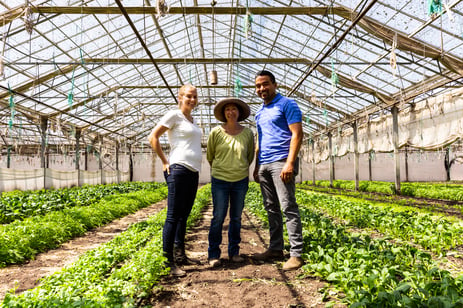 Photo right: Noelle and her colleague David Mancera with Hikari Farms owner Janet Nagamine. Photo credit: Good Eggs
We have been there standing alongside our farmers as sounding boards, business advisors and for emotional support. It was an unprecedented year with the pandemic, wildfires and heat waves in California. Farming can be an isolating profession in "normal" times, so we knew that when you added all these factors into the mix, our support, understanding and resources were more important than ever.
We're also part of a multi-organization initiative where we collectively set up a relief fund that supports BIPOC (black, indigenous, people of color) farmers and land stewards across California. This focuses on farmers who have historically been underserved and who face additional structural barriers in their farming endeavors.
Photo above: Marsha Habib of Oya Organics. Photo credit: Brenton Gieser
Q: How did your interest in sustainable food & farming systems begin? Talk about your career path from studying economics to the roles you've had in agricultural systems and solutions?
A: A theme that runs throughout my career path has been a dedication to serving farmers, who I have such an immense respect for. I work to serve them by listening to their needs and trusting in their experience and knowledge. In my first role coming out of college, I worked for an international nonprofit called Root Capital that is a loan fund for small and medium agriculture enterprises in Latin America and Africa. The reason I was interested in them was because of the way they approached their work and how grounded they were in the communities. They had local staff and local offices that understood the needs of the people in those communities and adapted their programs to serve them. I found that so refreshing especially in the sphere of international development which is so often prescriptive and can have western bias.
That role allowed me to see the impacts of agriculture – both negative (exploitation of labor and undervaluing people and environmental impacts) as well as the positive impacts and potential. So, I went on my own learning journey where I worked at several different farms both on the East Coast and in Nevada.
Through those experiences working on farms, I saw very clearly the need for business advice and financial savvy. Sustainable family farmers aren't in the business of farming to get rich; they often aren't focused enough on their personal needs or the long-term financial viability of their business, and they don't have the tools or time to work "on" their business instead of "in" their business. They're focused on being stewards of the land and serving their communities. They often also don't want to be behind a computer doing their books. They want to be out in the field. So, I felt strongly about meeting these farmers where they are at and helping them learn how to manage their farms as a business so that they can continue to do the important work for their communities and ecosystems long-term.
I worked for Julia Shanks Food Consulting for a while in Boston, which gave me a lot of great experience working directly with farmers on cashflow, budgeting, business planning, and more. When I moved to California in 2017, that's when I met KTA, whose mission resonates with me deeply – our work is about the combination of long-term farm viability and investing in farmers as people. I feel like it all has come full circle for me.
Q: Do you have any advice for people who are looking to connect their values more to their daily decisions?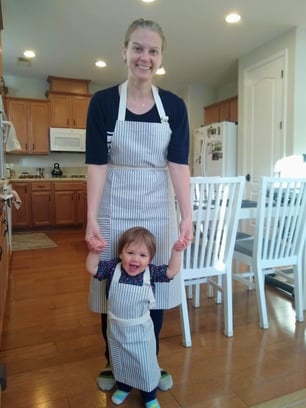 Photo left: Noelle and her daughter
A: As a working parent, I know how this can seem overwhelming because there are so many ways that our daily decisions can have impact, but it's hard to take the time to do the research and make the right decisions. I have found it empowering to let go of perfectionism around this and choose several aspects of my life that are most important to me. My top priorities are how I make food purchases and how I invest my financial resources. I always try to prioritize buying directly from a farmer if I can either through a CSA (community supported agriculture) program or a farmer's market. Secondarily, I always try to purchase food that is in season from a co-op or a retailer that I know pays a fair price to farmers. Beyond that, I'm always looking for certified organic when I can't source my food locally. When it comes to my financial decisions, I'm thinking about my banking decisions right now. I'm grateful for Bluestone because you made the life insurance decision an easy one: the combination of your B Corp status and your Impact Rider that supports 1% for the Planet nonprofits like KTA was a no-brainer. (I obviously chose KTA as my Impact Rider beneficiary!)
Q: How did you first learn about Bluestone Life?
A: Tracy Tinclair has been a long-time supporter of KTA and she introduced us to Bluestone Life. Then I met Nathan and Steve in person on a family visit to Vermont at Bread and Butter farm. I love that you are committed to transforming the financial system and empowering everyday people to play a role in that change.
Q:  2020 was a rollercoaster of a year, and one that shined the light on food equity, and social and economic justice.  What are you reflecting on as you look to the future?
A: I hope that there's staying power to these realizations and reckonings that our society has come to around the inequities that the pandemic helped expose more widely. We've been forced to slow down and pay more attention to our society's economic and racial disparities, so as we return to "normal," I hope that the momentum sticks and that we can all continue to advocate for major change and not sit on our haunches comfortably.
Q:  Do you have a mantra or quote that you live by or that inspires you?
A:  It all goes back to giving up perfectionism. It's been a tough year for so many and sometimes we have to make sure that great isn't the enemy of good. "Good enough" is the new "fabulous."
Q: Any final thoughts?
A: I'm grateful for people that are doing work to support organizations like KTA and those in the for-profit world like Bluestone that are making change on the business side and connecting for-profits and nonprofits in new ways.
Learn how a Bluestone policy supports nonprofits like KTA. Bluestone encourages the Practical Activist in all of us to get involved in your community and support organizations like KTA that are creating solutions every day for healthier, local and sustainable food systems.
Need a new savings account that is working for good? Atmos Financial supports KTA with its savings accounts that are designed to support positive climate action and the nonprofit community.
Like hearing about Practical Activists?
We'll share their stories with you monthly. (No email overload… we promise!)