Practical Activist Q&A featuring: David LeZaks, Croatan Institute
Bluestone Staff

April 14, 2021
Featured image: David LeZaks and his two children reducing their carbon footprint.
David LeZaks, Ph.D., is a Senior Fellow at Croatan Institute. An environmental scientist and financial activist, his work is centered around developing innovative mechanisms for financing the transition to agroecological farming and food systems.
Croatan Institute is an independent, nonprofit research institute whose mission is to harness the power of investment for social good and ecological resilience by working at the critical nexus where sustainability, finance, and economic development intersect. 
Q: As we celebrate Earth Month and Earth Day, I noticed that the Croatan Institute was publicly launched on Earth Day in 2014. Do you want to talk about how the Institute was formed and what inspired your founders?
A: The founders met at Tellus Institute, a sustainability think tank in Boston. It was there that they saw the need for a new kind of action-oriented research institute that works at the nexus of finance, social equity and ecological resilience.
They recognized that finance was a powerful tool to accelerate and fund the environmental and social models developed at Tellus Institute. At the founding of Croatan Institute there was also a recognition of the need to work more directly with investors, practitioners in the field, and frontline communities to address the intersecting issues of climate change, gender and racial equity, soil degradation, and more. We're helping to connect pools of capital to frontline communities so these communities can be put on a pathway to self-determination. While capital isn't the only solution to the problems facing our planet today, we don't want capital to be what holds up progress from being made. Our goal is to put capital in the appropriate context and make an imprint on the future with the most action-oriented impacts.
Q: From climate change to social and economic justice, 2020 was a societal reckoning in many ways. Since your work is at the nexus of these issues, what are the trends or changes that you see going forward?
A: From an institutional perspective, 2020 was clearly a year of reflection and one that highlighted that the Institute was on the right path. We deepened work in our initiative Racial Equity, Economics, Finance, and Sustainability initiative (REEFS) Which was launched in 2018. During the pandemic, the relationship between food, health, and our immune system came to the forefront and that connects directly to our work in food and agriculture. Looking back at the trends for sustainable investing, 2020 was a tipping point. Whether it's climate investing or investing in social equity, these are becoming important components of the conversation especially when we look at criteria that individual and institutional investors are using to inform their investment decisions.
Q: Croatan has a number of significant reports. Is there one in particular that you'd like to highlight?
A: Our Soil Wealth report was published in 2019 as part of a USDA Conservation Innovation Grant. Since that report launched, we've seen such an intense interest and movement toward the use of capital in transitioning toward a more regenerative agriculture. There are examples from aligned parties like Rodale Institute investing in Iroquois Valley Farmland Real Estate Investment Trust, and new funds such as the MAD Agriculture's perennial fund which recently launched. There are also new philanthropic initiatives such as the Transformational Investing in Food Systems Initiative and Funders for Regenerative Agriculture that have emerged on the national and global stage.
Photo below: cows grazing on rotationally managed pasture. Courtesy of Meadowlark Organics.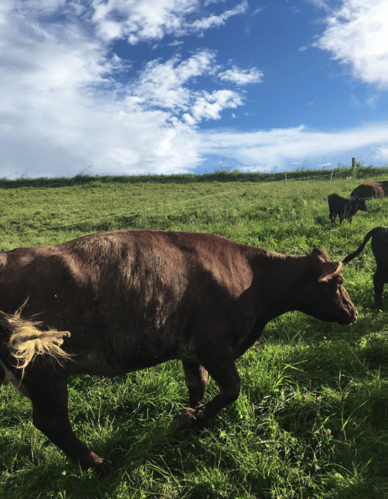 From this paper, we're seeing a lot come to life…from new investment mechanisms, new value chains, new opportunities and ways for farmers and their partners to access capital and demonstrate the multitude of positive impacts that whole-landscape stewardship can provide. What's important is that it not only meets their needs from a capital perspective but does so in a way that is non-extractive for the farms or the landscape or the ecosystems on which they rely. This is clearly the beginning of the creation of a more regenerative economy where soil wealth (which is the combination of soil health and community wealth) is inclusive of all types of community benefit, both financial and non-financial. For change to happen in the food system, the surrounding systems that we all need and count on need to be aligned.
Q: You also had a report on U.S. sustainable & impact investing trends at the end of last year. Anything you'd like to call out from that work?
A: Our Croatan Institute team has been working in collaboration with US SIF Foundation (the Forum for Sustainable and Responsible Investment) since 2005. It analyzes key ESG trends across investment vehicles, strategies, and themes.

The headlines from this year's report found that sustainable and impact investing assets now account for $17.1 trillion—or one in three dollars—of the $51.4 trillion in total assets under professional management in the United States. This represents a 42 percent increase over 2018. A statistic that links directly to our work is that there was 80 percent growth in sustainable agriculture and natural resources investment in this last period. It's now one of the top five ESG criteria in asset weighted terms and that's where we begin to see the impact and connectivity of our work: how the work from our Soil Wealth report impacts how capital is showing up in sustainable agriculture investment.
Read Croatan Institute's publications here.
Q: Your programs cover a lot of ground from social equity and resilient communities to impact investing, institutional accountability and what you call "just transitions." Is there a common thread in your work at Croatan Institute and is there a program that touches each area of impact?
A: Going to back to our mission statement "to harness the power of investment for social good and ecological resilience." It's about connecting the investment and flow of capital to the communities that need it. The definition of community changes depending on the lens, but the framework of what we do remains the same. For example, if we look at the BIPOC community in agriculture, how can we bring technical and financial assistance to farmers and ranchers, and begin healing the injustices of the past and begin moving toward more equitable food systems, especially in the face of climate change.
Q: Your academic education began with environmental science and includes an M.S. in Land Resources and a Ph.D. in Environment and Resources. What drew you to the field of environmental science and what brought you to Croatan Institute?
Photo below: the LeZaks go solar.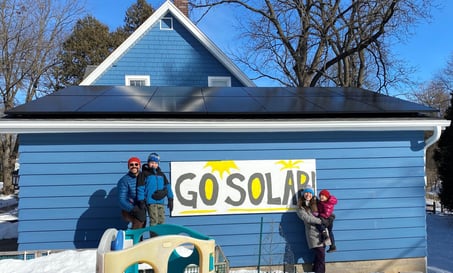 A: Growing up in Michigan, I spent a lot of time outside, and spent a lot of time camping and hiking. My family was also deeply involved in a summer camp. Going into college, I knew that I wanted to have a positive impact on the natural world. It wasn't until I was finishing up my environmental sciences degree at Michigan State University that I knew I wanted to move in the direction of agriculture. In 2009, a colleague approached me who had worked in the financial sector and asked if I wanted to do a white paper on investment in agriculture, and I said: "I don't know anything about investing, but can help you with the agricultural piece." That experience opened my eyes to the role of finance within agriculture and what levers were preventing the transition from conventional to a more regenerative agriculture. I could see how finance can be used as a springboard to those transitions. There are so many ways that we can re-envision the use of capital not only in "just transitions," but for the overall growth and well-being of regenerative and resilient economies.
Q: What are misconceptions around regenerative agriculture?
A: Regenerative agriculture is both really old with roots in indigenous ways of land stewardship and it's relatively new if you look at the pioneering work that Rodale Institute and other farmer leaders have done. What we're seeing from a consumer perspective, is that they are willing to connect the dots around soil from terroir and taste to nutrition. There are people who want to purchase based on the broader value of: is this good for the environment and is it good for me? There's more consumer sophistication around this area and people are asking questions that they weren't asking before. There's increasing innovation around the communication of the value and long-term benefits to the environment and our health.
Q: Do you have any advice for people who feel overwhelmed when they think about systems change and where to begin?
A: Personally, I think about how the world should be and how to work toward making that happen. As individuals, how do we steward and manage our own resources… in our home or business or how we manage our financial resources from energy efficiency to responsible consumption patterns? There's a lot of information and countless campaigns around consumer decisions (e.g. what you buy, where you shop) and now is the time to ramp up the conversation about how we can align our financial resources to our values. From our retirement accounts, to our savings and even our insurance. We need to take a total portfolio activation approach and begin aligning all of our resources with our values. Here is a place to start. It's uncomfortable for many people to talk about money in general, but if you're not keeping track of how your money is being invested, then chances are it isn't aligning with your values. Is your money working for you and for the outcomes you want in this world or against you? There is a huge opportunity to use money as a tool for good to invest in the way we want the world to look. I can't fix all the world's problems, but at least I can sleep a little sounder knowing the limited investments I have are working toward positive change.
Q: What are you reflecting on as you look to the future?
A: 2020 has taught us that we are all in this together and we are going to need to work together for a better, more resilient future. It's in our best interest to do that. We have many different pathways to steer us away from the most dire scenarios for people, animals and environment. We need to move toward a vision of shared prosperity and to get there we need transparency, accountability, leadership, and action at every level.
Q: Do you have a mantra or quote that you live by or that inspires you?
A: I have a few that I lean on. The first is: "Nature bats last." For me, that puts our work as humans into the context of the nested systems in which we live.
The others flow together… "You can't fix a broken food system with a broken finance system. Cheap food is actually very expensive. Take care of the land and the land will take care of you. Take care of your body and your body will take care of you." Those thoughts show that what the future needs is a more holistic way of thinking and living. With a goal of shared prosperity, we need to be able to connect our actions, inclusive of purchasing, voting, investing, etc. to how we keep ourselves safe and our planet safe.
A life insurance policy from Bluestone Life can benefit nonprofits like Croatan Institute. One percent of Bluestone's revenue and a complimentary Impact Rider can be part of the solution for sustainability challenges. We encourage the Practical Activist in all of us to get involved in your community and support organizations like Croatan Institute who are working to harness the power of investment for social good and ecological resilience.
Like hearing about Practical Activists?
We'll share their stories with you monthly. (No email overload… we promise!)