Practical Activists: Pete Hellwig and Ravi Mikkelsen, Atmos Financial
Bluestone Staff

April 22, 2021
Pete and Ravi are Co-Founders of Atmos Financial, an online banking solution for a climate-positive future. Atmos Financial is a fellow member of 1% for the Planet and the Certified B Corporation community (pending). They are both dedicated to creating positive environmental and social change. Pete's interests lie at the intersection of climate change, banking, health and food systems, and renewable energy. Ravi is driven to use technology to leave the world a better place than how he found it.
Q: You are focused on banking to reverse climate change – which is perfect for Earth Month and Earth Day. Do you want to talk about what inspired you to start Atmos Financial and your vision for the future of banking?
A:
Pete: For me, global warming is the biggest threat that faces us as a society. It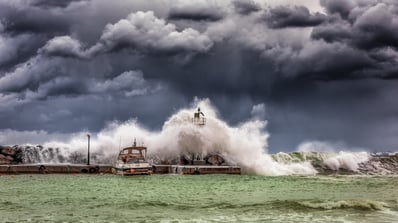 keeps me up at night. When I think about my own career and what I want to be working on, any other issue feels like lost time. There are of course lots of different ways to work towards climate solutions, and all need to be pursued with urgency, but my banking background gave me a unique lens into how the financial system works and how it could work much better. My own vision for the future of banking is more decentralization. Atmos doesn't need to own every banking feature. Our goal is to deliver a superior rate and a better customer experience while ensuring that we're aggressively reducing emissions through the loans we enable. There is a lot of other functions and departments within more traditional banks that we don't need to take part in.
Ravi: I've been in the climate change space for almost 20 years now. This is my mission in life, and it doesn't keep me up anymore. I'm still concerned and I've had intense moments of fear, anger and anxiety, but now I've come to this steady place where it's an intense To Do list. I know what we have to do and I just put my energy there. I still consider myself an engineer and I started out wanting to build the energy generation technology to move us away from fossil fuels, and I ultimately came to the conclusion that I needed to build capital deployment technologies…that's what would accelerate this transition and this is what I would be able to offer to this movement.
Q: From climate change to social and economic justice, 2020 was a societal reckoning in many ways. From your perspective, are there trends or shifts that you're seeing?
A:
Ravi: One thing that became even more evident was the lack of focus or understanding of racial inequality – especially within the environmental community. We were looking at the technical aspects of climate change without including the justice aspects of it. Let's switch to clean energy and not really thinking about marginalized communities and people of color and people who have been disenfranchised. Well, we can't solve climate change unless we solve this as well. It was a finally a switch to a holistic view by the climate community that we need to solve these intersectional issues.
Pandemic also showed us that businesses can succeed in remote work environments. We've been promised a remote digital life for years and now we see that it can be a reality. There was a small dip in emissions last year, but I'm hoping that we'll continue to see it dip down as business travel decreases and people are still doing meetings using technology. It also opens up the workforce to people who are working anywhere…bringing opportunity to talent wherever it is.
Pete: As far as trends, I'd say those are two positive ones, and then there's the trend that emissions are still going the wrong direction…we're not making progress fast enough. We need to move faster, and we need more people to take responsibility. This isn't a situation in which we live our lives ignorant of the issues and trust somebody else will fix it. We need to educate ourselves and make decisions accordingly.
Q: There's a nonprofit component to your business model. Tell us about your relationships with nonprofits and how an AtmosACTION account benefits the nonprofit community.
A:
Pete: We're really proud of the potential for AtmosACTION and how our business integrates into environmental nonprofits. It's a core part of how we operate and how we think about our offering as a whole. So many of these nonprofits have been on the front lines for 30-40 years ringing the alarm. These organizations are vastly underfunded and we want them to take a more central position so that they continue to move forward on the thought leadership that they've already established.
Our customers can donate to one or more of the 40+ nonprofits on our platform. Each organization is working on environmental action. They can give a percentage of their savings rate or a fixed amount on a recurring monthly basis. To incentivize giving, we increase the rates our customers get when they elect to give…and acts of giving are fee-free. We don't take any slice off the top, which also makes us very different.
It's a general acknowledgement that we need lots of voices at the table and lots of people doing work to move us faster in the right direction. We want these nonprofits to have more resources and recurring revenue so they can increase their impact and create the large cacophony of voices that we need here. We're excited about the future and the work that they can do with more support.
Q: How can customers see their individual impact from their AtmosACTION accounts?
A: Ravi: It's simple right now…when you log into your account, you see your balance and your indicative impact: how much CO2 emissions that your money is helping to avoid. This will change over time as we deploy that capital to different projects. For example, when we go into residential solar, electric vehicles and e-bikes, then the impact will change. We can move beyond just CO2 as we expand and become the first lender to lend to underserved communities…that's when we'll add societal impact and ultimately economic inclusion.
If we look at our timeline right now…up next, we have a checking account with debit cards for individuals and mobile apps. This summer, we'll be offering commercial accounts and then we'll start our direct lending programs, making climate action more affordable and accessible across the country. The name of the game is capital deployment to fund climate positive infrastructure. That is our north star.
Q: When you look back at both of your backgrounds, what has prepared you the most for the success of ATMOS?
A:
Ravi: It's all of my learning and experiences. Experience is what you get when you don't get what you want. All the failures and hard knocks from before, they have helped me to prepare.
Pete: From my banking background, I recognize how slowly things move for banks in the industry. Banks are heavily bureaucratic institutions and that has taught me patience. At the same time, there are moments when we need to move faster and not go along with the flow. This is the time to be contrarian and push the boundaries beyond what we've done before. What we've done isn't getting us to where we need to go.
Q: What are the biggest misconceptions around climate change?
A:
Pete: …that we as individual consumers don't contribute to it, and it's not our problem to solve and we can't really do anything about it at all even if we really want to. We're too small for this big of a system change. I think that's a dangerous misconception that leads to inaction. We absolutely have the power to create much more positive change. There is so much we can do and that's why we've started Atmos. You can have a positive impact with your savings account. It doesn't mean you have to live in a tree house…we can take small actions and make a big, big change.
Ravi: There's also a misconception on both sides…individuals don't have any power and that "they" (the big companies) have all this power: personal action vs. systemic change. Yes, there are corporations in the fossil fuel industry where most of our emissions originate from…but, it's also our use of fossil-fuel consuming products that cause and create demand.
We have so much power. Change where you bank. Move your money to ATMOS. Don't just become a "clicktivist" where you are tweeting and posting about making change…and then you jump into your internal combustion engine vehicle to go to the store. We have a lot of power and we can create the systemic change we want by voting, by moving our money, and by changing how we power our own lives.
Q: Do you have any advice for people who feel overwhelmed when they think about climate change and where to begin?
A:
Ravi: Vote. Vote for climate aggressive candidates all the way up and down the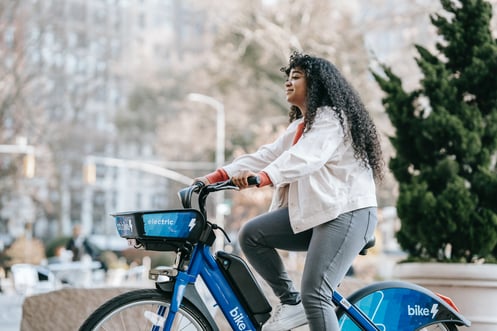 ticket whether it's President of the country or the PTA. We need every single person to move us to an equitably and cleanly powered society. If you eat meat, eat a little bit less. Move your money and change how you move in the world. Small changes have big impacts.
Pete: We have a great article on our blog that's about having an open relationship with your bank. You can still maintain your relationship with your primary bank and open up an Atmos savings account. It's easy and free to transfer money back and forth, you'll earn a higher yield and help the environment.
Q: What are you reflecting on as you look to the future?
A:
Ravi: For me, since I've been working to end the use of fossil fuels for a long time now, it's about including everyone. It's not about vilifying the workers in the fossil fuel industry. Instead, it's about creating jobs for those workers. It's not just about shifting the power industry, it's also about shifting the people.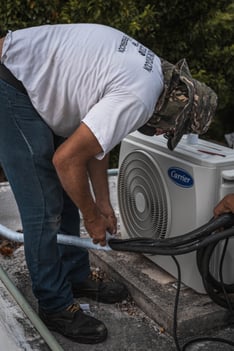 Pete: I don't want this movement to be grounded in a left-leaning, radical stereotype anymore. It's far more accepted now than it has been in the past, and that needs to continue at a far faster pace. I am trying to think about how to pull it out of the context of ideology and make it accessible to everyone... making it beneficial for everyone. I also have realized how critical relationships are. Making any sort of a dent in climate change requires a lot of different people to come together to play their part, and every part is as critical as the last. My work with Atmos reinforces this reality every day and I'm so thankful for everyone out there that feels the same urgency I do and is working to do their part. Please reach out, tell me about it. Let's work on this together.
Q: Do you have a mantra or quote that you live by or that inspires you?
Peter: I will offer one for Ravi that I hear from him quite a bit: "Capital is the Archimedes lever for climate change." I think I have heard that 100 times from Ravi, and it makes me smile every time.
Ravi: That's one of them! Another one for me is: "Discipline equals freedom." This is a quote from Jocko Willink, a decorated, retired Navy Seal and leadership coach. Motivation comes and goes, but discipline is what gets you up. Many leaders in the fossil fuel industry want to maintain the status quo and those industries run 24 hours a day…so I can get up another hour earlier because that's what I'm working against.
Any final thoughts?
Ravi: Here's some inspiration from Jonathan Foley of Project Drawdown. He said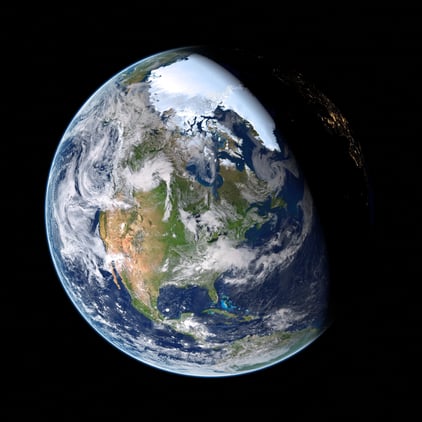 that timing is more important than technology. Whatever you can do today, do it. That is going to help more than waiting for something that is slightly better down the road. We can't wait for the perfect solution. We have to keep moving forward.
Bluestone Life shares ATMOS Financial's commitment to the planet.
A life insurance policy from Bluestone Life benefits nonprofits within the 1% for the Planet network. We encourage the Practical Activist in all of us to get involved in positive climate change and open a savings account with ATMOS.
Like hearing about Practical Activists?
We'll share their stories with you monthly. (No email overload… we promise!)