Practical Activist features Latrice Tatsey, Piikani Lodge Health Institute
Bluestone Staff

January 25, 2023
Latrice Tatsey is a Soils Scientist, Cultural Science Lead and Intern Supervisor at Piikani Lodge Health Institute (PLHI). She has worked with the PLHI regenerative grazing initiative for two years and completed her master's thesis at Montana State University in the department of Land Resources and Environmental Science. Her research focused on the ways cattle and bison influence soil health, and she worked with local beef cattle producers and the Blackfeet Nation Tribal bison herd. Latrice was raised on her family's ranch on Badger Creek, Blackfeet Nation, and her family raises beef cattle.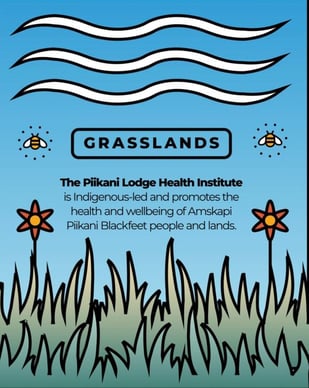 Piikani Lodge Health Institute (PLHI) is an Indigenous-founded and led 501(c)(3) nonprofit organization focused on promoting the health and well-being of Amskapi Piikani Blackfeet people and lands via work and research that is both translational and relevant to people and biosystems across this nation.  This graphic was created by 1% for the Planet, a global network of climate activism which PLHI recently joined.
Here are some highlights of our conversation with Latrice:
Q: Where did your interest in soils science begin and how does your relationship to the land inform your work today?
Photo right: Latrice and her family. A: I was raised on my family ranch and spent my entire life around horses. I didn't go to preschool as a child. My Dad was a rancher, and when it was time for me to go to school, I cried because I didn't want to leave his side. So, he said I could stay home because I would be in school the rest of my life. So, I did preschool on the back of a horse: learning my ABC's bouncing behind my Dad and learning to spell my name while riding horseback in the hills with him. So, my relationship with the land started at a really young age…and it eventually grew into what I wanted to do because of the environment that I was surrounded by. I remember when I was 9 or 10 and my Dad and I went in mountains camping, and my father was telling me the stories of my Grandfather, and two gentlemen drove by us with all this equipment and I asked my Dad what they were doing. He told me that they were testing the waters of Badger, and I thought to myself that I know those waters and the trails around them. So, it wasn't that I was thinking of soil science, it was more that I was thinking about my Dad teaching me about our cultural stories and how we're connected to the land.
I've always been interested in the relationship that animals have with the soil, and I was lucky enough to partner with the Blackfeet Tribal Bison management team and I was able to study the herd there and a cattle operation on the other side. It was a unique opportunity because I grew up here and I know the individuals so well, and they allowed me to do my project on it.
Q: What are the major initiatives you are working on?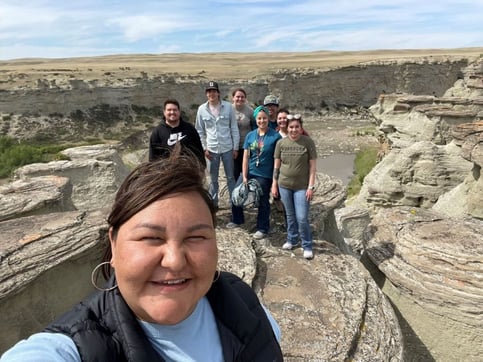 Photo left: Latrice with a group of interns at Rock City during their training week.
A: Right now, we're working on both surveys and questionnaires to be able to get the producers going on our regenerative grazing project which has gotten funded for five years. It's important for us to meet the producers where they are and know that we are here to support them and understand their goals. What I realize as I work, it that we're really looking at all the relationships on the land…bison, cattle, and people. And, personally for me, it's about carrying on the legacy of my father and his ancestors, continuing to care for the land and appreciate our connection to it.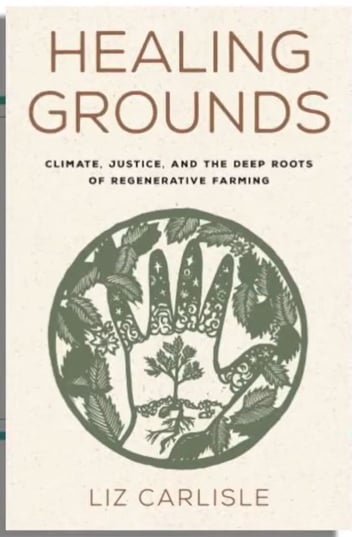 Q: You were recently on a panel with the author, Liz Carlisle and Chef Hillel Echo-Hawk talking about Climate, Justice, and Regenerative Farming. Anything you would you like to share from that experience?
A: I felt very privileged to have the opportunity to share my ideas and stories and be able to highlight the work that's going on in the Blackfeet Nation. It's humbling and so important because of what we're all facing with climate right now. We need to go back to the deep-rooted knowledge bases of those individuals who are tied to these lands from time immemorial.
Q: What would you like people to know or understand about the power of the soil?
A: We can't make the soil work any harder that it already is. We have to understand the cycles that the soil goes through to capture carbon, and we can't hijack it and make it work faster and say: you are our saving grace. We need to understand what the balances are and be accountable to what we're doing. We can't hold the land hostage and think it can make up for all of our mistakes.
Q: Do you have a mantra or quote that you live by or that inspires you?
A:  My children inspire me because the decisions that I make today on our operation and the decisions that I help land managers make are going to affect them. The legacy that was left for me and the legacy that I will leave for them is that no matter the challenges that we face, we must be caretakers and stewards of the land. That keeps the fire lit under me.
The Practical Activist blog is created by Bluestone Life. Like Piikani Lodge Health Institute, creating positive impact is central to the work we do. At Bluestone, our life insurance empowers our customers to protect family, community and planet. A Certified B Corp and a member of 1% for the Planet, Bluestone is a transformative choice for social, environmental and financial systems change.
Want to be inspired? Watch this documentary called Life in the Land: Amskapi Piikani – Blackfeet Nation. It explores how The Amskapi Piikani [People of the Blackfeet Nation] have interacted with every element of this landscape, across much of what is today known as Montana, since time immemorial. It speaks to the value of Indigenous-led initiatives, representation, and strengthening connections to culture, identity, and the Land.
Like hearing about Practical Activists?
We'll share their stories with you monthly. (No email overload… we promise!)