Practical Activist Q&A featuring Patrick Robinson, Founder, Paskho
Bluestone Staff

January 6, 2023
Patrick Robinson is the founder of Paskho, a clothing brand focused on battling the impacts of racial and social inequality in the United States. Paskho is creating jobs in underserved communities and demonstrating that sustainable practices benefit both people and the companies that employ them. Robinson has 25+ years as a designer and chief creative officer building brands like Giorgio Armani, Anne Klein, Perry Ellis, Paco Rabanne, Target and Gap.
He's a world traveler, micro-adventurer, bee and chicken keeper, gardener, inspired cook and an enduring explorer of the creative process.
Here are some highlights of our recent conversation with him:
Q: Where did your passion for fashion begin?
A: Growing up, I lived in Southern California and I was on the surf team at my high school. When I was around 12 years old, I started making surf clothes because I surfed every day. If I really take it back before that, I realize that it's not about clothes at all. It's more about being curious and solving problems and walking into something that is unknown. It's both my superpower and my weakness: being comfortable in the unknown. Creativity to me is about making things whether it is growing a garden or making a surfboard. I like to make things that are useful and clothing is a place where I can continually solve problems for people.
Q: Tell us about the spark behind Paskho and the Community Made Initiative?
A: After I left Gap Worldwide, I took some time off because I had spent a lot of time going into these big companies and fixing what was wrong and getting them to understand that the problem is not the customer. It's them. They were all looking for this giant, brilliant, innovative idea…and it's never that. It's usually the small things that drive customers crazy, and I was good at unearthing those things. I was frustrated that I could see the customer was changing and they were looking for things that addressed their values. Climate change is huge, but what's one small thing that I can do? I pitched the idea of Paskho to the Gap crew and they just didn't get it.
Photo right: Stella Pettaway holding fabric in Paskho's community-pod in Gee's Bend, Alabama, a historic district known for its quilting heritage.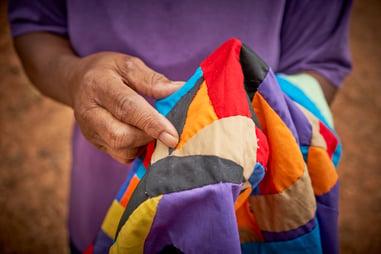 Then, I took this trip to Yosemite where I went back-packing with just a guide for 18 days. I really had time to think. I was sitting by the fire and thinking that maybe what people need was what I had with me on this trip: one pair of shorts, one pair of pants and two shirts. And what if you could create that for an urban environment as your staple wardrobe. You could be comfortable at home and go from work to a night out in the same clothing. Paskho really came from that. We started with these really comfortable pants that I've worn to the Met Gala and to Yosemite. It has allowed me to really shrink my wardrobe. Paskho is very much tied to reducing consumerism and thinking about the impacts all the way through the process…from the fabric and where it was coming from to going into factories and getting fabrics that were headed to landfills. We also realized that while that was very important to us, it was not what mattered most to the customer. And then I realized there was one thing I kept hearing repeatedly and that was: "I love these clothes for travel." It finally hit me that's what mattered to the customer first because when you travel you're taking your most trusted clothes with you. The travel angle is what gets people to try us…and then we can tell the bigger and deeper story.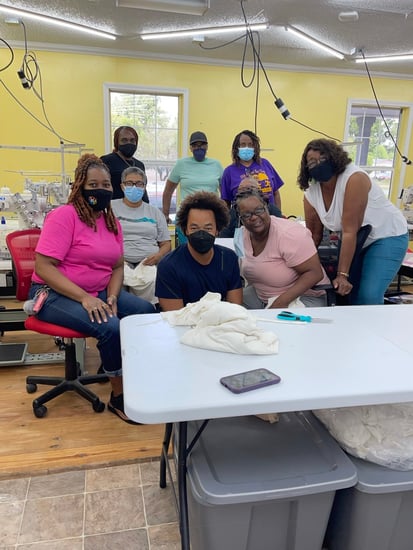 Photo left: Patrick and the team in Gee's Bend, Alabama.
Our Community Made Initiative happened at probably the hardest time in the company. It was the middle of COVID, business was really tough, and I remember watching the video of Floyd die over and over, and as a black man, it really hit me. I looked back at my success in my career and thought how I was always "the black man in the room." And always feeling like I had to work twice as hard and something just broke open for me. I started paying attention to what the news was showing me: the food lines and knowing how many people were struggling just to get food for their families.
I started thinking what if you could help create a job for your neighbor…and that led to Community Made. It's the idea that your clothes not only help you walk lighter on the earth, but also have social impact. It's a community that makes it and a community that buys it. We're all coming together. It's kind of the clothing equivalent of buying produce from a farmer's market. The farmer knows how the produce was grown. Even though the VCs think I'm crazy, I think that Community Made will not only be a differentiator, but also an accelerator for the business.
Photo below: Patrick and the team on the Cheyenne River Reservation in South Dakota.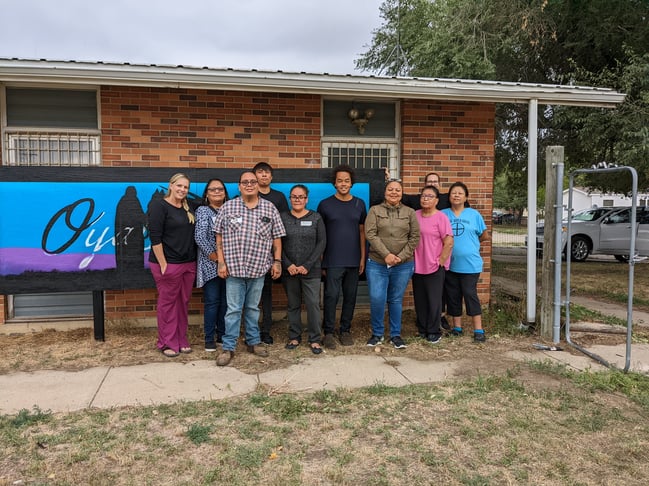 Q: What would you like people to know or understand about the fashion industry and how Paskho is different?
A: Everyone sees the extreme part of fashion…the glamour of it, but what I find fascinating is how you can self-express in simple ways, like by changing the colors you wear. Fashion can uplift you and support your values. Think of the badge of Patagonia. It's the power of what the logo represents and the person wearing it gets to carry that forward. That's the part of fashion that I love. You can take it as far as you want to go or be as minimalist as you want to be, and it's all still fashion. Paskho is creating a larger conversation beyond the clothes. It's about walking lighter on the earth and how we support and connect to each other and our community.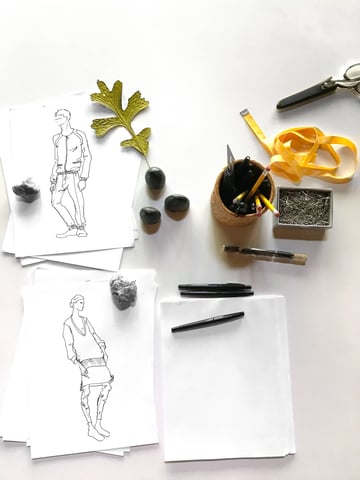 Q: Have you had any major revelations from when you began Paskho and where you are today?
A: It takes a lot more money to have big change and it takes a lot longer than you think. If you're going to make a big change where there's not a clear path, you're going to walk down some wrong paths, and you're going to have failure. While failure can be expensive, it's also the only right way to do it. I keep coming back to the idea that it's really about small steps. You can only get to big change by taking the small steps. Community Made wasn't in my road map until COVID…that time and those experiences opened that up to me. So, set yourself up to take the small steps and to take the time that will be required.
Q: What is your vision for the future of Paskho?
A: Keep asking: what can we do to serve the customer better and what is the problem we can solve for the customer? We also know that we can't advertise our way to success. So, what we can do is have our loyal customers host us in real-life. This is what we call Studio Paskho. I come to a customer's home or office, and they invite 10 of their friends, and it's a way for me to tell the story and bring people together. It's about the power of being in person and getting more customers through that connection. The more customers we get the more pods we can open and that's how the story keeps growing.
Q: Do you have a mantra or quote that you live by or that inspires you?
A: "You cannot discover new oceans unless you have the courage to lose sight of the shore." ~ Andre Gide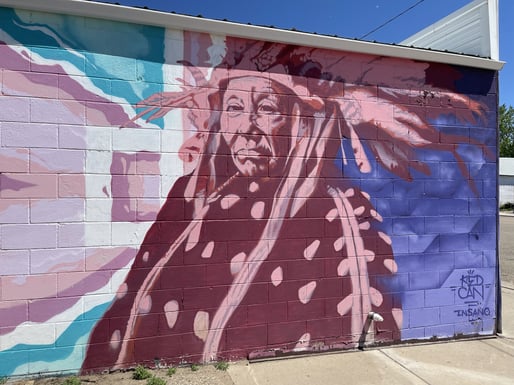 The Practical Activist blog is created by Bluestone Life. Like Paskho, creating positive impact is central to the work we do. At Bluestone, our life insurance empowers our customers to protect family, community and planet. A Certified B Corp and a member of 1% for the Planet, Bluestone is a transformative choice for social, environmental and financial systems change.
Photo left: Mural on Cheyenne Reservation in South Dakota, one of Paskho's three Community-Made pods.
Like hearing about Practical Activists?
We'll share their stories with you monthly. (No email overload… we promise!)