Practical Activist Q&A featuring Katrina Spade, Founder & CEO, Recompose
Bluestone Staff

May 2, 2023
Feature image of Katrina Spade through threshold vessel by Austin Wilson
Katrina Spade is the Founder & CEO of Recompose, a public benefit corporation powered by people who believe in changing the current death care paradigm. Recompose is a fully licensed green funeral home offering human composting to transform your loved one's body into soil.
Katrina has been an entrepreneur and designer since 2002 with a background in project management, finance, and architecture, with a focus on human-centered, ecological solutions. While earning her Masters of Architecture, Katrina invented a system to transform the dead into soil, which is now patent-pending. In 2014, she founded the 501c3 Urban Death Project to bring attention to the problem of a toxic, dis-empowering funeral industry.
Featured in the Guardian, NPR, Wired, Fast Company, and the NYTimes, she is an Echoing Green Fellow, an Ashoka Fellow, and a Visiting Social Innovator at Harvard Kennedy School.
Here are some highlights of our recent conversation with her:
Q: Where did the inspiration for Recompose come from?
A: I was in graduate school for architecture, and for me, architecture is more than buildings, it's systems that humans create. At that time, I was feeling my mortality as I was turning 35, and I started looking at the funeral industry and thinking about what I would want for my own body when I die. I began to think about this from a design and systems perspective. Then, a friend called me and asked if I had ever heard of farmers who were composting livestock. That was the epiphany for me. From there, I asked the question: how could I take this practice and make it appropriate and meaningful for humans? So, my thesis project became how to create a space where humans could be composted.
Recompose cycle infographic (below)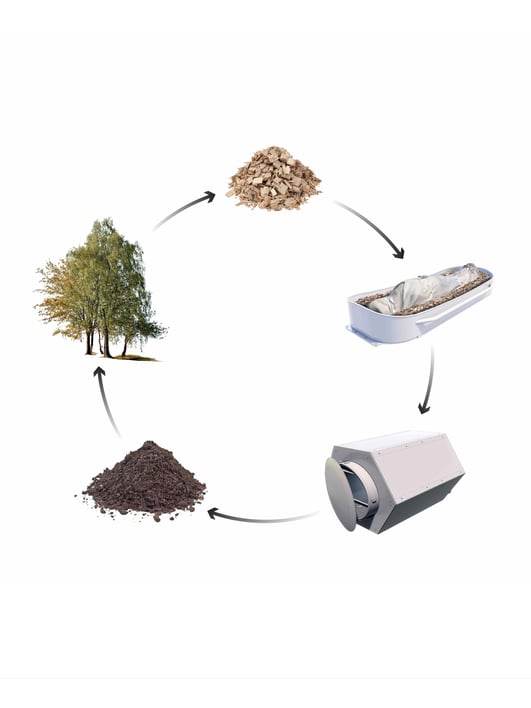 Q: Talk about the process working with Recompose and how it is different from a conventional funeral home and burial.
A: Recompose is a full service, licensed funeral home, but we are very different from what you might expect or have experienced in a funeral home. We're all about the natural process and natural ecosystem where your body or your loved one's body is transformed into soil, and the soil created returns the nutrients from our bodies to the natural world. It restores forests, sequesters carbon, and nourishes new life.
The laying in is the process of placing the body into a vessel. While it's not a burial, it's a ritual which I think of as a physical action that holds meaning. The beautiful thing about composting to me is that our bodies get to transform from a human into something else, and to create brand new life in the soil. It's literally life after death and becoming part of the ecosystem and the next generation of living things.
About half of our clients donate their soil to conservation efforts that we facilitate, so you can literally be part of the forest. That's why we've developed land partnerships with conservation groups because a cubic yard of soil is a lot of soil -- especially for people living in urban areas.
If you are someone who likes to plan ahead, you can pay in advance and make arrangements with our Precompose program.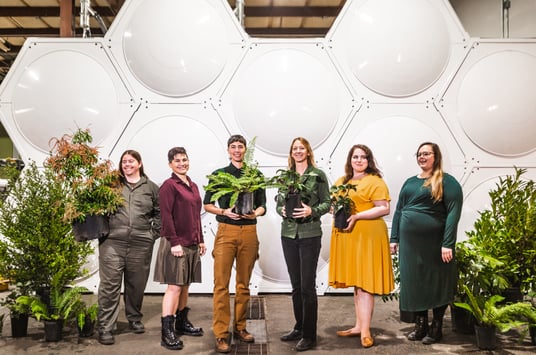 Q: You and your team have done a lot of public policy work. Right now, human composting is legal in six states and counting. If I am in a state like Vermont where it is legal how does the process differ when I am in a state where it's not?
Recompose team photo right
A: While there are no facilities yet on the East Coast, it is still common for bodies to be flown to different states because we don't always die where we want our remains to be. It is common for us to accept a person's body at the airport and take it from there. Once the composting process is done, we can ship the soil anywhere. It's common that a family may only want a small amount of the soil shipped back to them and then the rest is donated to one of our conservation partners.
Q: What would you like people to know or understand about ecological death care?
A: There are different ways to reduce your carbon footprint when you die. Human composting is one way. There are natural burials and alkaline hydrolysis which is called water cremation that has a lower carbon footprint than plain cremation. I think what's exciting about the landscape is that there's more interest in being intentional about what happens to our bodies after we die. I'm biased and think that human composting is the most exciting and has huge potential to go mainstream. People are excited when they see our facility and learn more about the process and what we're doing.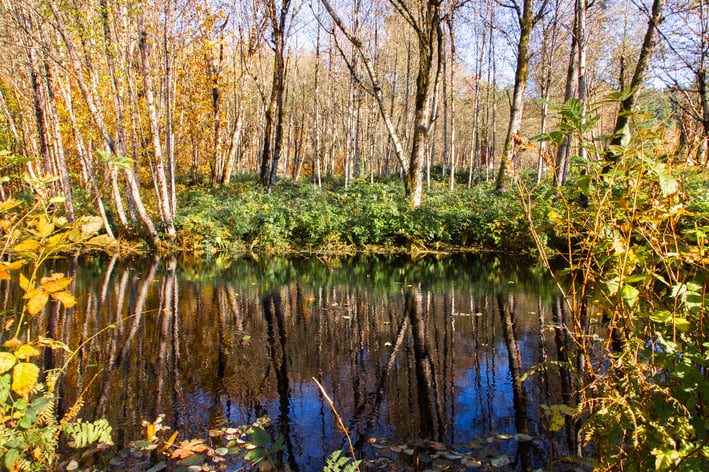 Photo left: Pond at Bells Mountain Forest, Recompose Conservation Partner
Q: Do you have a mantra or quote that you live by or that inspires you?
A: This is one of my favorites from Walt Whitman's Leaves of Grass: "I bequeath myself to the dirt, to grow from the grass I love; If you want me again, look for me under your boot-soles."
Interested in investing in Recompose?
Inspired by this green and innovative approach to death care? Learn more about their WeFunder campaign with a minimum investment of $1,000.
The Practical Activist blog is created by Bluestone Life. Like Recompose, we are committed to having positive ecological impact. At Bluestone, our life insurance empowers our customers to protect family, community and planet. A Certified B Corp and a member of 1% for the Planet, Bluestone is a transformative choice for social, environmental and financial systems change.
Like hearing about Practical Activists?
We'll share their stories with you monthly. (No email overload… we promise!)
Next article
Practical Activist Q&A: Microplastics revealed With Rachael Miller at the Rozalia Project