Practical Activist Growth Update: Kate Williams, 1% for the Planet
Bluestone Staff

April 12, 2023
Featured photo by Duft Watterson: CEO Kate Williams shares a laugh with Co-founders, Yvon Chouinard and Craig Mathews.
Kate Williams is the CEO of 1% for the Planet, a global network of businesses and environmental organizations tackling our planet's most pressing challenges. She is a customer of Bluestone Life, and there's a Vermont connection too: the 1% for the Planet team is headquartered in Burlington, Vermont at Hula Lakeside, an innovative net-zero campus on the shores of Lake Champlain. 1% for the Planet is a central part of Bluestone's transformative business model where environmental partners benefit from our Premiums with Purpose™.
UPDATE
Since we last talked with Kate in September of 2021, 1% for the Planet has had tremendous growth on many levels. In honor of Earth Month, we wanted to call out some key accomplishments and their annual Global Summit.
Photo below by
Launch of the Planet Impact Fund
The 1% for the Planet Impact Fund at National Philanthropic Trust provides resources to environmental organizations that are addressing urgent environmental issues while powering investments that build a healthy sustainable world. Donations during Earth Month will be matched up to $50,000 by Bemis.
Photo below by Duft Watterson: 1% for the Planet community volunteers with the Surfrider Foundation.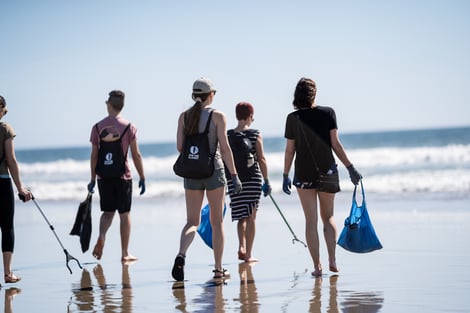 Impact Numbers
Certified giving to date: 450 million USD
Business Members: over 5,500
Environmental Partners: over 5,000
Environmental Partners in 91 countries
1% for the Planet has also significantly increased their staff, doubling down on their mission and offering more support to a rapidly growing global network.
Global Summit 2023 in NYC
This year's Global Summit is October 17th-19th in NYC. Over the course of three momentous days, you will experience world-class educational sessions, mindful moments, collaborative workshops, inspiring keynotes, and engaging networking opportunities across industries. Register today. Space is limited.
1% for the Planet Ecochallenge
Last year, almost 500 members, environmental partners and supporters joined the first annual 1% for the Planet Ecochallenge. During the month of July participants completed challenges for the planet—reducing waste, getting outside, carpooling with coworkers and so much more. The challenge was a celebration of the incredible potential of collective impact, and is coming back in 2023!

________________________________________________________________________________________
Here are some highlights from our original conversation with our friend, customer and neighbor.
Q: Your impact numbers are impressive. I know 2020 was a huge year for you. Want to talk about your growth last year and how the momentum has carried over into 2021?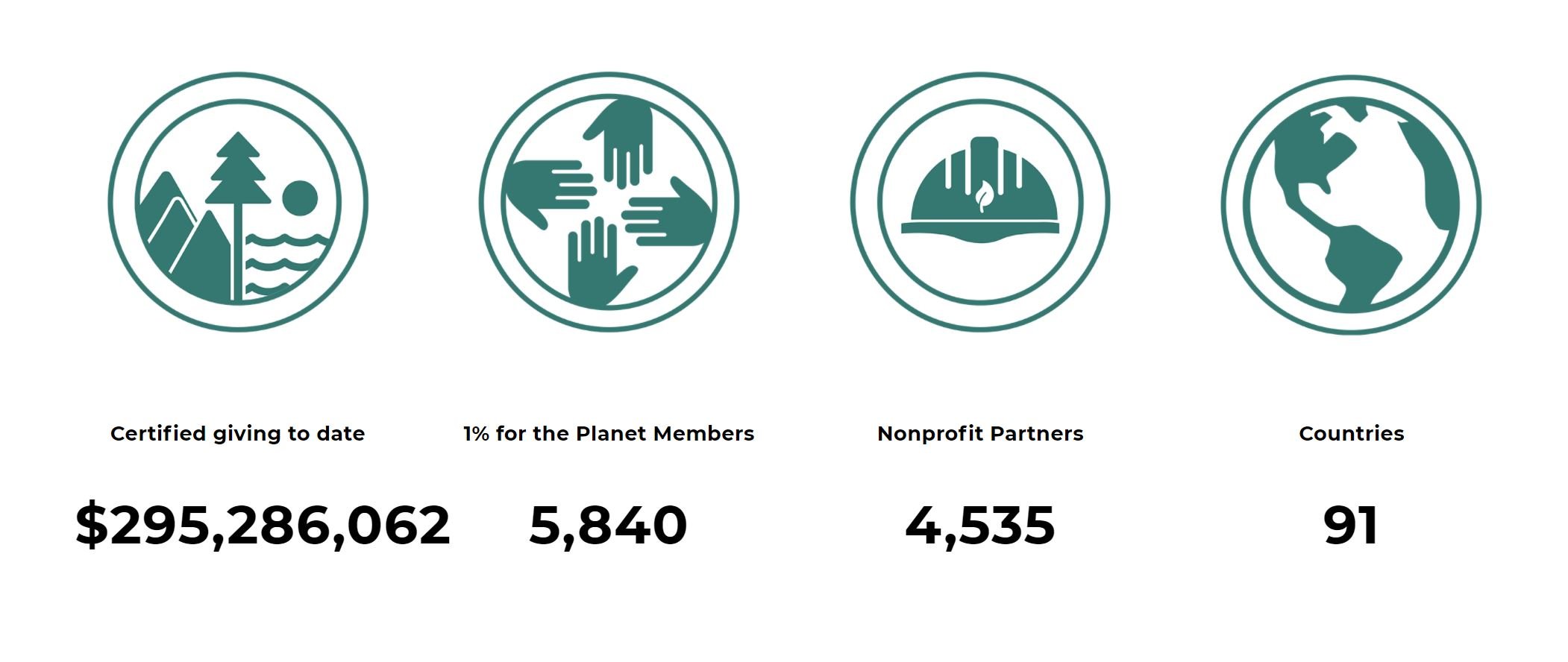 A: A year ago, we were "tightening the belt," the economy was in a tough place, and we were in more of a scarcity mindset. Then, each month, we saw the business membership numbers increasing. At the end of 2020, we had brought on 1700 new members which was a record number for us. To put that growth in context, when I started as CEO in 2015 we had 1100 members total. We also were happy that we didn't see a drop-off with our existing members because we worked with them to be flexible if they were hit hard financially. For this year, as we hit the middle of the year, we've already brought on 1000 new members, so we're tracking ahead of 2020, and we're averaging about 100 inquiries a week. Now, we're starting to trust that this is not a fluke…a lot has converged from the IPCC's (Intergovernmental Panel on Climate Change) latest report to raising awareness of consumers. They're demanding more tangible action from companies and there's no time to spare.
Q: From climate change to social and economic justice, the last year and a half has been a reckoning in many ways. From your perspective, are there trends that you think have staying power?
A: I think that the trend that has staying power is that it's not an extra to have sustainability as part of your brand. It's become more of a core business decision. Companies are thinking how to integrate better sustainability practices. Some are focusing on carbon footprint offset and net-zero goals, while others are focusing more on their supply chains and how to make them better for the planet. We're getting more inquiries from our members about how their giving can specifically address climate issues. We like that people are going deeper because that allows us to work with them and look at all the work that our nonprofit members are doing and what best aligns with the positive impacts that they want to have.
Photo below: Farmers training at Rodale Institute, a nonprofit partner of 1% for the Planet and Bluestone Life, pioneering healthy soil science and regenerative agriculture.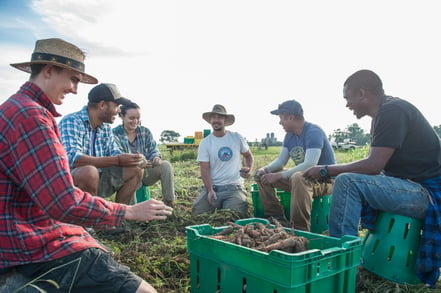 Q: I love the quote on your website from Dr. Ayana Elizabeth Johnson: "I need you to understand that our racial inequality crisis is intertwined with our climate crisis." Can you talk about the intersectionality of social justice and the environment?
A: Social justice and the environment are fundamentally intertwined and finally there's a lot of ways that it's being seen and understood. In Project Drawdown, one of the leading resources for climate change solutions, their research shows that education for women and girls is clearly connected to climate health. That's a great example of the intersection of the social and environmental. At 1% for the Planet, we are thinking about expanding the boundaries of what it means to be an environmental nonprofit. A recent example of this is that we now certify giving to food banks because many of them can demonstrate that they are diverting food from the waste stream, reducing carbon emissions and ultimately reducing inequity in the food system.

Q: You've had the opportunity to work with and get to know Yvon Chouinard. What have you learned from him and do you have any favorite stories to share?
A: One of things that Yvon says is: "Don't get depressed. Get angry and take action." I really like that because I don't want to live in fear or anger -- though I feel both of those. I love focusing on "Take action" and I'm grateful that I'm doing work where I do feel part of the solution. I love the simple clarity of the statement.
Q: There still aren't very many financial companies like banks or insurance companies as members of 1% for the Planet. (Shout out to Atmos Financial, Climate First Bank and Bank of the West) What can we do to get more of them at the table?
A: I think this follows the trajectory of consumer awareness. People often start thinking first about what they're eating and their personal health first. Then, they go deeper and think about how and what they're consuming and what the impacts are beyond themselves and to the larger community. That is happening now with money and finance, people are realizing that their money doesn't go into a black box and that it funds all kinds of things that they may not be aware of…and now there is more and more opportunity to align your money with your values. That's what you're doing at Bluestone Life. You're fundamentally changing the life insurance business model so it supports nonprofits in the 1% for the Planet network. Your customers get to be part of the decision to drive revenue to nonprofits they care about. That's why I became a customer.
Q: Are there any misconceptions that people have about 1% for the Planet or what would surprise people most about the work you're doing?
A: Most of the misconceptions are about the mechanics of how the model works. For example, people understanding that it's 1% of sales — not profits. When new business members come on board, we work with them to understand everything that we do and that we're here to help them. They don't have to figure out the nonprofits that they want to support on their own, that's one of the services that we provide, that's what we're here for. You go run your awesome company and we can work with your team and do the research to align the nonprofits that fit with your business strategy, mission and intentions. We can do partnership advising, we can help tell the story, and show how much brand value there is…we can bring to life all of the positive benefits that go along with the impact.
What surprises people is our readiness to work with almost any company. People have this perception that we're going to filter out "the bad companies." While we do have certain thresholds for business members, our philosophy is that we don't want to just preach to the choir. We want to change the world so that means we want to work with companies who are just on the beginning of that journey toward being more environmentally responsible…anywhere in the spectrum. If we were just focusing on the companies who were already doing everything perfectly, we wouldn't need to exist. We do need to have some unexpected companies in there because we want to be inclusive of where people are in the journey and the hope is that 1% is just the beginning.
There are also misconceptions about giving too. 1% for the Planet certified giving can go to any entity that is a nonprofit that goes through our verification process. There's sometimes a reluctance that people are afraid to talk about giving and that you have to be modest about doing good or giving. It's a little bit of a Calvinist throw-back that somehow giving is painful in some way. I believe just the opposite that doing good and good business are not in conflict. They belong together equally at the table.
Photo below: Kitchen Table Advisors is a nonprofit partner of 1% for the Planet and Bluestone Life, fueling economic vitality of sustainable farms and ranches in California. Featured here is farmer, Marsha Habib, of Oya Organics. Photo credit: Brenton Gieser.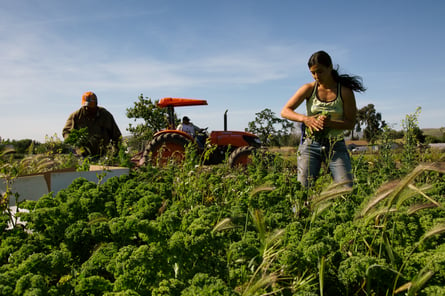 Q: When you look at your background, what has prepared you the most for your success?
Photo right: Kate and her husband, Rob, enjoying a sunset at the Rio Grande Gorge in Taos.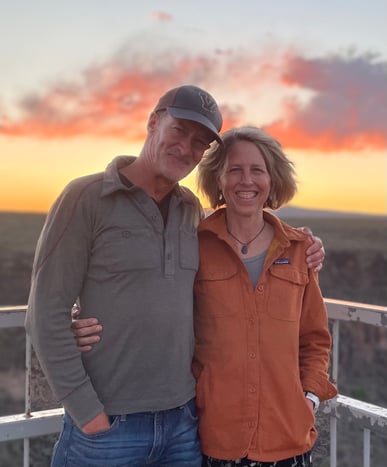 A: Thinking about networks, relationships and partnerships. Our story is the story of our global network and we are in service of working together for our mission. So, what has prepared me is everything from being the youngest kid with older brothers which gave me some early age training about being relationship-oriented and then working with a small nonprofit where out of financial necessity, we had to develop partnerships regionally to get the work done. Relationship and partnership training in all aspects of my life has really helped me.
Q: What do you tell people who feel overwhelmed when they think about climate change and the environment and where to begin?
A: 1% for the Planet is the perfect response for feeling overwhelmed. Our whole philosophy is that 1% matters and we believe more broadly that everyone has a 1% and every day, you can act. You can deploy your own 1%. What is one thing you can do differently today, then tomorrow and then what can you keep doing? Break it down and that's how I think about a lot of things in life because it's easy to get overwhelmed when you think about the whole big thing, but when you look at each day, you see what you can do. Start small and it adds up over time.
Q: What are you reflecting on as you look to the future both personally and for 1% for the Planet?
A: What has struck me is how much more capable of change and adaptation we are than we thought we were. We undertook a lot of change very fast together last year. While there was a lot of pain and suffering, a lot of people managed very well to navigate and we're starting to come out on the other side. One example is how we work. Here at 1% for the Planet, we had very set hours, and now we can see that we can do everything remotely and we don't need to tell people when they need to be in the office. We've learned to be more flexible and adaptive. Change is hard, but we can do it.
Q: Do you have a mantra or quote that you live by or that inspires you?
One of my favorites is: "Bird by Bird" which is the title of a book by Anne Lamott. I love that phrase because it pretty much applies to everything. And then, there's a quote by Scott Nearing: "Do the best that you can, in the place that you are, and be kind." That's always been true for me and something I live by.
Q: Any final thoughts?
I'd just like to underscore something that our work with Bluestone Life has taught us about the breadth of nonprofits partners. Working with Bluestone, we've learned about Community Development Financial Institutions (CDFIs) and the critical role they play in community building and resiliency. They're really at the heart of the intersection of social and environmental justice. For example, CDFIs like Coast Enterprises Inc. focus on growing good jobs, environmentally sustainable enterprises and shared prosperity in Maine and rural regions throughout the U.S. The NDN Fund is an emerging Native Community Development Financial Institution (CDFI) which provides financing for Indigenous regenerative development projects and climate justice is an integral part of their ongoing dialogue.
As we're expanding, we're having conversations with CDFIs to bring them into the 1% for the Planet network. We understand that most consumers don't know about CDFIs and how the money that gets invested in them becomes a powerful multiplier for community building and environmental protection, and we hope we can be part of increasing that awareness.
Editor's Note: See these blog posts to learn more about CDFIs:
Bluestone Life has been a member of 1% for the Planet since 2015. A life insurance policy from Bluestone Life benefits nonprofits within the 1% for the Planet network. We encourage the Practical Activist in all of us to work for a healthier planet, join 1% for the Planet, as a business, individual or nonprofit.
Here are some of the nonprofits that our customers have chosen in the 1% for the Planet network and that Bluestone has supported.
Like hearing about Practical Activists?
We'll share their stories with you monthly. (No email overload… we promise!)