Practical Activist Q&A: Microplastics revealed With Rachael Miller at the Rozalia Project
Bluestone Staff

July 5, 2023
Feature image of Rachael Miller on the Rozalia Project boat
Rachael Zoe Miller is an expedition scientist, inventor, National Geographic Explorer and Explorers Club Fellow working to protect the ocean. She is the Founder of Rozalia Project for a Clean Ocean, a nonprofit working on the problem of marine debris, co-inventor/CEO of the Cora Ball. Rachael leads teams on expeditions whose scientific results are published in peer-reviewed journals and education programs that inspire thousands of people of all ages. She has shared her team's work at several International Marine Debris Conferences, Underwater Intervention, Microfiber Summit at the Parliament in London, the Explorers Club headquarters, as part of the US State Department's Speaker Program with the US Embassy Helsinki, and TEDx Lowell, to name a few. Rachael captained the 60' sailing research vessel, American Promise, certified hundreds of people to be sailing instructors, trained Navy SEALS to find unexploded mines using underwater robots, pitched to audiences at Our Ocean and Plastics Europe and mentors young scientists. She lives in Vermont and does her best thinking on skis, bikes or on a surfski.
Q: You're an incredibly accomplished water woman. Where does your love for the water come from?
A: My love for and involvement with the water is both nature and nurture. I am happiest when I am on, in, and around the water (including snow, it's just another form of water). I am more than a touch clumsy when just walking, so the way I see it is that I was born a water person. I love the fresh and saltwater equally, having grown up in the Adirondack mountains on the rivers and lakes while every summer visiting both sets of grandparents who lived within blocks of the ocean in New Jersey. All of my competitive sports have been water-related (swimming and sailing). With mountain biking the only exception, all of the sports that bring me joy are water and snow sports: sailing, wing foiling (anything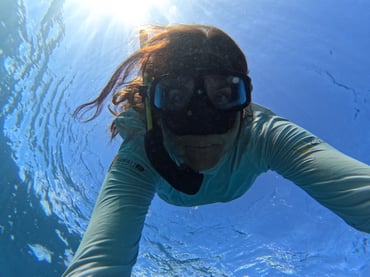 with the wind), paddling a surfski, SUP, freediving, just swimming (not laps anymore), and skiing in all of its forms – alpine with lifts, alpine without lifts, skate skiing and using these handy ski/snowshoe hybrids to enjoy the low-grade backcountry on the logging roads behind our house. Luckily, I've had enthusiastic and supportive parents who encouraged all of this joy and competition!
Q: You co invented the Cora Ball – a device to reduce micro plastics created in personal laundry- talk to us about microplastics in general and what individuals can do about them.
A: Did you know that our clothing can break? While we wash, dry, and wear our clothing little bits of fibers are breaking off and those tiny fibers are ending up in our environment – the air, the soil and our public waterways. We call this type of pollution microfiber pollution or microfiber pollution from fiber fragmentation. It's challenging because you can't see it, so it is generally not on people's radar. However, I can say that everyone who wears, washes and dries their clothes is part of this pollution problem and the good news is that everyone who wears, washes and dries their clothes can be part of the solutions. Though awkward, that was solutions plural because ultimately, there will need to be multiple solutions to deal with this problem. The fact is that microfiber pollution is everywhere scientists have looked for it. It's ubiquitous. We started developing the Cora Ball back in 2016 and launched it in late 2017. We had two main goals: to get a solution out there that started to prevent the problem by keeping as many microfibers as we could out of washing machine effluent while we all learned more about the problem. Secondly, to immediately spread the word to people in the myriad industries that are related to this problem. Ultimately, we need mandated in-line washing machine filters, dryers with more efficient fiber catchment systems and an entire textile industry that is focused on making more resilient textiles and clothing. Until that happens, we are excited to have the Cora Ball out in the world and available.
The problem of microfiber pollution and the Cora Ball as a solution are great examples of what I call, "Lots of Littles make a big." What I mean by that is that lots of tiny little bits of microfiber pollution can add up to a big problem for our lakes, rivers and our one big shared ocean, but lots of people taking action by using the Cora Ball or even just doing full loads in cold water, for example, can and will add up to big positive impact.
Q: While we're talking about individual action tell us about citizen scientists and how they can make a difference when applied to microplastics pollution.
A: I am a big believer in education and including the community as one of the strategies for preventing any environmental problem. In the case of microplastics there is a particular opportunity or even need for citizen science for multiple reasons. One is that because it's an invisible pollutant, people become more familiar with it by doing the work. And the work to find it, characterize it and get it on a map is fun! Secondly, the problem of microfiber pollution, as it relates to our clothing, is a fairly newly discovered one with the story breaking in 2011. That means there's still a lot to learn about the problem though we've learned enough to know that it is worth taking action. With that in mind, citizen or community scientists' power, in this case, is twofold. First, in collecting ongoing data sets. Having data from the same location over time will help us understand how the problem might fluctuate with the seasons and soon as solutions are deployed. Second, in being able to cover far more geographic locations than just scientists have any chance of covering. And finally, thanks to methods taken from forensic science, we are confident that the information that citizen scientists collect is robust enough to contribute to solution development and deployment. As a bonus, everyone who participates will get a chance to do some accessible science, engage in conservation, perhaps get in some fun water sports, and make a difference not just in their local area but in our waterways worldwide.
Q: You just go back from speaking at the #natgeofest and at the US State Dept. What was the coolest moment /epiphany of your DC trip?
A: Imagine a group of people where when you sit down at a table, it is likely that one person is responsible for saving the elephants in an entire country, another has an animal species named after them, another made breakthroughs in education, and yet another is an award-winning photographer from Mauritius or Mongolia. That was what it was like being at the National Geographic Explorers Festival! It is hard to describe how inspiring, fascinating and energizing that week was. Being on stage with our microplastics team sharing our experience on the E/V Nautilus in Hawaii and our CSI for the Ocean citizen science program to the entire National Geographic Soci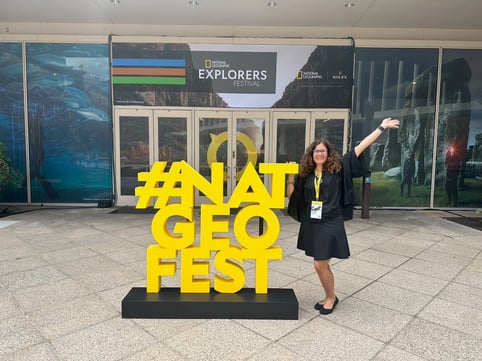 ety, partners and fellow Explorers, was one of the highlights of my professional career and perhaps even my whole life. I can't wait to see what happens next – and a lot is brewing! My next NatGeo expedition is happening in just 10 days when Brooke, our Cora Ball co-inventor and operations maven, and I head to Oslo to do our CSI for the Ocean program on a Lindblad Expeditions-National Geographic voyage to Svalbard in the Arctic Circle and along the west coast of Norway! You can follow that adventure on Instagram @rachaelzoemiller
As far as the State Department goes, I am so fortunate to be part of the US International Speaker Program. That means that in the year I have been involved, I've been part of programs in Finland, Spain and South Africa and contributed to an online course for young entrepreneurs and innovators in sub-Saharan Africa. While in Washington, I got to present not just the work that we do with ocean protection, science and conservation but to share my experiences on those three programs and in so doing, thank the people that do so much work stateside to make these international programs fulfilling and impactful. The epiphany from that day had to do with underscoring why working with groups of people who are from multiple disciplines, professional and academic areas and geographies can have a significant effect on both myself as the presenter and, hopefully, those who are in attendance. While at the Explorers Festival, I met an underwater photographer from Cape Town and the fact that I had been part of programs in South Africa gave me a perspective that helped me much better understand his experiences doing what he's doing, which is connecting kids from the Cape Flats area to the ocean that is right there physically but can be worlds away because of an incredibly dysfunctional system. These travel and programmatic experiences, where I get to present our work but also get to do a lot of listening and question-asking, are making a very big impact on me and that has an impact on the work I am doing with Rozalia Project, National Geographic and beyond.
Q: Please elaborate on the emergence of "bio benign products" and compostable consumer products (digitally printed seaweed sweaters????)?
A: As we consider the microfiber pollution problem, we are looking at all of the angles. While we need to consider our laundry machines like washers and dryers and wastewater treatment plants and making sure that we prevent as much microfiber from even getting into our environment as possible, we also need to consider the fact that our clothing will never be zero shed. Therefore, looking at alternative materials is an important element when considering how we will get ahead of the problem of microfiber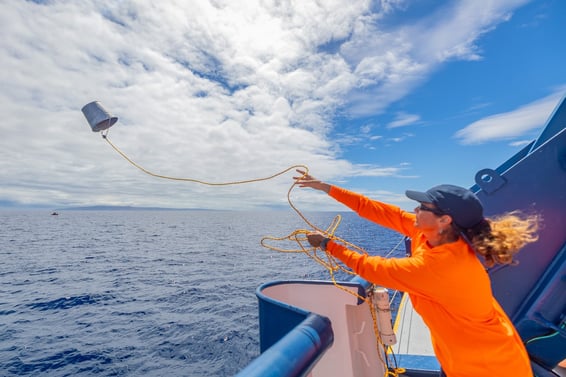 pollution. I had the amazing opportunity to be a judge for the Conservation X Labs Microfiber Challenge. During that experience, I learned about incredible work that takes non-extractive and natural material, everything from compost to cabbage juice and turns it into filament and fiber that can have the same performance properties as some of our most technical clothing.
Photo Credit: Ocean Exploration Trust
Furthermore, garments made from these natural and non-extractive, non-petrochemical or fossil fuel-based materials are also being designed to be circular. That means, in this case, that they are also designed to be what we call bio-benign on the backend; a garment could compost in a municipal level compost system and the only byproducts that come out of it are the same as the byproducts that come out from composting what's left over on your dinner table. And bonus, the clothes will not biodegrade or fall apart while you're actually wearing them! Examples include garments and fabrics from companies like Ambercycle, Werewool, Mango Materials and Oliver Charles, a company that is digital printing sweaters using a filament that's partially made from seaweed!
Q. One of your favorite books and or quotes?
A. I love reading and always have a big stack next to my bed. Some of my favorite nonfiction books of late include, A Ship of Gold in the Deep Blue Sea, Bicycling with Butterflies and Dr. Robert Ballard's latest book which is an autobiography called Into the Deep.
The Practical Activist blog is created by Bluestone Life. Like Recompose, we are committed to having positive ecological impact. At Bluestone, our life insurance empowers our customers to protect family, community and planet. A Certified B Corp and a member of 1% for the Planet, Bluestone is a transformative choice for social, environmental and financial systems change.
Like hearing about Practical Activists?
We'll share their stories with you monthly. (No email overload… we promise!)